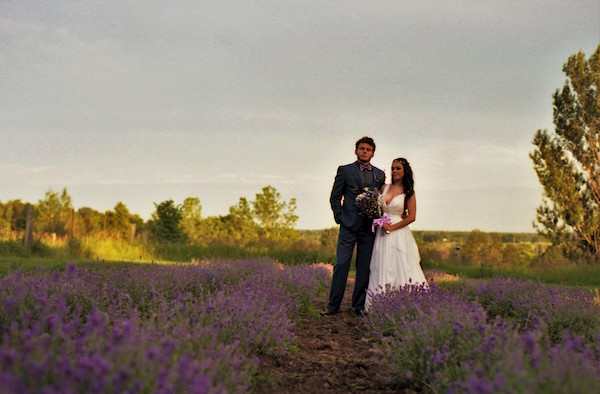 Bride Name

Model/ real life couple – Ana Santos

Groom Name

Model/ real life couple – Geronimo Parodi -Matteo

Date of Wedding

07/13/2017

Photographer
KMD Film Photography by Kristin Davis
Reception Held at
Failte Lavender Farm Carp
Wedding Dress
From Norde Bridal – "Michelle" by Truvelle
Bride's Hair By
Beauty Touch by Fatima
Bride's Make-Up By

Beauty Touch by Fatima

Flowers By
Alta Vista Flowers
Other Vendors
Rings made by Andrea Mueller Fine Jewellery – Ottawa
Hair piece from Norde Bridal; made by Jewel Feathers – Ottawa
Film Processing by GPC Labworks – Bank street
Description 
As a film photographer, I have a very strong appreciation for the arts. This styled photo shoot was all about showcasing local makers and artists like myself. The headpiece & rings were handcrafted in Ottawa, the gown sewn in Vancouver. These images were shot on 35mm film, then scanned by myself. No Photoshop, and no tricks. We are simply back to the beautiful basics.
I believe film deserves a comeback, and I cater to couples who want to capture real moments of beauty in a way as unique as their love.