Wedding Speech Guidelines
Courtesy of I Just Said Yes
Wedding speeches are very important at a wedding reception.  Do not make them long in detail but certain individuals should say a few words.
Most speeches are done by the Best Man, Maid of Honor, Parents of both the bride and groom and of course the Bride and Groom themselves.
Speeches should last anywhere from 2-5 minutes You can have the speech written on a piece of paper to read,  have a few cue cards to follow or memorize it word by word.  Remember this is not a stand up comedy show so you want to keep things in good taste.  A little humor though is certainly acceptable!   Approach the podium with confidence and speak clearly and loud to capture everyone's attention.
You should select a master of ceremonies for the evening.  He/she will be the first one to welcome your guests and hand out the so called "house rules".  What do I mean by this; where washroom facilities are and what the guests have to do to make the bride/groom kiss, etc.  Also, it is always important to mention to the guests not to drink and drive.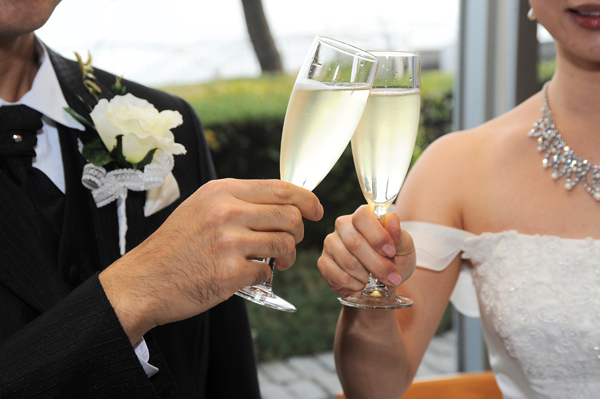 Once dinner starts, many of my brides like to start some of the speeches during each course to speed up the evenings program.  I personally like this idea but keep in mind that the wait staff must continue dinner service so there could be a little noise.  The first up is usually the best man or maid of honor.  Here they will congratulate the bride/groom and tell a short story about their relationship with them, followed by a toast.
Once the main course has been cleared this is a good time for the parents to make their speech.  Both will thank all out of town guests for coming, thank family members who have contributed to the days events and of course talk about their daughter or son.    A welcome is made to their new daughter or son-in-law into their family.
Once dessert has been cleared, it is time for the bride and groom to make their way to the podium.  This speech tends to be a little longer than the others but that's okay.  All guests are ready to listen and give their full attention.  They will also thank out of town guests , family members and any of the vendors they have been working with.  Always remember to also thank all the guests in that room for coming as well! A particular thank you should go out to their parents and siblings.  The speech will end with the groom complimenting his bride and how beautiful she is and how excited the future will be together.
The master of ceremonies then heads to the microphone to conclude the speeches for the evening and get's the party started.