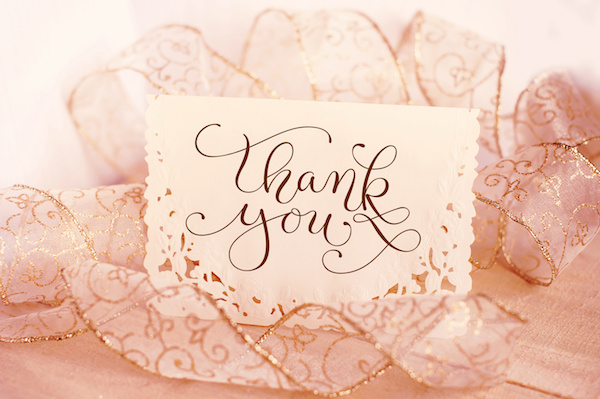 There are many important aspects to your wedding day: the walk down the aisle, the vows, the photographs, toasts and first dance. But after all the hoopla and festivities are over — you've tossed the bouquet, sampled the goodies at the late-night food stations and enjoyed a spectacular honeymoon, there's nothing more important than showing your gratitude.
While writing thank you card notes is often considered a tedious task, it is in fact a significant one and a great opportunity to let people know you were happy to see them and share your special day with them. It's really worth it to take an extra minute or two to make your message specific and personal.
Don't know what to say? Hallmark offers a couple of ideas:
"Wow! We are so touched by your generous wedding gift. The place settings will be used and enjoyed often—and we'll think of you every time."
"Thank you for adding to the joy of our wedding with your warm wishes and thoughtful gift. We love the candlesticks and how they look on our hall table."
According to the greeting card company, you have up to three months to sending thank you cards for wedding gifts but sooner is always better. Always, etiquette requires stationery, a pen in your hand and an envelope with postage popped into the mailbox.
A telephone call won't do. Nor will a text, private message, Instagram post or blanket thank you on your wedding blog. As Emily Post puts it, "No fill-in-the-blank cards, no pre-printed cards, no phone calls, no emails, and no generic post on your website! Personal stationery or store-bought thank-you cards are best. Monogrammed stationery should reflect your current name, so wait to use your married monogram until after the wedding."
Everyone who gives you a gift or a financial gift, including individuals who contributed to a group gift, should get a thank you note, as well as everyone else who helped make your day special, from attendants and family members to caring vendors. They all will be so happy you made the effort. You will too!