Cupcakes are all the rage at weddings. They are fun and delicious. I discovered that Cupcake Vineyards is the same.
It is just part of gracious living to enjoy a nice glass of wine. However, you can get into a rut of sorts in your wine selections – buying the same old standards every time. Your old standard is probably not the wine you will choose to serve at your wedding.
When it comes to choosing a wine for your wedding, you can get serious about the selection. There are those folks who leading up to their wedding will study wines and log their tasting notes in a log book. Wine clubs and sommelier degrees are for the even more serious.
Sweetheart and I like to add a little zest in our wine selections. One trip we may stock up on wines that have cats on their labels, or flowers, or horses, or bonusAirmiles points. What ever strikes our fancy to broaden our taste experience.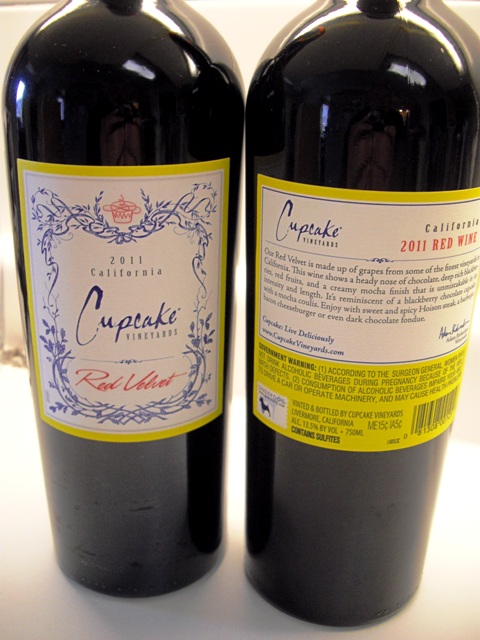 We stopped to get some wine for dinner with our daughter, son-in-law and son. The label intriqued us – Cupcake Vineyards Red Velvet.
Wow – we loved it at first sip. Red Velvet is their first blended red wine made of classic red varietals with Zinfandel as a base supplemented with Merlot, Cabernet Sauvignon and Petite Sirah. Each varietal is fermented separately and later blended and put through a unique oak regime that imparts creaminess. This unique wine has subtle flavors of chocolate with mocha notes, red and blackberry fruits and a hint of coconut. It has fantastic structure, aroma, depth of flavor and a long creamy finish – just delicious!
The winemaker notes "It's reminiscent of a blackberry chocolate cupcake with a mocha coulis. Enjoy with sweet and spicy Hoisin steak, a barbecue bacon cheese burger or even dark chocolate fondue."
Cupcake Vineyards also has a wedding website, Love Deliciously, along with descriptions of their other wines and Vodka. There is a handy tool to help you calculate how much wine, beer and spirits to order for your wedding based on time of day, hours duration and number of people.
We made quick work of the two bottles before dinner and returned to the LCBO the next day to immediately buy two more. Certainly a new favourite way to enjoy cupckaes.