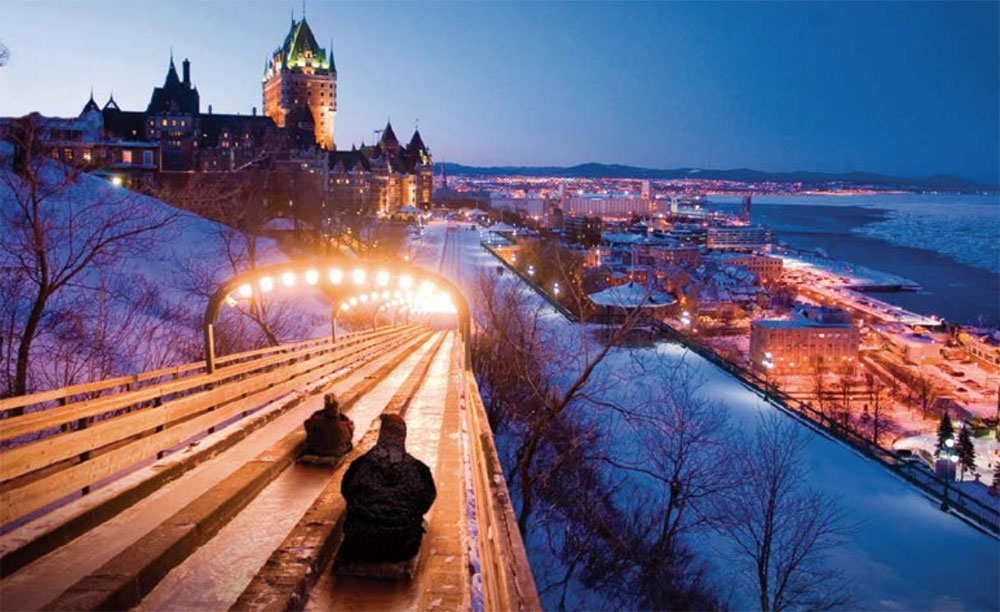 Old-world charm can make your "I do" a fairy tale come true.
By Sherri Telenko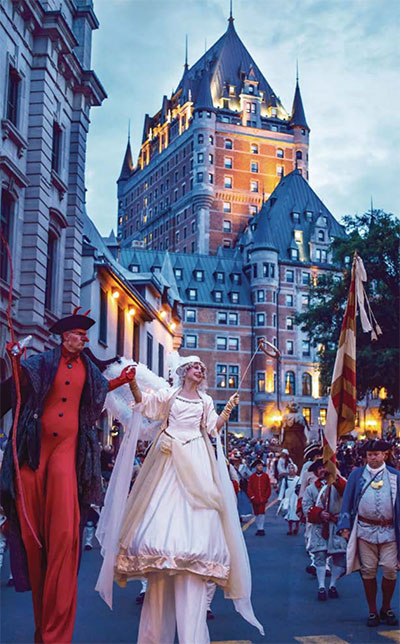 Even if a princess wedding in a stately European mansion isn't your dream, the Fairmont Chateau Frontenac is still an enviable location. But if a fairy-tale wedding in a Victorian riverside castle is on your vision board, have I got the palace for you: The Fairmont Chateau Frontenac in Quebec City. Built in 1893 in the centre of what was then New France, the Fairmont Chateau Frontenac is situated in the heart of historic Old Quebec City and it radiates formal elegance.
Little wonder it is a dream locale for primarily American, Quebec, and Ontario brides and grooms. "Quebec City is a destination wedding location," Valerie Larrivee, associate director of banquet and catering social market, says.
"The bridal party (and some guests) stay at the hotel (in any of the 166 guest rooms and suites) for several days because they can do everything in Quebec City from here."
Outside the doors of the Chateau Frontenac, the apex of this cobble-stoned city centre, is the frequently photographed St. Lawrence River boardwalk: the Dufferin Terrace lined with buskers and musicians.
A hop away are the shops and restaurants of Rue Saint-Jean, the artisan boutiques of Lower Old Town, river cruise boat docks along the St. Lawrence, and one of Parks Canada's newest attractions: a subterranean tour of archeological remains of four forts built by Samuel de Champlain in 1636 called Saint-Louis Forts and Chateaux National Historic Site. All this within walking distance of the Chateau.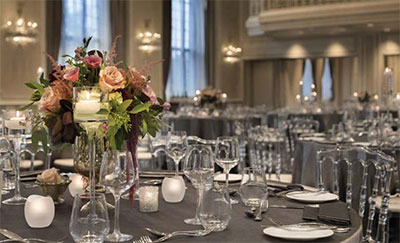 If you or your guests want to see more, group tours to Montmorency Falls and accompanying suspension bridge or Ile d'Orleans, a rural island filled with cheese, wine and chocolate makers, are 15-minutes away and can easily be arranged through the hotel lobby vendor. (A self-drive tour map of Ile d'Orleans is also widely distributes).
Horse-drawn carriage rides in the summer and dog-sledding excursions in winter are also popular with out-of-town bridal parties and guests, Larrivee says. Anything else you need for your special day is the focus of Larrivee's department, including an extensive list of outside vendors vetted by the Frontenac. An on-site spa and first floor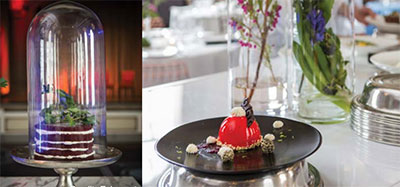 Coiffure du Chateau hair salon makes wedding day prep easy, without leaving the building.
Attention to detail is her team's specialty, she says, adding the kitchen team under the guidance of executive chef Frederic Cyr is very creative. The Chateau can accommodate special food requests, of course, but encourages selecting from set wedding and special events menus focusing on Quebec specialities.
The catering department and on-site restaurants source local ingredients such as maple syrup and cider adding a distinctly Quebec flair to the Chateau fare. "For instance," she says, "we offer a cheese tray made only from Quebec produced cheeses." However, cuisine is just icing on the three-tiered cake. Location, location, location is the Chateau Frontenac's distinction.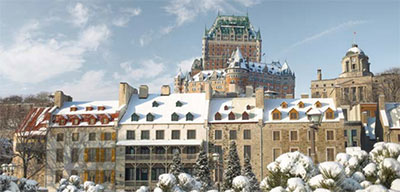 Within the historic looming towers and turrets are many special event rooms — in one, William Lyon Mackenzie hosted Sir Winston Churchill in 1941. The three spaces of wedding note are the Salon Rose Room that's round, pink-walled with three fireplaces and large windows and hosts about 60 with dance space; the Le Cellier Room (Cellar of the Chateau) with tiled floors, pillars, and wall-to-ceiling wooden wine storage, accommodates about 70; and The Grand Ballroom.
"The Grand Ballroom is where you want to be for a truly royal princess experience," Larrivee says. The Grande Dame of formal event rooms, the ballroom sports 10 crystal chandeliers floating overhead and accommodates up to 500 people with a dance floor. Picture regal gowns and black-tie gents floating across the polished floor like a scene from Beauty and the Beast.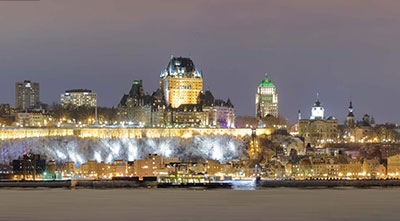 Summer, Larrivee says, is the busiest time for weddings at the Chateau Frontenac, which also means it books furthest in advance. Winter weddings, she says, are growing in popularity especially during Quebec Winter Carnival. From the end of January to mid-February, the city offers shows, skating, snow slides, ice canoe races and night parades. Imagine sparkling winter white photographs among the city's elaborate ice sculptures and glimmering frost-tipped tree branches.
Speaking of photographs, that's another benefit of nuptials at the Chateau Frontenac. "We are within easy walking or driving distance of beautiful scenery and great photoshoot locations," Larrivee says. Horse-drawn carriages, stone buildings, curving hilly cobblestone streets and the expansive St. Lawrence create a romantic backdrop any time of the year.
Surprisingly, most of the wedding business at the Fairmont Chateau Frontenac hails from the United States. More specifically, the bride will often be from Quebec originally and bring her American groom home to the Belle Province under the watchful eye of Samuel de Champlain immortalized in stone steps at one of the most photographed hotels in the world.