There is a ritual that is popping up in wedding ceremonies – the wedding time capsule.  I've been asked about this a more and more. But there is one thing you should think of not putting in your box.
The most popular rituals I perform in a wedding are the Unity Sand and Handfasting. They are great symbolic gestures of a couple coming together as one. Lately, couples have started talking about sealing a time capsule as part of their ceremony. The idea is to open the capsule as a celebration of a significant anniversary and share the memories of their journey together.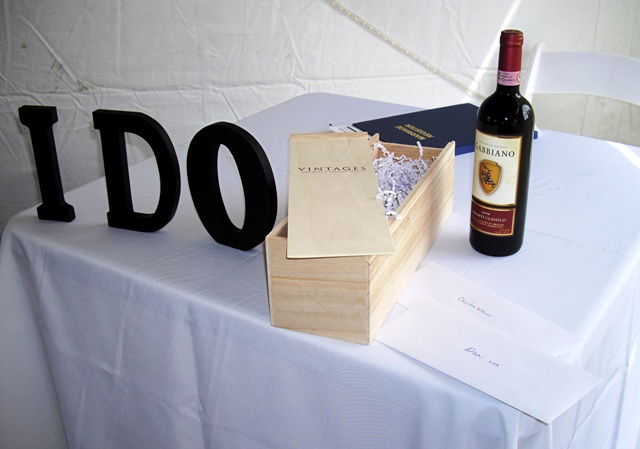 The beauty of a wedding time capsule is that a couple can include a variety of items. The capsule is personalized with memorabilia from their wedding, a newspaper of the headlines of the day, their horoscopes on their wedding day.
Some add a sealed letter to each other. The letters can describe the good qualities they find in one another, the reasons they fell in love and the reasons they chose to marry. Reading the letters at a later date will bring back the warm memories from their wedding day.
There is one thing that should not be included in a time capsule. They should not include perishable items like food. Can you imagine how moldy and dry your piece of wedding cake would look five years later?
Surprisingly, you should not include a bottle of wine. Wine is a perishable product. When you purchase it from an outlet, it is meant to be drunk within a short period of time. This is especially true of white wines. Depending on the red wine, they can last longer.
It remains, however, that any wine stored in your capsule for five years will most likely be on its declining side of taste; at best it will not taste all that great, at worse you have red wine vinegar.
If you want to add some sort of libation perhaps a good scotch would be suitable. Then you can be certain to celebrate the opening of your wedding time capsule with a great drink.