The dawn of another busy wedding season is on the horizon. Every year, my Sweetheart asks me if I still love performing wedding ceremonies. After over 600 weddings my unequivocal answer is still – yes!
My 'Office' is a four top table tucked at the back of a local coffee shop. I've been meeting brides and grooms there since 2004. The staff knows me well; sitting and chatting with couples about their upcoming wedding. Every Saturday morning they expect me there. Most of the time I can answer the shop's daily trivia question and get a free cup of coffee – always served in a ceramic mug. Sometimes I am there for five hours meeting couple after couple, crafting their special ceremony.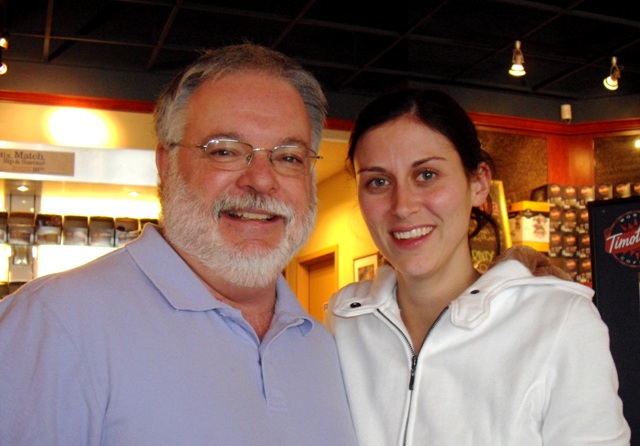 Brides and grooms come to me because they don't want the traditional religious institutionalized wedding. They want a personalized event that reflects their hopes and dreams … and the love between them. They want a wedding from the heart.
"We've never done this before. It is our first time." They sheepishly start our conversation with this statement. It confirms to me that the couple wants a personalized wedding from the heart. I am there to guide them through all the aspects of the ceremony so that they can decide what they want incorporated.
"I never thought of that before."  I offer suggestions that start with the familiar traditional and add alternatives. I present options to them based on what I glean from their personalities and relationship. I see the ideas blossoming in their heads, their eyes light up thinking about their ceremony.
"That was easy! I am so excited!" At the conclusion of our chat, this is the comment I hear the most. I am thrilled for them that they will experience a wedding ceremony that fits them. A ceremony that will be a cherished memory; an expression what is in their hearts.
Ceremonies are one way to connect as friends, family and a community. I meet wonderful people along the way. I've performed wedding ceremonies for my daughter, friends and children of friends. I happily celebrate baptisms later on as well.
I enjoy my adventures with brides and grooms on their wedding day. Weddings are a joyous occasion. They are testaments to the love people share. Weddings are a public affirmation of our common search for love and meaning. So yes, I still love performing wedding ceremonies.