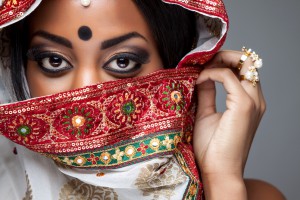 by Divine Mwimba
Canada is home to many different cultures and religions. It's no wonder you become friends and lovers with people from diverse backgrounds. When it comes to saying, "I do!" we love the thought of planning multicultural weddings. Here our top five reasons why they rock:
1 – Multicultural weddings offer amazing opportunities to bring different families together by introducing them to new traditions, music and food.
2 – You get to experience something outside your comfort zone and realm of familiarity. A lot of cultural weddings, notably Indian nuptials, serve buffet feasts as part of the celebration. Why not sample a bit of everything? These memorable meals not only represent the best of festive hospitality, they also introduce people to different flavours and celebratory traditions.
3 – You meet new people, make new friends and you get to see what different cultures are all about. Multicultural weddings are fun, unforgettable learning opportunities. They foster tolerance and respect.
4 – Wedding music and dance are known to bring people together. In the Lebanese culture the traditional Zaffeh dance is common folkloric dance that is performed at most weddings. In the traditional Zulu weddings in Africa, there is often a dance-off between the bride's and groom's families.
5 – At the end of the day, we are all humans, regardless of our cultures and backgrounds, and this is wonderfully evident to everyone enjoying the unexpected pleasures of an ethnically diverse wedding.
Happy Planning!
Divine Mwimba is co-owner of RSVP events www.rsvp-events.ca and My Wedding in a Box www.myweddinginabox.ca. She's also the blogger behind Culture Chic Wedding www.culturewedding.ca.