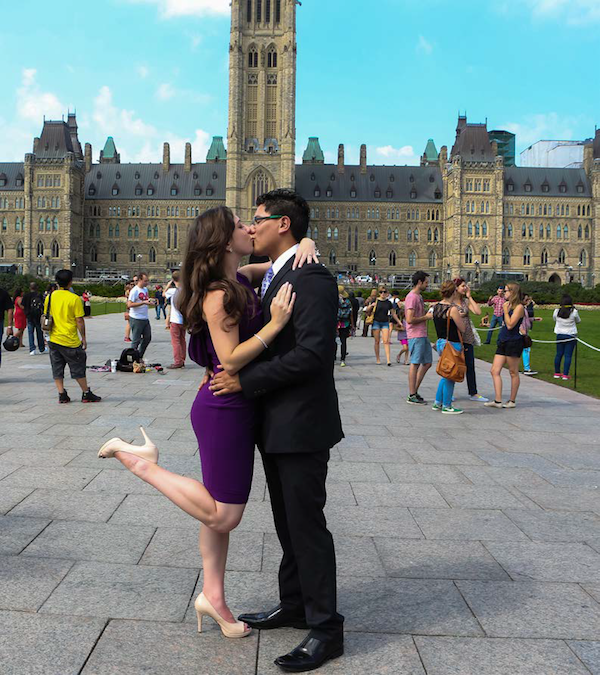 Surprise proposal on Parliament Hill sets the wheels
in motion for planning a lifetime together
THE DETAILS
Bride-to-be:
Cristina Marisa Pasqua
Groom-to-be:
Hans Paredes
Proposal date:
September 5th, 2015
Restaurant:
Play Food & Wine
Carriage ride services:
Cundell John Stables
Ring:
Glacier Fire from Charm Diamond Centres
Dress & shoes:
Le Chateau
Hair:
Rosamaria at Hair Motion
Future wedding date:
September 9th, 2017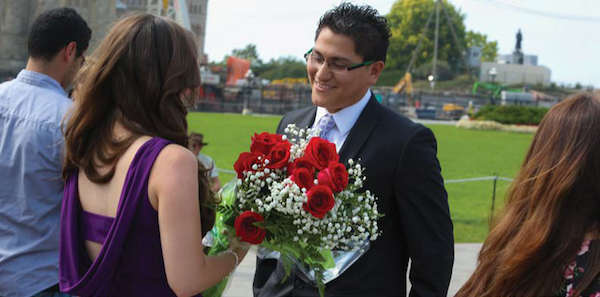 "We are here at the eternal flame because my love for you is eternal, and I want to be with you forever. Will you marry me?"
Those were the words that Cristina Pasqua heard from her groom- to-be, Hans Paredes, last year as they strolled along the Centennial Flame on Ottawa's Parliament Hill on September 5, 2015.
It was the day that sparked a year of planning for the wedding almost 12 months later to the day.
Cristina and Hans met at St. Patrick's High School in Ottawa, and had been together for 6 years. He proposed to me on his birthday, which came as an even bigger surprise as I had made plans for his own celebration.
The day began with us eating lunch at Play Food & Wine in the Byward Market to celebrate Hans' 24th birthday. After a delicious lunch, a beautiful horse-drawn carriage awaited us in front of the restaurant. It felt like a scene out of a fairytale. The carriage took us around the small streets of the market and eventually dropped us off in front of Parliament Hill.
As we exited the carriage, Hans suggested we walk towards the Centennial flame. As we got closer, I could see some familiar faces waiting for us there. It turns out that our families and close friends were also in on the surprise. At that moment, I knew something special was about to happen. I could feel my heart beating faster as we approached them.
Then came the moment I had been waiting for: Hans asked me to marry him in front of everyone on the Hill—even tourists started to gather around us to listen. I immediately started crying when he pulled out the ring on bended knee. I yelled and replied, "A MILLION TIMES YES!"
As we embraced, a photographer appeared. Unknowingly to me, Hans had hired the photographer to secretly capture special moments throughout the day. Words are not enough to describe how happy and special I felt in that instant, but perhaps these photos will do. W