Build your dream breathtaking wedding by thinking outside the box.
By Ariel Vered
It's beginning to look a lot like winter wedding season. If you're planning a winter ceremony, then it's time to get your creative juices flowing and get to work. Better yet, build your dream breathtaking wedding from these trends. Your wedding, your vision New Age Bohemian is this season's version of 2017's popular rustic wedding theme. Couples are going for that ideal combination of relaxed and elevated style. The bohemian theme showcases all the romantic vibes of the day in a wonderfully gauzy, rose-coloured way.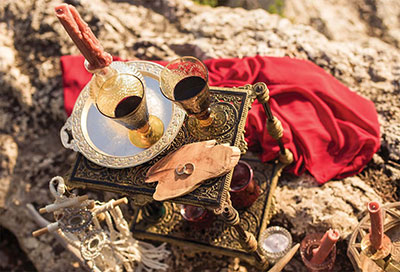 On the other end of the spectrum, there is the less-is-more wedding style for couples who want to evoke a more modern and minimalist vibe. It's an opportunity to spotlight the exclusive standout features of your wedding in a polished, classic way. Colour your wedding mood Couples are moving away from the strict colour scheme and focusing more on the mood they want to create for their big day. For a wedding with a touch of drama (in the décor), choose a deep colour palette with rich hues like burgundy with black accents.
Go bold with Pantone's colour of the year, Ultra Violet, a lush and expressive shade of purple that nicely complements the richness of the season. For the edgy couple, incorporate metallics as an accent. While gold has been, well, the gold standard for accents for ages, we'll see more chrome and silver showing up in 2018. The timeless combination of black and gold evokes a rarefied aura that we will still see in weddings, while a modern mix of navy and silver can evince a cool sense of style.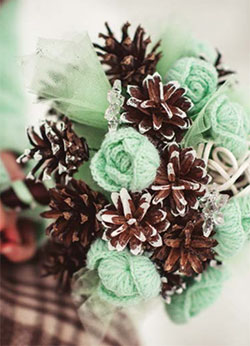 Décor that sets the vibe with bohemian as a popular overall wedding theme, expect to see couples incorporate classic bohemian tropes like macramé and crystals into wedding reception décor. Macramé will show up everywhere from bouquet wraps for the walk down the aisle to table runners, chair décor and more. Crystals artfully strewn across the tablescape will bring the Kira Kira Instagram filter into real life and your wedding photos. For a winter wonderland wedding, velvet and faux fur evoke warmth and elegance.
The cozy aesthetic lends the reception an air of decadence and offers a delightfully soft tactile experience for your guests. Velvet table runners and faux fur draped over dining chairs are just a couple of ways to level up your wedding's lushness factor. Indoor venues offer possibilities As we move into the fall and winter season, it's time to press pause on dreamy outdoor wedding spaces in favour of indoor venues. Industrial spaces, like the Horticulture Building at Lansdowne, Zibi and Makerspace North, are a popular choice for this time of year.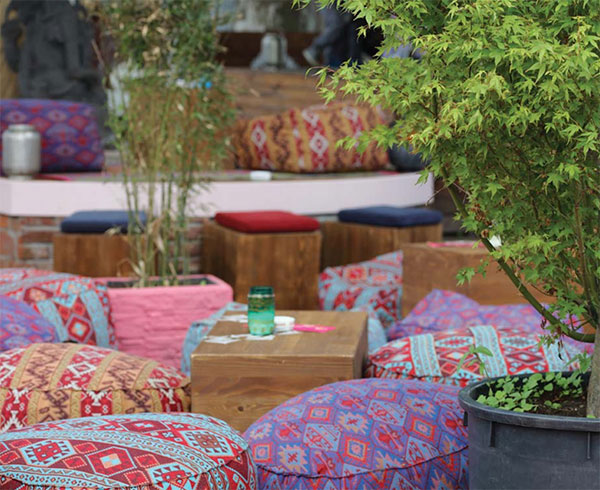 A major benefit: the blank-slate configuration, offering limitless possibilities for décor. The clean lines will elevate minimalist wedding styles. Warm up the interior by bringing the outside in. Wooden details are the new rustic. Make the décor feel organic and natural by bringing in ever-popular greenery. A hanging flower installation is a dramatic, eye-catching décor piece for your reception. Transparent décor elements work really well with a hip, industrial wedding venue.
They can emphasize minimalism and open up a space all at once. See-through décor like clear acrylic ghost chairs for the ceremony and glass details for the tablescape amplify a modernist wedding day vibe. Add in a neon sign for a pop of colour that's positively electric. Your wedding is a celebration of love — and what says fun celebration better than balloons? For your indoor season wedding, you can incorporate balloons in a similar way you would with flowers; try a balloon ceiling as a stunning overhead installation, or a balloon wall for a social media-ready backdrop.
Food that reflects your taste Your first meal as a married couple should be a reflection of you. You don't have to go the route of traditional three-course menu or buffet stations. Instead, choose foods that you love or that have sentimental meaning to the two of you as a couple. Think portable pizza ovens or food trucks for something fun and different. Asian fusion, Mexican, grilled cheese and so much more: there are a lot of great Ottawa food truck options to cater your wedding.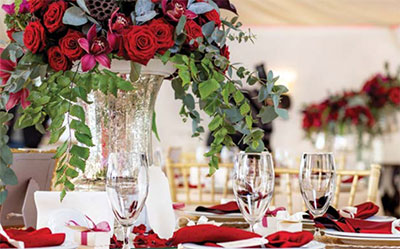 The wedding meal can be a reflection of your culture or, increasingly, of your tastes, so consider alternative ethnic menus like ceviche, sushi and tacos. Artful presentation of the food and beverages is popular. The traditionally appointed wedding cake is taking a backseat to some more inventive cake styles and dessert options. "Semi-naked" drip cakes (featuring a thin layer of buttercream) are to the bohemian theme what a three-tiered white buttercream-frosted cake is to a classic theme.
Another stunning option is having your wedding cake frosted in neutral tones with a standout coloured tier. As for your dessert table, fill it with sweets that you love. Doughnuts have replaced cupcakes as the go-to cake alternative. Meringues, cheesecakes and macarons are popular ideas. Finish off your dessert spread with a signature dessert cocktail. Guests love a build-your own bar, so as the weather turns chilly, why not offer a hot chocolate bar to complement the season?
You can have fun add-ins like marshmallows and butterscotch chips — and don't forget the liqueurs — to end the night in a decadent manner. Cascading flowers & wedding wreaths Cascading bouquets were popular in the 1980's and they are making a comeback as part of the new bohemian trend. Building on the "picked from the garden" look of rustic wedding bouquets, the elegance of the cascading bouquet is an opportunity to showcase a beautiful variety of florals and hues.
The greenery trend of 2017 can make a nice complement to pastels or a great contrast to boldly coloured blooms. As a nod to the holiday season, embrace the wedding wreath decoration trend. If you're having a bohemian wedding, these decorative fragrant wreaths will fit right in. Weave in wildflowers, grassy greenery and sweet-smelling herbs for a gorgeous flower installation.
Make your special day one to remember at eQuinelle! Let us make your dream wedding a reality.

Mike Taylor | Food & Beverage Manager mtaylor@tmsiottawa.com | 613-258-2105 (x 206)
Stunning views make for the perfect backdrop for any event
Available for on-site ceremonies
Ask about customized catering packages
Dedicated staff to assist you on your big day Event space available all year round
Located just 30 minutes south of downtown Ottawa in the quaint town of Kemptville. The award-winning eQuinelle Golf Club is a modern venue in a classic country setting. Happily ever after starts here… photos by: E.MacDuff Photography www.equinellegolf.ca