Drama and Sparkle
Photos by Chantal Benoit shot on location at Stanley's Olde Maple Farm
A winter wedding can be absolutely dazzling and romantic. Rosy cheeks and a picturesque, snow-covered setting make for spectacular wedding-day photographs. Horse-drawn sleigh rides, shimmering accents, rich colours, gorgeous flowers, elegant attire and striking décor can all be part of the season's wedding magic.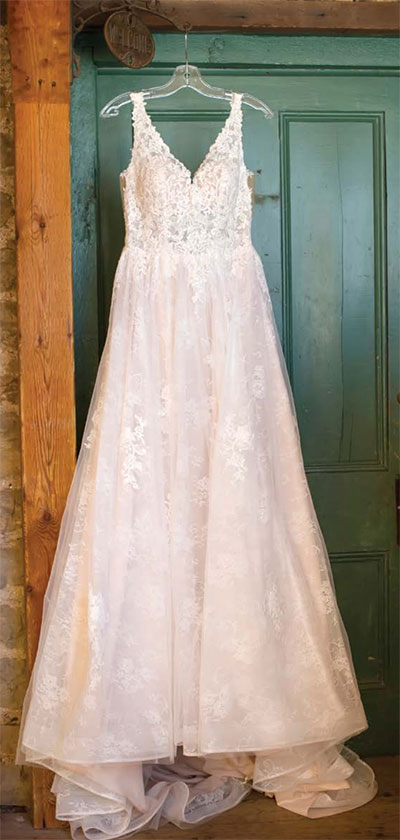 It's the perfect time of year for drama and sparkle. This bridal photo collage serves up some wonderful inspiration for embracing all the glorious cold-weather possibilities to create a fairytale day that is both unique and spectacular.
"Monday, February 5, was a fabulously wonderful day for a Winter Wonderland bridal shoot at Stanley's Olde Maple Lane Farm. The sun was shining and the maple tree branches were softly covered in fresh fallen snow. It was just perfect seeing the glistening snow in the sunlight," says Vivian Théoret from Juliannah's Bridal.
"Our themed shoot evolved into a countryside celebration of love between two lovers, who in actuality are married!"
The bride, a fair-haired beauty named Bridget Cameron, looked striking in two distinctive gowns from Juliannah's Bridal — one lacey and feminine, the other streamlined and sophisticated — and two different hairstyles by Sharon Lee: long loose curls accentuated with a lovely hair clip, and a chic, braided updo defined by a deluxe, embellished hairband.
Her polished good looks were enhanced with makeup by Erin Dittburner. The first dress Bridget modelled was an A-line, lace Essense of Australia design, style D2347.
In the captivating outdoor images, it was topped with a sumptuous white faux fur cape for the perfect winter bridal look. Bridget also modelled a striking Eddy K gown, style SEK1182.
A sleek V-neck sheath with beading at the waistline, it features low-cut sides and a deep-V back and she wore it with a breathtakingly beautiful long, sheer patterned cape, style DT110. The groom, a tall, dark and handsome fellow named Denis Murphy, wore his own kilt and blazer.
And the admiration in his eyes as he gazed at his wife, alluringly outfitted as the bride, certainly added to the charm. The pizzazz, though? That was created via a combination of elements: colour, texture, sheen, contrast, styling and sparkle.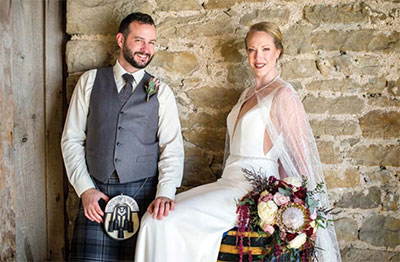 As Vivian notes, "We focused on the colours grey, silver and red," with varying hues of red and wine. Those shades of red were evident in the bridal bouquet, cake florals, and head-table floral arrangement by Melanie Clouthier Hill of Passiflora Floral Boutique.
They were also evident in the napkins, and the stylish stationery by Tammy D'Entremont of Daisy Designs.
The cakes — a splendid seven-layer white confection with ribbons of rhinestones, and a four-layer cake with red and silver ribbon, ornate detailing, greenery and pink and red flowers — were by Jeff Stoveld of Top of the Hill Bakery, but it was Mother Nature who provided the eye-catching layers of white frosting outdoors.
THE PLAYERS
STATIONERY AND WEDDING INVITATIONS: DAISY DESIGNS
FLOWERS: PASSIFLORA FLORAL BOUTIQUE
PHOTOGRAPHY: CHANTAL BENOIT PHOTOGRAPHY
MAKE UP: ERIN DITTBURNER
HAIR DESIGNS: SHARON LEE
WEDDING CAKES: TOP OF THE HILL BAKERY (permanently closed)
VENUE: STANLEY'S OLDE MAPLE LANE FARM
BRIDE: BRIDGET CAMERON
GROOM: DENIS MURPHY
BRIDAL GOWNS: JULIANNAH'S BRIDAL
Invalid Displayed Gallery