Congratulations! The Holiday Season is the most popular time to get engaged. You're excited and want to get busy planning your wedding. Here's the first step you need to take.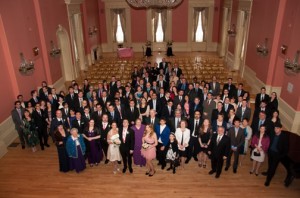 December is the most popular month for marriage proposals. Brides and grooms get excited with their upcoming event and start planning for it. That is why most wedding shows occur in January and February. It is perfect timing to meet enthused couples.
When I chat with wedding planners, the first rule is to know your
budget
. However, most people probably don't know how much a wedding costs. If you've never had to plan one how would you know.
Please read my post on the
wedding budget breakdown
. The reception is the most expensive part of your budget, taking up almost 50% of your allocated costs. All the other items such as a dress, photographer and flowers do not compare to the reception. As a general
rule of thumb
you can figure to spend about $100 per person for the reception.
The first step a newly engaged bride and groom need to discuss for their wedding budget is the size of their reception. Wedding receptions can be categorized into four sizes:
Elopement
weddings
are for a gathering of a close circle of guests. Whether you are having a small quiet affair or flying to a destination, these type of weddings truly limit your reception cost.
Average
size weddings are from 50 to 150 people. Specialized wedding venues target this size of wedding. It is the most common size for a
wedding reception
and therefore you need to book early. Most
lodge
-type venues and
golf clubs
attract this size of wedding.
Large
weddings are anything over 150 people. For this size of wedding you will need to find a
banquet hall
or hotel. Booking ahead will be important as the demand is higher than supply for these venues. You are also competing with other events as well, like conventions.
The reception is the biggest expense for your wedding. It also determines when and where you can have your wedding. If you are wanting to book a venue on a Saturday in July, August or September, expect that you may need to reserve at least one year in advance. You may want to consider
Friday
or Sunday as your wedding date.
Your reception size will drive your budget and venue selection. Your venue availability may dictate when you can have your wedding. That's why the first wedding planning step is to agree on the size of your reception.