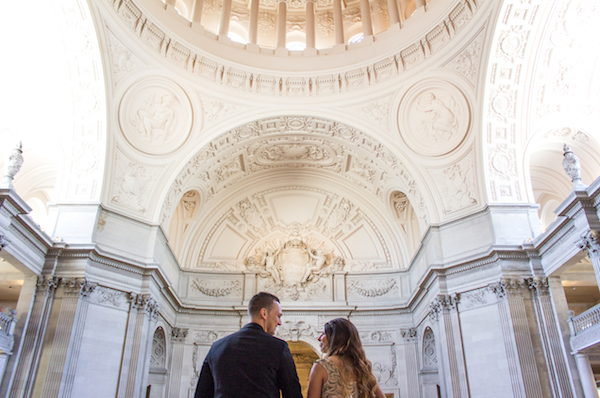 photos and story by Marge Maghoney
You strive to be stress free. Steer clear of drama. You surround yourself with positive, happy people and keep things simple and easy.
So after your man popped the question and slipped the ring, the idea of planning a wedding didn't even make you blink. You got this. You've seen it on Pinterest and have even kept a secret board of ideas for the day.
You've come across the coolest, most beautiful City Hall in America and it's in San Francisco. Instant honeymoon vacation right there. Already hit two birds and you haven't even started. Easy peasy.
You start doing some research and head first to the San Francisco City Hall website to see how to get your marriage license and schedule the ceremony. You stumble upon a piece of information that says only six guests are allowed. You pretend not to notice but that made you swallow. Six? You wanted a small wedding but not that small.
You set aside that minor bump and move on to a funner direction, the dress.
It might not have been love at first sight with your fiancé but you instantly fell in love with that insanely gorgeous Season 10 Episode 1 gown on Say Yes to the Dress. You calculate how many weeks (or months) you need to be juicing to pull it off when you remember you're getting married at a City Hall. With six guests. Gulp.
The first tiny bead of sweat starts to form. And your mouth begins to foam. You take a deep breath and start a whole new research. You google How to go about a San Francisco City Hall wedding or Tips for City Hall brides. You read a few posts but most are just compilations of information you've already gathered. And you still have a bunch of questions left unanswered.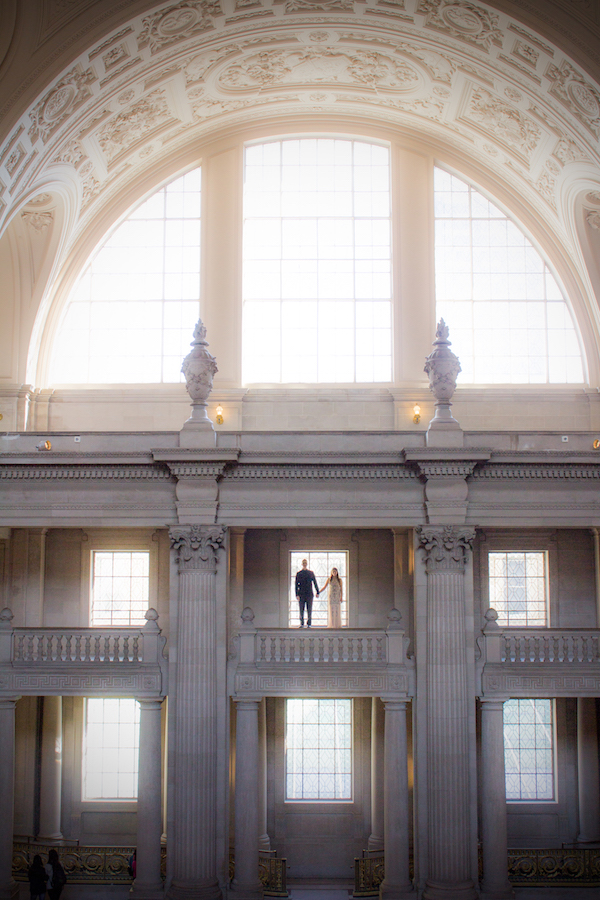 And then BAM! You stumble upon Your Ultimate Guide to Rockin' Your San Francisco City Hall Wedding.
Ladies (and gentlemen), welcome.
I could've easily been talking about myself five years ago with all that. I was in your shoes trying to figure things out with only one thing that was certain — I was going to get married to the man I love in that awesome building.
It sounds crazy to fall in love with a structure. Made of concrete. And gray. But boy, I tell you, the photos you see online doesn't even do it justice once you see it for real. The place, simply put, is majestic. Gloriously sitting like a castle in the middle of a forest of tall box buildings. It gets you excited seeing its golden dome a couple blocks away. You almost feel is grand history upon stepping into the entrance and it just takes your breath away as you find yourself standing in the middle of the grand stairway, craning your neck, your eyes feasting on all the beauty above you, all around and even the intricate floors underneath your feet.
After my first wedding gig at the City Hall, I came home to my then fiancé and announced "That's where I want us to get married." And 2 months after those words came out of my mouth, they were saying "I do" in the middle of the rotunda. It would've been a month or even a couple of weeks had I been given a guide such as what you're about to read.
So my friends, this is for you. Because I know you want this done quick, easy and stress free.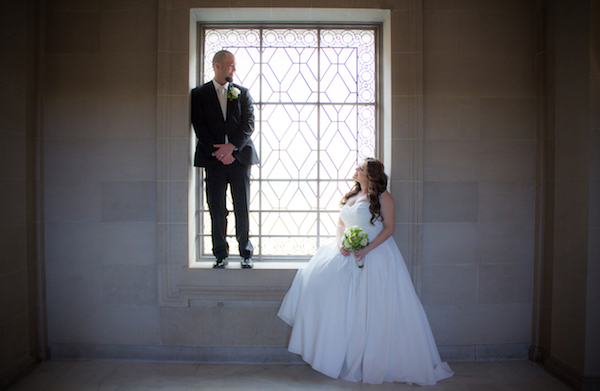 Number One: License and Ceremony
You want this squared away first. Everything else can follow. You want a time and a date. Something solid on which you base all other details on. So your friends and family can plan ahead and take time off work. An idea of how much time you have to shed off a few pounds. A date to check if the photographer you've been stalking is available. To plan where to eat after and make reservations. A deadline for receiving that custom dress with enough time for a possible alteration.
You can book as early as three months in advance. It's as easy as registering on the City Hall website, picking a date and time and paying for it. They accept Visa and MasterCard only. $105 for the license and $78 for the ceremony (effective 07/01/15). Book it early so you'll have more chances with availability. The closer you get to your preferred date, the more likely it's already been booked. It's not necessarily a secret location and a lot of other brides are thinking a lot like you so get a head start. They can accommodate up to 36 couples (3 every half hour). That may seem a lot but slots fill up quick especially since it's becoming a more and more popular wedding destination. So select a date, choose a time and bust out your card.
Number Two: Dress
At the City Hall, it's a rainbow of styles, lengths and colors (still a majority of white) when it comes to the dress. I've even had a couple of brides not wear a dress but pants. Some prefer to go against tradition such as Michelle, who arrived in a gorgeous red number and another Michelle, a ModCloth fan, who opted for polka dots. Anissa nailed it in lime. Daisy came in blue. Karishma wore a stunning teal sari and Trang stole the show in an intricate red cheongsam. You get the idea. You like it, you're most welcome to wear it.
Several brides opt for short dresses and I love the elegance and simplicity of this choice. And there's the other half who goes for the long, all out, full on wedding gown. And they're never out of place. It's a common sight in the City Hall and this is what makes it so much fun, like watching a bridal fashion show.
More than a few stick to white but add a burst of color with their shoes like Michelle (I seem to have a lot of Michelles in my roster) with her yellow strappy number and Kristen with her cobalt pumps.
So pick what dress you're in love with and rock it without hesitation. It's a free for all in San Francisco.
Number Three: Weight Loss
You're like, "Whoa, are we really going there?" but remember, this IS Your Ultimate Guide and I figured it's fitting to follow the dress with the body that's going in it. And what bride does not have that thought cross her mind even once during the planning stages.
Personally, I'm not a fan of working out. I know it's good for you but I think it's overrated in terms of weight loss. I think watching what (and how much) you consume makes a bigger difference. This NYT article I just read actually kind of read my mind. If you burn 350 calories from a 30 minute jog, how much easier is it to just skip that same 350 calories worth of soda and potato chips? And after a workout, your body knows it just burned a bunch of calories so it's naturally begging you to replace it by being extra hungry. I'm not saying just be sedentary and quit going to the gym. It's just not the golden ticket to trimming your waistline. It's your diet.
Juicing has proven to work for a lot of folks including myself. My first attempt lasted about 2 days. I got frustrated having to buy all these fruits and veggies, extracting the juice from them (ending up with just 2 days' worth of juice), cleaning up and doing that all over again. It's too freaking time consuming. And I didn't want to make a ginormous batch in advance since I wanted it to be pretty fresh. My second attempt though was better. I thought why the hell should I make it from scratch when I could just buy the damn thing? So now I buy huge bottles of Kale Blazer (that tastes dead on like my own creation), Bright Beets (zingy), pure Carrot Juice (nice and sweet) and tomato juice (which I've grown to love). Tomato in the morning, carrot for mid-morning, kale for lunch and beets for dinner. Do I switch 'em up? Absolutely! Do I cheat? Hell yeah! But only with fruits. If I get super desperate, I'll make myself a grilled caprese. If I'm drooling having smelled dinner being cooked for hours, I'll have a little bowl. And by little I mean itty-bitty-witty. I use those tiny ass bowls meant for dips and sauces. Just to satisfy my taste buds. AND I still lose weight. It's amazing the changes you'll start to notice with just a few days of that. There's hope, people.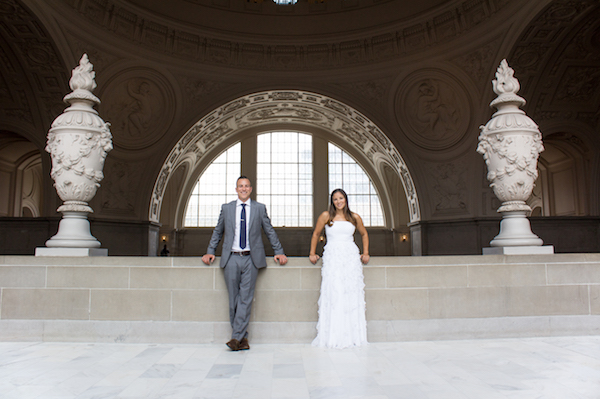 Number Four: Shoes
I'm not talking about styles and colors. Like the dress, pick whatever you desire. Go to town with straps, buckles, embellishments and what have you. Heels or flats? Why not both? Please consider that we'll be walking around a pretty huge building comprised of four floors (yes, we'll cover them all as each section has something beautiful to offer), go up and down the stairs (for photos, they actually have an elevator) and walk some more if you've chosen a second location for newlywed photos after the ceremony.
If you're not used to wearing heels but want to step it up a notch for this occasion, I suggest bringing a pair of flats (even flip-flops) as we walk around and just change into your heels for full body shots (some shots are only half body and close-ups, you won't even need to). But if you booked a 2 hour package that involves a second location (typically a beach setting) for post ceremony newlywed photos, it's almost a must.
Number Five: Guests
Now the City Hall wedding FAQ's page states No more than six guests total. It doesn't sound like a suggestion so you assume they're strict about it. They're not. I've seen groups made up of 30 to 40 people and the commissioners don't mind as long as you don't disrupt the ceremony. It's actually pretty cool to be surrounded, literally, by friends and family. Literally because that is exactly what they'll do — form a circle around you. Please do not crowd the couple and allow the photographer some room for different angles. Have more guests and you want them sitting down in a more formal set up? You can have this option for $1K++. Contact the Events Office at 415-554-6086.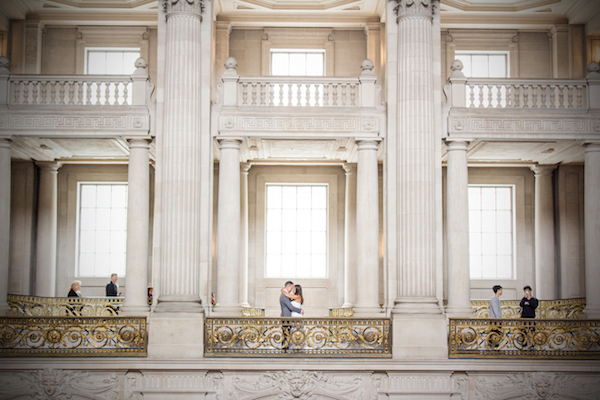 Number Six: To Change or Not to Change at the City Hall
I'd say arrive at the City Hall clothed in all your bridal glory. I've had a handful of brides ask if there's a place where they could change in the building. There is. It's called the restroom. They have pretty clean ones, by the way, but if it were me, I'd ask "Why?" when you can just arrive with one less thing to think about. Not to mention how uncomfortable it would be especially if you've decided on a full on wedding gown. Don't hold the bigger handicapped stall, grandma might need to use it. Dust off the paranoia that you'll be the only person dressed in white and everyone will be looking at you. I assure you, it's a common sight in the building.
Number Seven: What to Bring
Aside from your guests, please make sure you have the following:
1. Both your IDs.
2. Your marriage license if you already took care of that prior to the day of the wedding.
3. Your witness/es (if not a confidential wedding). If they're late, use your photographer. You have no idea how many marriage licenses are out there with my name, address and signature on it.
4. An emergency makeup kit for touch-ups.
5. Flats or flip-flops for changing (no need if you grew up in heels).
6. The rings (I should've made this # 3).
7. Phone for candid shots because you know you'd be itching to post them on Facebook and IG. Also to let your photographer know when you arrive and for guests running a bit late confused with directions.
8. Mints (you both want to have fresh breaths when you exchange I do's).
9. Wallet (you'll probably skip breakfast as a last attempt to slip into that gown like liquid and might want a quick snack right after the ceremony from the ground floor cafe, lower level cafeteria or the food trucks out in front on Fridays from 11 am-2 pm).
10. Vows (if you prepared any).
Number Eight: Timing
From the moment you book the date, to the day of, timing is everything. So arrive early. If they're strict on one thing, it's being on time. Not on their part because it's pretty common that they're not on schedule but you showing up on your appointed time. If you miss your slot, there are no second chances and you have to do it all over again. So I can't say it enough, be early. Consider the time of your appointment, the traffic, the distance from your hotel or your house and give more allowance that you normally would. We have to check in about 10 minutes before the ceremony so make sure you're in line outside Room 168 within that period. Remember I mentioned they marry 3 couples every half hour? So depending on who arrives first among the 3 couples in your 30 minute slot, that would determine whether you'll be couple number 1, 2 or 3. No biggie if you're 2 or 3, time will be spent taking photos near the area of the ceremony.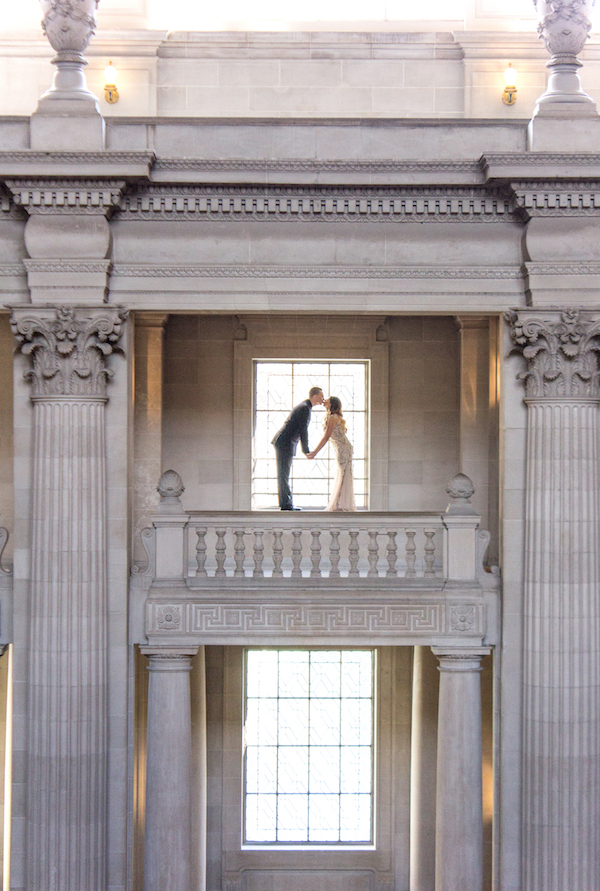 Number Nine: Officiant/Commissioner – Do you get to choose?
The lady or gentleman you will meet upon check in and the same person to declare you husband and wife. Or wife and wife. Or husband and husband. Or partner for life.
Unfortunately, no, you do not get to choose them. But I assure you, they're all nice and friendly. See an old blog post I wrote about some of them. Everyone on the list are still there plus a few newbies.
They used to have only one commissioner working per shift so you're kind of stuck if the next one is running late. Good news is they now have two to speed things up.
Number Ten: Ceremony Location
When we check in, at some point, the commissioner will show you a 12 x 12 photo of the main lobby and you basically point to a spot where you want to get married. You probably already know this, the most popular location is the rotunda right on top of the main stairway. Not only is it beautiful but the location is a prime spot for taking good photos in all angles plus the light is just right. I can walk all around you and each background (except the one with the water fountain but that can be Photoshopped) will be amazing.
There is one commissioner though (# 5 on this list) who seems to just do weddings on the bottom landing of the stairway. For what reason, I'm not sure. But he's done all his recent ceremonies here. It's a great spot too but I have yet to see a couple request the rotunda with him.
A lot of you also have a concern for ending up getting married in the private room. And I can understand. Getting married at the SF City Hall almost always point to getting married at the rotunda. But it's something we have no control over. And they get this too. Only when they have an event going on in the main lobby that they do not allow ceremonies in the rotunda. Commissioners understand this concern as well as I've seen them offer other locations on the 3rd or even 4th floors (one of my favorites) with the private room as a last resort. Out of all the weddings I've covered, only once had I been in the private room and it's only because they had a really huge private event going on.
Number Eleven: Photographer
You've most probably learned about the beauty of SF City Hall not through word of mouth but by stumbling across a photo. You become enthralled, look for more photos and end up on a bunch of photographers' websites. That's what it's all about. Make this an absolute part of your budget because why would you pick such a gorgeous location and not have a proper visual documentation of it? You want to capture every single beautiful corner (of course with you and your husband in it) this place has to offer.
There is a bunch of photographers out there to suit whatever budget you have, just please don't rely on your phone or Uncle Tom's new hobby and purchase from Best Buy. You need someone who has a good eye, knows the City Hall well and most important, someone you feel comfortable with. You have to be at ease, to be yourself, when your photos are taken for them to come out really nice. So don't skimp on professional photos. Think of it as an investment. You're paying for visual memories you and your kids and their kids will look back to in years to come.
Number Twelve: Location for Photos (in and out of City Hall)
There are lots of great locations within the building. Outside Rm. 168 is not one of them. Lighting makes photos turn yellow but that can be remedied with editing. Aside from the rotunda for the ceremony, make sure you explore the entire building (of course not the Mayor's office or all other doors marked Staff only). I usually go floor hopping. With enough time, I start at the 4th floor. Lighting is almost always phenomenal. If there's family involved, I usually like to take group photos here. The space is wide and the light faces my subjects beautifully. Then off to the 3rd. I love using the huge windows and have fun with different shots using the ledge and the railing across. Usually while waiting for our turn for the ceremony, I use the 2nd floor for shots incorporating the lobby as the background. Sometimes I'll have you walk down the steps while I get a wide angle shot from straight across under the giant clock (you'll see when you get there). Another must do shot is by the main entrance right underneath the door with the City Hall sign above it. This can wait after we've exhausted all indoor photos and right before we proceed to the second location. This is also a good spot for taking photos of you guys wearing your rings.
Number Thirteen: Second Location
Most couples I've had the pleasure to work with choose the West Coast Treat package. It includes two hours and two locations, the first being the City Hall. After the ceremony and a few more shots within and outside the building, we proceed to location number two. I usually take couples to the Palace of Fine Arts, Crissy Field, Golden Gate Park, Baker Beach, Clarion Alley, Musee Mecanique, Golden Gate Park, Fisherman's Wharf, one of the Piers or they take me to the reception. The top 3 includes Crissy Field, Palace of Fine Arts and Baker Beach. Baker Beach is gorg since there are usually just a handful of people there most of the year but come summertime, it gets absolutely packed and has a lot of distractions in the background. So not only consider the time of day but the time of year too when choosing a second location. I actually love Clarion Alley but it may not be the cup of tea of many. But worth checking out. Also, time with your photographer doesn't stop from one location to the next. Drive time is included so make sure you pick a second location not too far from the first or if you really want to go farther, be prepared for the possibility of paying for the extra time.
Number Fourteen: Rings and Vows
Rule number one, don't forget them. With the rings, just like any wedding, you can have somebody hold onto them for safekeeping until the time during the ceremony where you have to exchange them. But if you're planning to elope or have a confidential ceremony with no guests, some couples just keep them in their pockets or simply wear the other's ring on a different finger and just slide them off upon the commissioner's cue.
As for the vows, I can count with one hand the couples who've personally written theirs. So no biggie if you don't. That doesn't make you any less romantic. The commissioners actually have some pretty cool things to say that will leave your hearts going thumpity-thump. If you do decide on making one, just make sure it's not a couple of pages long. I'm sure you have a lot to say to your soon-to-be but keep in mind they have 2 more couples within your 30-minute time frame.
Number Fifteen: Hair & Makeup, Flowers, Hotels/Airbnb, Limo/Uber and Places to Eat
These are the extracurriculars that would be left for you to decide on. There's a huge selection for each category that I have to make a blog post for each one, maybe a Top 10, later on (so keep an eye out for that). You know your style and your budget more than anyone else so dive in and have fun checking out different vendors online. There's Pinterest, Yelp and even Craigslist to get you started.
Ok, for now, that's all I've got. I hope this helped you kick start your journey to the day. If you have questions that I wasn't able to cover or just need moral support, feel free to comment below or send me an email. I'd love to hear from you.
Enjoy the ride and I'm excited to see you soon!
Smiles,
Marge
marge@margemaghoney.com
Marge Maghoney started her photographing professionally in 2009 and has since covered about 250 events, mostly weddings. "It wasn't planned, but my niche evolved to San Francisco City Hall weddings," she explains.  For one thing, she was married there in 2010. And, after experiencing the gorgeous location, she realized you don't have to have a big wedding to have a beautiful wedding. "It's also been an increasingly popular destination wedding spot as you'll see on Pinterest or even via a simple Google search. A big chunk of my clients are from out of state and they make a vacation out of it with friends and family or sometimes just by themselves." To learn more about San Francisco City Hall weddings, click here.