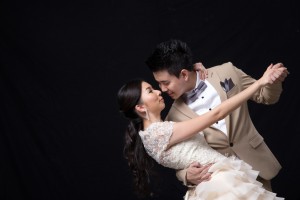 So you think you can dance?
What about your first wedding dance as a married couple—are you ready for that? Customarily, the newly married couple kicks off the dance part of wedding-day festivities with a special first dance.
The music is a matter of personal taste, as is the style of dance. And although a waltz is fairly standard, many brides and grooms are getting creative with their moves on the dance floor. They're taking lessons too. Dance instructors can actually customize choreography to suit you and the song you choose. Couples are learning how to swing dance and tango, how to cha-cha or square dance or bust some hip hop moves.
Some couples' choreographed "first dance" routines have been posted online and have earned tons of kudos via YouTube and social media.
It's up to you what steps you take on your big day. But whether you hire an instructor or practice in your living room—make it fun and please don't trip over the dress.