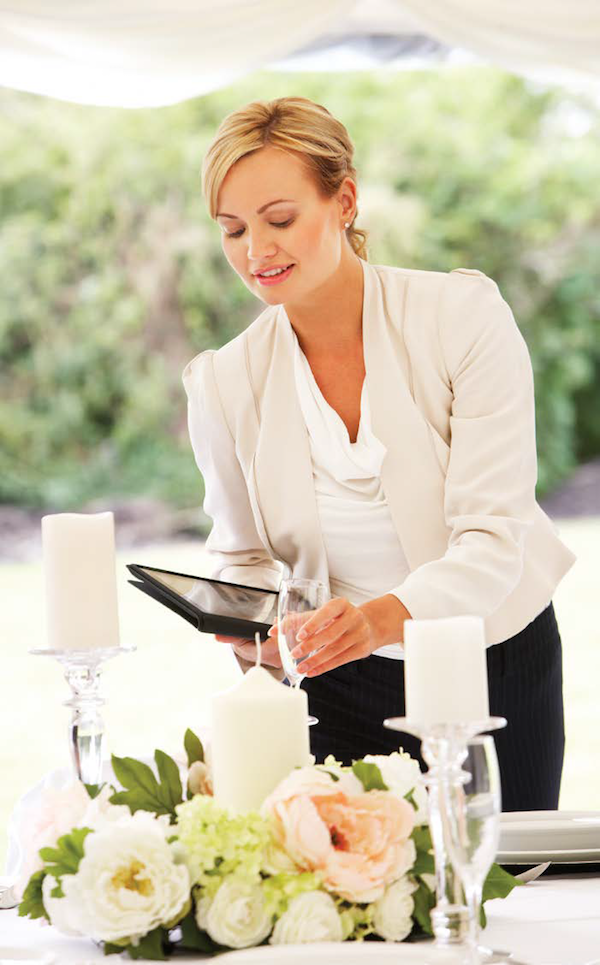 A wedding planner's day starts bright and early and depending on the party, may not end until early the next morning. For example, for a 7 p.m. ceremony, you can expect your team to be working on finishing touches that morning and have an itinerary that starts at noon.
It can look something like this:
–           Connect with all vendors one week before wedding but also the morning of to ensure everyone is on the same schedule.
–           Pick up bouquets and boutonnieres and drop off at bride and groom's houses.
–           Pick up their overnight bags at the same time to check them into their hotel later that evening.
–           Go to venue to start set-up: chair covers, place cards, menus, wedding favours, linens, decor, etc.
–           Greet vendors at venue. Place them in their spots, go over timeline, make sure they have brought everything the client has paid for, direct the decor to meet the client's vision, go through floor plan.
–           Bring all ceremony decor and programs to church.
–           Welcome guests to ceremony, hand out programs (if there are no ushers), put the boutonnieres on the groom and his men, line up the bridal party and give cues to musicians.
–           Pay all vendors that day that still require payment.
–           Transfer decor from church to reception.
–           Ensure that the reception is completely ready to go before the first guests arrive (light candles, ensure all details are taken care of, etc.).
–           Greet guests to cocktail hour and give direction to guest book, bar, washrooms, seating plan, etc.
–           Invite guests to reception room.
–           Go over emcee script with emcee to ensure everything is clear and there is a smooth flow to the evening.
–           Oversee dinner (what is coming out of the kitchen, it is at the right speed, change the lighting so guests do not get restless, work with the DJ to set the tone for the evening).
–           Cue the emcee and give speaker the five-minute cue before they head to the podium.
–           Cue the bride and groom for all speeches (if necessary), first dance, cake cutting, and any other programming elements.
–           Ensure that the room is kept up to the standards of the clients (clean, candles lit all evening, the tables clear immediately after dinner, ensure the bar line is short, etc.).
–           Gift transportation: ensure they are delivered to a safe space.
–           Check bride and groom into their hotel and give them the key.
–           Tear down (this way the clients leave hands-free and we make sure everything is organised at the end of their event).
A longer version of this article was originally published in Fall/Winter 2013 issue of Ottawa Wedding Magazine.