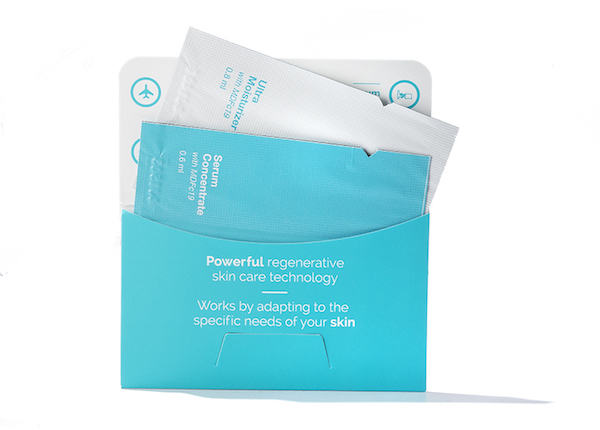 The wedding planning checklist is endless, from buying the fairytale dress and booking the dream venue to finding the most decadent cake and breathtaking flowers… so it's no surprise that some of the most important things, such as skincare, take a back seat during this process. Most brides rely on the makeup artist to work wonders and they do very little skin prep leading up to the big day. That's why RESCUE skin (www.rescueskin.com), has come to the rescue for brides, grooms and the whole bridal party. This easy-to-use solution allows your bridal party to start prepping a gorgeous glow weeks in advance, without any extra hassle. Thanks to RESCUE, you'll ensure the best skin of your life on the most important day of your life, and every day after.
Here's the perfect solution for getting a photo-ready glow on the big day:
Start using RESCUE 30 days before the wedding
Apply the Serum Concentrate every night on a clean face before going to bed
Apply the Moisturizer every morning on a clean face before applying make-up
For optimum results, use both Serum and Moisturizer every morning and night, applying serum to clean face first, followed by moisturizer
Voila – in 30 days you are guaranteed to see your best skin yet!
Destination Wedding? Perfect!
Who doesn't love a destination wedding? That's why our travel-ready packets have been designed so that you always have your best skincare on hand.
Take your RESCUE with you on the plane and in your carry-on and never worry about TSA stopping you as you pass through security.
It's not a destination wedding without welcome gifts. Why not include the RESCUE 2-packs for your guests arriving to your destination as they check in? They will be sure to thank you when their skin is glowing for your big day, or after they have used it to minimize the effects of a sunburn, should you choose a tropical destination.
Share the Love:
Stuck on what to get your bridal party and loved ones as gifts?
Give them the gift of beauty with 1 easy solution for all ages, skin types, and genders!
We know a wedding is an expensive event, so that's why we've created our special packages to help you save at least on the gift-giving aspect of the big day
RESCUE has created exclusive packaged collections for wedding parties
For the Wedding Party:
Bride and Groom: One month's supply of RESCUE each.
1 30-day supply of Serum (x2)
1 30-day supply of Moisturizer (x2)
Retail: $280; wedding special: $224 (20% savings)
Bride, Groom, Plus 2 Additional People:
One month's supply of RESCUE each
1 30-day supply of Serum (x4)
1 30-day supply of Moisturizer (x4)
Retail: $560; wedding special: $420 (25% savings)
Bride, Groom, Plus 4 Additional People:
1 30-day supply of Moisturizer (x6)
Retail: $840; wedding special: $588 (30% savings)
Guests:
50 Travel 2 packs
Retail: $250; wedding special: $200 (20% savings)
100 Travel 2 packs
Retail: $375; wedding special: $375 (25% savings)
200 Travel 2 packs
Retail: $1,000; wedding special: $700 (30% savings)
ABOUT RESCUE SKIN:
Designed to bring cutting-edge stem cell technology to every age, gender and skin type with a single-step, RESCUE provides immediate rejuvenation no matter where life leads – from days in the sun, getting the perfect sun-kissed tan for your wedding to nights on the town and bachelor parties, celebrating with your closest friends leading up to the big day. RESCUE is the perfect gift for your bridal party to help them look and feel their best through the stress of planning the wedding to the long nights leading up to the big day.
The product's powerful clinical formula brings skincare into the modern age by supporting cellular turnover through the natural production of dermal fibroblasts and pro-collagen (among the most fundamental aspects of youthful, healthy skin). RESCUE's secret is an ingredient called MDFc19 (Mesenchymal Derived Factor Complex 19), developed by Dr. David Scharp, a leading medical doctor, researcher and scientist with more than 200 publications and 15 patents to his credit. MDFc19 uses peptides, proteins and cytokines extracted from adult stem cells to address the trauma and damage caused by the environment, sun exposure, genetics and aging. RESCUE consists of two complementary dual-purpose preventative and regenerative products that provide skin with the specific support it needs to naturally remain youthful, and help to restore what has been lost due to aging.
RESCUE is offered exclusively in sealed, single-use packets for the industry's most powerful, hygienic, seamless and transportable skincare available, bringing the power of advanced science to everyday life. While traditional skincare containers invite oxygen and bacteria into the product when unsealed, RESCUE's seamless approach ensures a completely fresh, perfectly sized dose every time, ideal for today's busy and demanding lifestyles.
RESCUE SKIN was first introduced with a limited release in November 2014, rapidly selling out within six months from direct word of mouth. RESCUE Serum and Moisturizer is now available online at www.rescueskin.com. Both products are regularly priced at $65 separately or $129 combined.