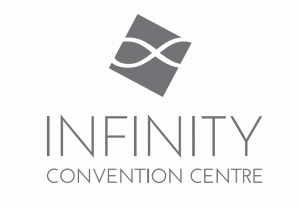 Address: 2901 Gibford Drive Ottawa, ON K1V 2L9
Phone: 613-696-1580
E-mail: info@infinityconventioncentre.com
Web: http://infinityconventioncentre.com/
Facebook: https://www.facebook.com/infinityconventioncentre/
Twitter: https://twitter.com/ICCOttawa?lang=en
Instagram: https://www.instagram.com/infinityconventioncentre/
LinkedIn: https://www.linkedin.com/company/infinity-convention-centre
Google+: https://plus.google.com/115914401987619957502/about?gmbpt=true&hl=en&_ga=1.226204434.981977842.1457553548
A day to remember
You've found the perfect match, and now you've found the perfect venue. Join us in the place where memories are made to cherish. At Infinity Convention Centre, we are creating a vibrant, contemporary and romantic setting to make your celebration a moment in time to cherish forever.
A sample of our extraordinary features include:
Sophisticated and elegant architecture featuring open concept ballrooms with no pillars or columns to obstruct your guests' view of the happy couple.
Stunning one of a kind crystal chandeliers and water feature, spacious bars and acoustics that lets you dance into the night.
An innovative Chef leading a top of the line kitchen producing a range of world cuisines that arouse the senses.
Up to 15,000 sq. ft. of sheer elegance for up to 1,200 people
Private bridal suites designed for primping, Smart TVs display your ballroom to keep you connected with the celebration in anticipation of your grand entrance.
An elegant covered port de cache for your grand arrival and departure at the end of the evening.
Ample complimentary parking for your guests, walking distance to two major hotels and conveniently situated near the airport.
Visit us at Infinity Convention Centre and discover a place where memories are made.