Wishes Come True
Compiled by Pam Dillon | Photos by Nicole Amanda | Wedding Date: September 9 2017
Kelly and Roy met when she was 17 and he was her stepsister's 21-year-old friend. Although that first encounter at her parents' place was awkward — "I was super embarrassing," Kelly laments — a few years later they started talking via Facebook and decided to go on a date.
Eventually, something clicked. That's why, on Roy's birthday in Jamaica in 2016, they both had secret plans: She was planning a surprise birthday dinner for him, while he was orchestrating his proposal.
So, when they packed a bag to head out on excursions for the day with family members, what she didn't know was her engagement ring was in it. Towards the end of the day, Roy wanted to explore caves, so they did.
Soon enough they were alone at a wishing well. Roy asked her to make a wish with him, and, not realizing what was happening, she replied that she didn't bring a coin. "He told me to make a wish anyway," Kelly says with a laugh.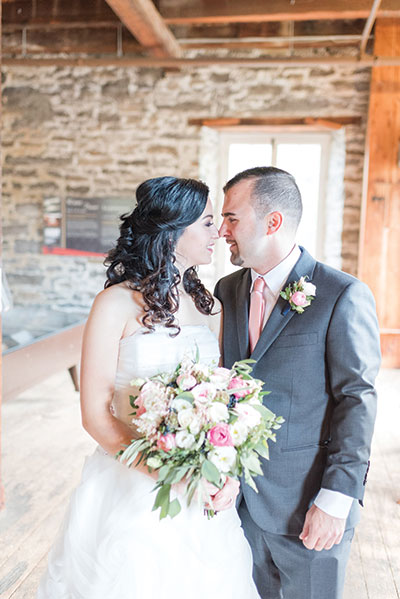 "I told him I wished that I would have him forever, he said the same, and got down on one knee." Happily, Roy's surprise birthday party also became their engagement party.
Their September 9, 2017 wedding at NeXT Restaurant took about a year to plan. "Our wedding was casual but romantic," the bride explains.
The style was modern and the day was busy, "But I wouldn't change a thing," she adds. "We loved our day and it was so special to us."
Kelly describes her bridal look as "simple elegance" and she purchased her beautiful strapless gown at Our Hopes and Dreams Bridal.
"I wanted to feel like a princess but also be comfortable enough to dance the night away."
Her hairdo was by Curly Hair Designs and her jewellery was from Taing Jewellers, but another eye-catching aspect of her look had four legs.
She held their wee dog, a yorkie-poo, in one arm as she walked hand-in-hand with Roy down the aisle.
The wedding colours, rose gold, navy and blush, were reflected in the bouquets and the décor. Bridesmaids wore navy dresses and tables were topped with linens in the same shade.
"We had an already gorgeous venue at NeXT," Kelly notes. "The natural lighting in the room and drapery created such a nice atmosphere that all we needed was pops of our colors throughout to add our own unique touches to our wedding."
Cupcakes, frosted in blush pink, and a gorgeous semi-naked wedding cake by Take Another Bite, along with florals by Pretty Pots Flower Shop, added to the romantic ambience, and there were sentimental touches too.
Instead of a guestbook, the couple had a wishing well with a sign beside it: Please leave your well wishes for the new Mr. and Mrs. There were countless wonderful moments, Kelly says.
"Our first look is one of the most memorable parts of the day for us. It was so special to us to have time together before going to the ceremony. It let us have our own private moment before the night began. We also loved having our fur-baby, Hugo, be a part of our ceremony." 
For the bride and groom, other highlights included their first dance and having their closest friends and family members on hand. "We had a great night filled with delicious food, music and dancing! A night we will never, ever forget."