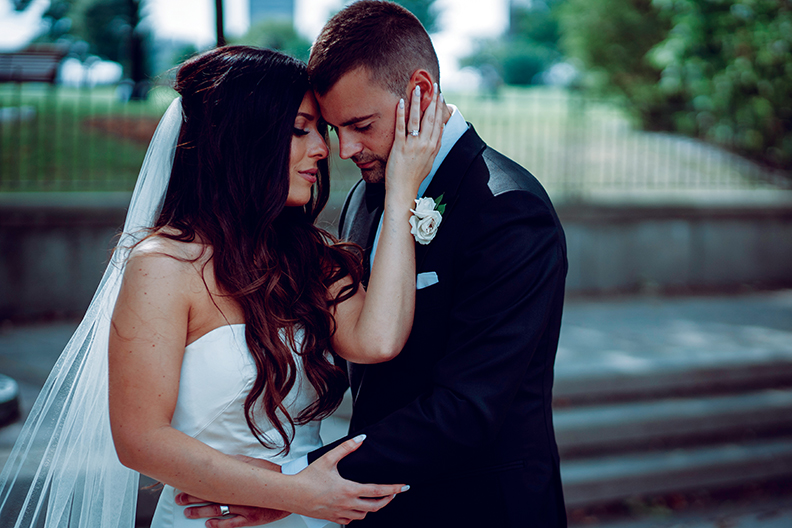 Justin and Amy were a couple for a dozen years before saying their "I dos," but when they eventually arrived at the altar it was a spectacularly memorable wedding day. Eight bridesmaids all in white, 200 guests, perfect weather, iconic venues, an open bar and a striking, modern wedding design made their dream day a truly remarkable occasion—and well worth the wait.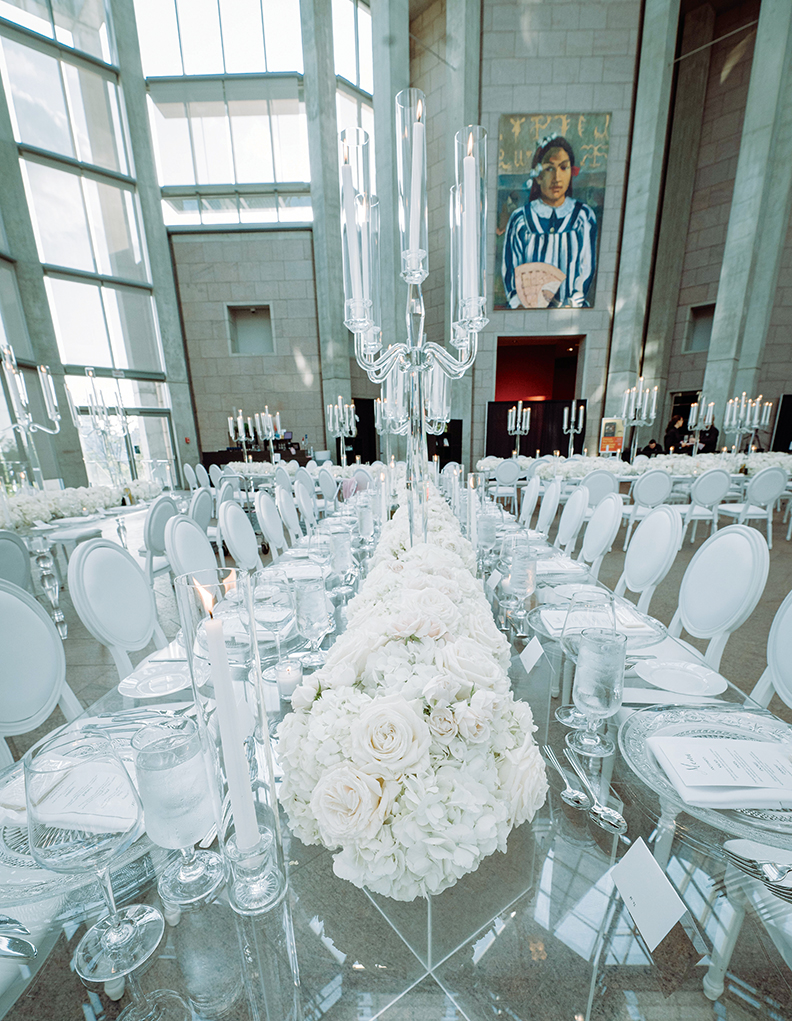 It was 2006 when the two Ottawa natives first set eyes on each other. They met through one of the bride's best friends who was dating Justin's brother at the time. Although Amy and Justin lived in different ends of the city, they connected and became friends. Friendship led to dating, and they've been together ever since.
They had just built a new home when, on December 23 of 2016, Justin asked Amy to be his wife. Soon enough, a date was set: August 3, 2019. For Amy, there was never any doubt about where the festivities would take place. "The Notre-Dame [Cathedral] Basilica is the most beautiful church I've ever seen," she declares. "I knew from the moment I got engaged that I wanted to get married in this church." Located on Sussex Drive, across from the National Gallery of Canada, the majestic cathedral is a designated national historic site that is renowned for its architecture and art.
Fittingly, the National Gallery was Amy's other dream venue. In her words, "It looks like a castle. I love its tall ceilings and all the glass windows. Its also very modern, which I love." These two iconic Ottawa landmarks were perfect backdrops for the kind of day she had her heart set on. "My vision was an all white wedding." This glamorous blueprint—or "whiteprint," as it were, took shape thanks to the influence of a celebrity with over 151 million Instagram followers: Kim Kardashian West. "I loved the beautiful simplicity of her wedding and the all-white look," Amy says. So for her own nuptials in Ottawa, "I wanted everything to be white and modern—from flowers to bridesmaids dresses. My wedding was very Kardashian-inspired, I would say."
To get the modern look she wanted, this bride got organized. She did plenty of research, scrutinized countless wedding inspiration images, heeded the advice of other brides with respect to choosing certain vendors, and hired a professional firm, WEDECOR, to do wedding design and coordination. Amy says she made "sure that my decorator/coordinator knew exactly what my vision was."
Nancy Tremblay is WEDECOR's lead wedding designer and she says, "We designed the wedding, coordinated the day-of, did all the florals and printing, and supplied all the luxury rentals with our sister company, EventCore Rentals."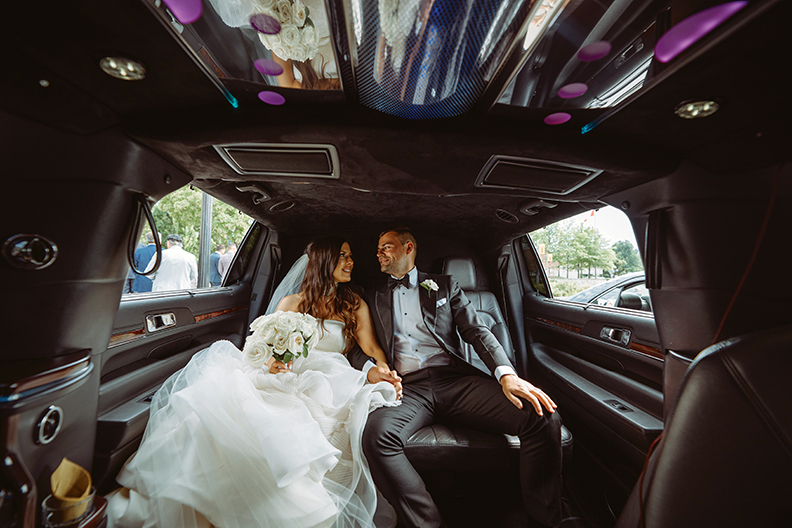 In Nancy's words, "The decor was very contemporary and modern. We incorporated lots of candles at different heights, creating the perfect romantic ambiance for a beautiful evening."
All the wedding décor elements were crystal or white, she notes, describing it as "a minimalist approach to the design. The crystal tables definitely made a big statement." So, too, did the all-white floral runners that lined the crystal tables, softening the industrial look of the National Gallery's Grand Hall.
"No greenery," says Amy of the tablescapes. "Each table was lined with candelabras. We did crystal charger plates, and white Louis chairs." Another design highlight was an all-white paper flower wall created by the Paper Florist. The bride describes it as "a beautiful touch" and perfect for guests who wanted to take photos. "Our wedding reception was very elegant," she adds.
The chic, all-white theme extended from the décor to the four-tier cake, bouquets and dresses. Amy wore a Hayley Paige mermaid-style wedding gown, with a satin finish, she found at White Satin Bridal. She accessorized it with a handmade lace, beaded choker, pearl earrings gifted to her by her soon-to-be mother-in-law, and shoes by Badgley Mischka. "My something blue was a rosary that was given to me by my mother."
And while the approach to design was minimalist, the approach to the wedding party was anything but. There were six little ones involved, along with many adult attendants. Amy's eight bridesmaids included her three sisters, Alicia Bell, Ashley Freeman and maid of honour Amber Couse, childhood friends Linda Chiarello-Akmaz, Mindie Vallati, Emma Bell and Rachel Kerr, and Justin's sister Cynthia Mastromattei. The evening before the big day, the bride and her attendants checked into the Prime Minister Suite at the Andaz Ottawa ByWard Market. "It's the perfect suite for getting wedding-day ready," the bride says. The bridesmaids wore white gowns by Jarlo London and Amy mentions, "My bridesmaids and I had our hair done by Fiorella and her team at Rinaldo's on George Street."
A party bus was rented to ferry the bridal party around for photos after the ceremony, and the photos were captured by Narsete Photography. There was also a photobooth by MDRN Photo Company at the reception, and each sleek black and white photo had the wedding hashtag, #mastromarried
The DJ/MC from Marco Ferri Entertainment played music through the dinner and reception. "Everyone was up dancing throughout each meal course, and after the dinner was done, we danced all night," the bride mentions, adding the open bar "also made it a lot of fun for all our guests."
There were plenty of personal, sentimental touches too. Amy's dad was slated to say grace and he surprised her by calling on her whole family—her mother, three sisters and two brothers—to join him in singing it. Describing it as a "tradition in our family passed on from my grandmother," Amy says the moment was so special it made her cry. Another highlight was when Amy's sister Ashley sang the first dance song, I Can't Help Falling in Love with You by Elvis Presley. "It was so magical." Later in the evening, the bridge changed into her second outfit, a long sleeve lace, beaded jumpsuit by Nadine Merabi. In all, she says,
"Our wedding was the most perfect day. It was such a memorable night filled with all of our closest friends and family. You could really feel the love in the room."
After dating the love of her life for 12 years, she says many people have asked her how she feels since the much-anticipated day has come and gone. "My answer is that I feel that my life is now complete."
Ceremony: Notre Dame Cathedral Basilica
Reception: National Gallery of Canada
Caterer: Gourmet Cuisine
Wedding Design and Coordination: Nancy Tremblay, WEDECOR
Bride's Dress: Hayley Paige mermaid design, purchased at White Satin Bridal Couture
Bride's Second Outfit: Nadine Merabi
Bridesmaids' Dresses: Jarlo London.
Bride's Shoes: Badgley Mischka
Groom's and Groomsmen's Fashions: Suitsupply
Wedding Rings: La Maison D'Or
Photobooth: MDRN Photobooth Company
Cake: Valentina Sweets
Hair: Fiorella and her team at Rinaldo's
Makeup: Taryn Miller
Florals and Printing: WEDECOR
Flower Wall: The Paper Florist
DJ/MC: Marco Ferri Entertainment
Videographer: Bryan Jones
Rentals: WEDECOR and EventCore
Style Notes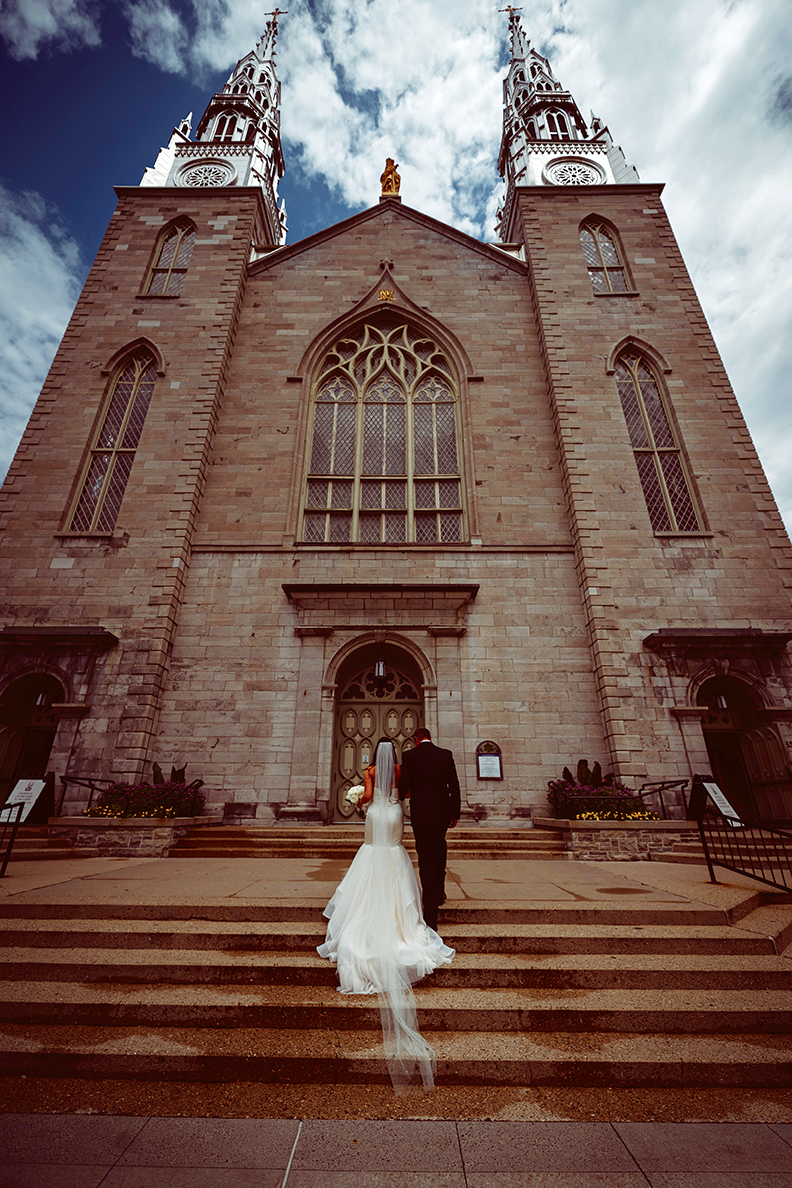 Located on Sussex Drive, the Notre Dame Cathedral Basilica is Ottawa's largest and oldest standing church. With a history dating back to 1841, it has been listed as one of the top 15 places to visit in the nation's capital. Its beautiful interior, including majestic gothic arches, stained glass windows and artworks, makes it a popular venue for wedding ceremonies. notredameottawa.com
The bride and her attendants got ready for the wedding in the Prime Minister Suite at the Andaz Ottawa ByWard Market. Located at 325 Dalhousie Street, the Andaz has 200 guest rooms, including seven suites. There's a signature restaurant, Feast + Revel, as well as a 16th floor rooftop lounge, Copper Spirits and Sights.

Wedding Party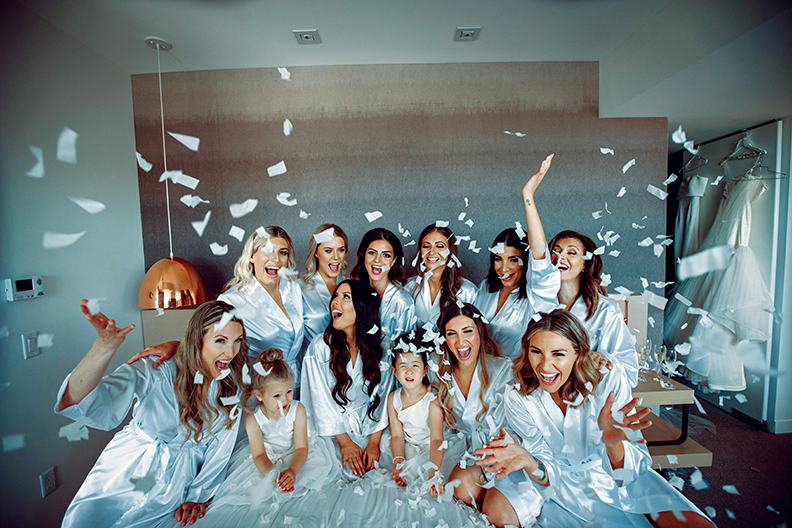 Bride: Amy Couse
Groom: Justin Mastromattei
Maid of Honour: Amber Couse
Bridesmaids: Alicia Bell, Ashley Freeman, Cynthia Mastromattei, Linda Akmaz, Mindie Vallati, Emma Bell, Rachel Kerr
Best Man: Tarek El Attar
Groomsmen: Jacob Couse,
Christian Mastromattei, Lucas Tiwari, Kyle Ricker, Juan Carlos Carvajalino
Flower Girls: Leah Couse, Erin Bell
Ring Bearers: Jonah Freeman, Levi Freeman, Theo Bell, Liam Couse
Officiant: Father Geoffrey Kerslak
GET THE LOOK