Zoe and Stephane
Photos by Rob Lloyd Photography | Venue: The Armstrong Estate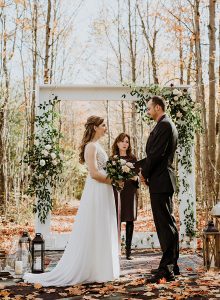 Zoe and Stephane agree their 2020 wedding was perfect. "My dad said it was the nicest wedding he had ever been to, and said he had never seen two people look at each other the way we did," says the happy bride.
The date was October 14. The day was beautiful, and the love was all around. They could feel it. Zoe, a personal support worker at Lord Lansdowne retirement residence, was the lucky winner of a wedding giveaway. Launched by The Armstrong Estate and offered with help from local wedding vendors, The Unsung Heroes contest allowed this couple to enjoy a luxurious elopement, with four guests, in the idyllic woodland setting of The Armstrong Estate. There was even live music by cellist Brandon and pianist Dian of Luxe Duo. "Our vendors made this day happen for us," Zoe notes. "We were in shock to win, amazed at the detail and dedication they each put into this, and so touched at how genuinely happy they seemed for us and continue to be for us."
Since fall is the couple's favourite time of year, after getting engaged they intended to have their wedding in October of 2020. Then plans were put on hold due to the pandemic. As fall 2020 approached though, they started talking again about tying the knot. When Zoe saw the contest posted online by Luxe Duo, Stephane said, "Go for it." She hesitated. Later, in October, she came across the contest announcement again. This time she went for it, and the next evening she learned her entry was chosen.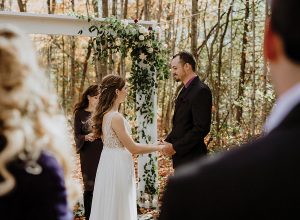 Gabrielle, owner of The Armstrong Estate, explains what happened next. Knowing Zoe and Stephane wanted a fall wedding, "we rushed everything before all the leaves hit the ground, and planned everything in about nine days," she says. "It was a tour de force from all the vendors involved in this to make this most special day a dream for a deserving couple."
Those efforts were appreciated. "The day felt very magical to us both," says the bride, enthusing over an outdoor ceremony between maple trees with leaves falling as they said their vows. "I could not have been happier or asked for more."
She describes her dress, from Revelle Bridal Boutique, as "a beautiful, simple gown with thick lace detail on top and a flowing bottom. I accented it with a really elegant hairpiece, and earrings, and my wedding bands, and I felt like myself, which was really important."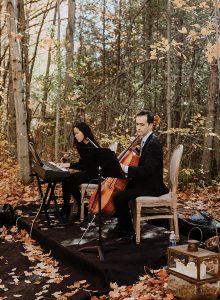 Even Mother Nature did her part. The temperature was a balmy 16 C, the leaves were still putting on a show, and Zoe says, it was "the only day that week it didn't rain; it really felt like the skies opened up for us."
Planning, Styling and Decor: thearmstrongestate.com
PHOTOGRAPHY: roblloyd.ca
FLOWERS: loveinbloomott.com
DRESS and ACCESSORIES: revellebridal.com
VIDEOGRAPHY: jinbon.ca
HAIR: Angeline Sykes @angelinesykes
CAKE and FAVOURS: dulcecakedesign.ca
MUSIC: luxeduo.com
OFFICIANT: stylesweddings.ca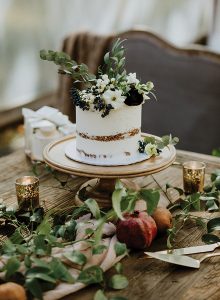 VENUE: thearmstrongestate.com
FURNITURE RENTAL: wedecor.ca
FOOD STYLING: flexitariannutrition.com