Rene and Lindsay Fitzgerald | June 20, 2020
Photos by Kathi Robertson Weddings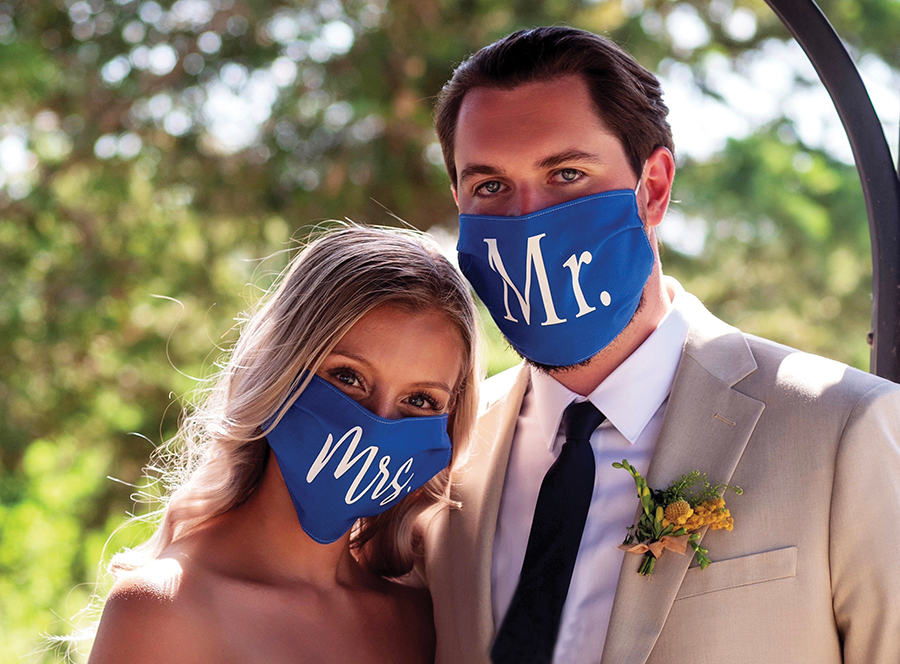 Along with countless couples who had dates set for a spring or summer 2020 wedding, Lindsay and Rene watched their plans unravel. "When the pandemic hit, Rene and I were faced with the decision of what we would do about our June wedding," the pretty young bride explains. "We were constantly debating how long to wait to reschedule and [when to] let all of our guests and vendors know to cancel plans for this year." As their original date approached, they came up with a solution— one that has because quite popular with this year's brides- and grooms-to-be. "Why not have two weddings?" That's what these two opted to do: Celebrate more, instead of settling for less.
Since they wanted to tie the knot in 2020, Lindsay says, "We decided this year could be an intimate commitment made to one another, and next year could be the larger party that we dreamed about. We were blessed that our vendors were so understanding, and once we chose a new date for June 2021, we simultaneously booked a few people for this year."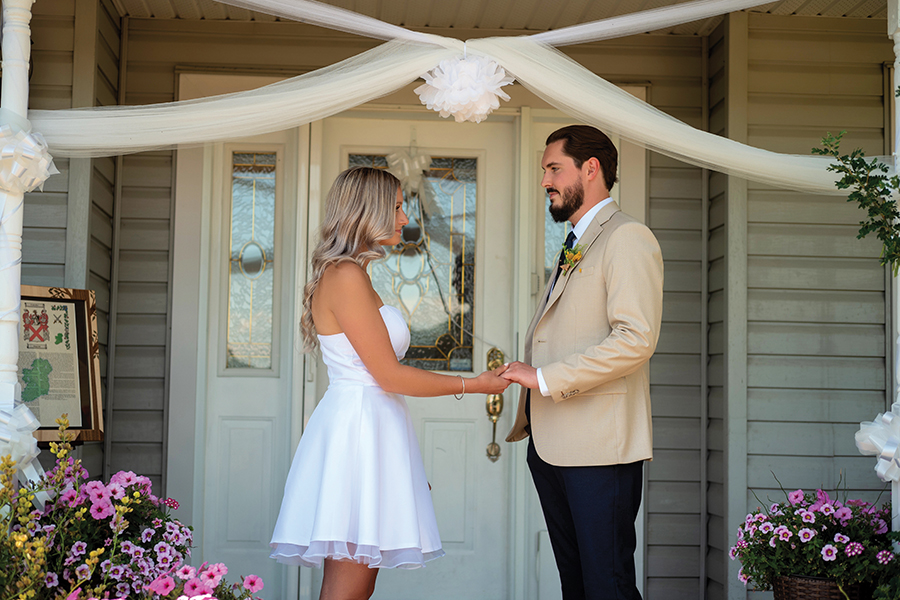 At the time they came up with the plan, just five people were allowed to gather at once. "We had decided it would be us, our officiant, and our photographer, as an elopement. Luckily as the date got closer more people were allowed."
On April 20, they gave two months' notice for their change in plans. And the bride kicked things into high gear: "I quickly ordered an elopement dress online, and we let people know that we would be having two weddings."
The first one was scheduled for the veranda at home, and the couple's families and vendors teamed up to make the 2020 wedding day happen. "Luckily our property was always going to be the venue," Lindsay mentions, adding, "My mom had been picking up random decorations for the past year, and with some donated to us from a friend's wedding we had enough to dress up the front porch." Various family members took on different roles. For instance, Rene's mom became the videographer, live-streaming the ceremony to extended family members.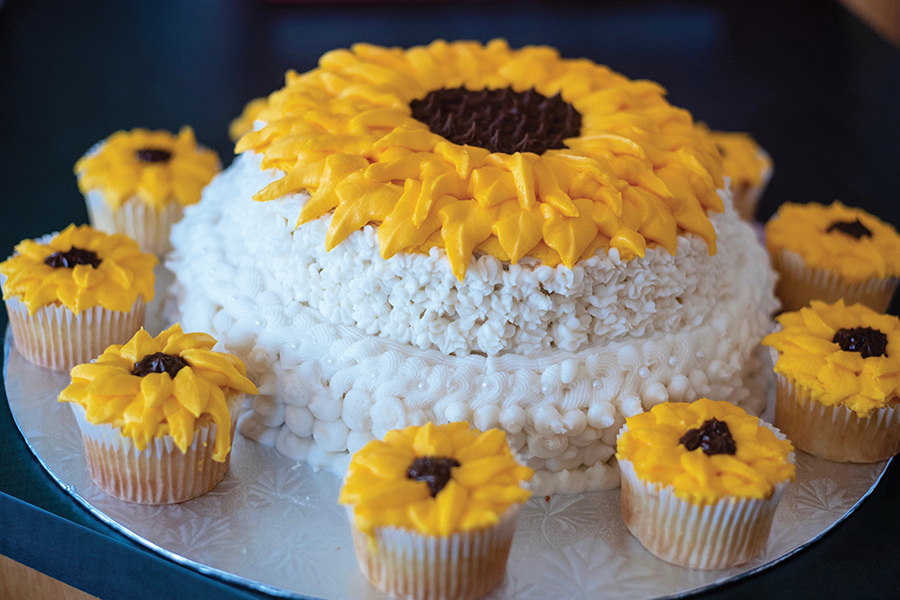 And all the elements came together for an exceptional celebration: flowers, refreshments, lovely cake and cupcakes. Even a glorious, sunshiny day materialized for a wedding described as "intimate, romantic, and rustic."
There were 22 people in attendance, including immediate family members and the wedding parties, thanks to an increase in the number of people allowed at an outdoor ceremony. Many others got to watch from afar.
"We refer to our 2020 wedding day as perfectly imperfect," the new bride says now. "Rene did not have a way to get his wedding ring properly sized in time and essentially wore a rubber band. We even had some difficulty getting a marriage licence and spent an afternoon calling every district around us. Against all odds it still became the happiest day of our lives."
There were plenty of unique, spontaneous twists. For one, during the ceremony the family dog walked up and took a spot between the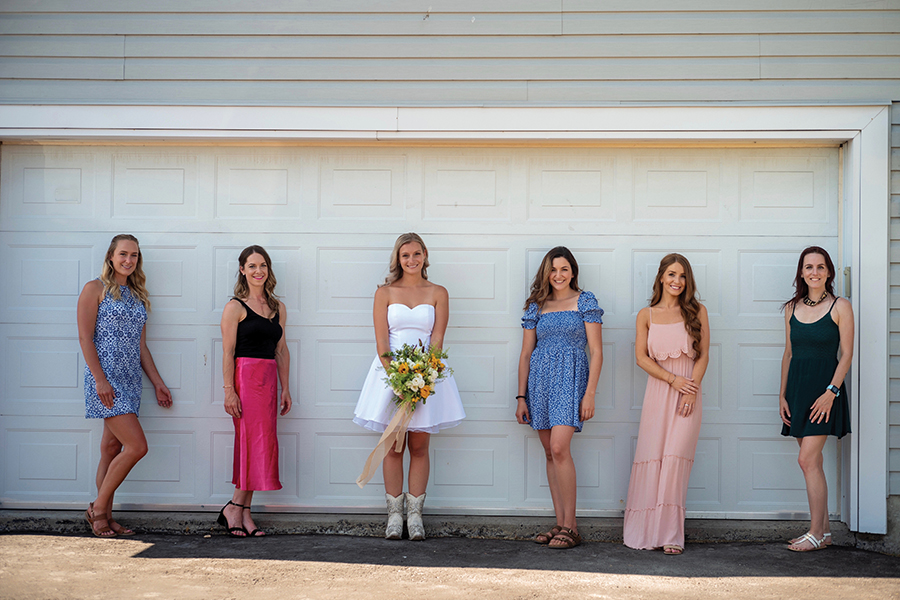 bride and groom. As for the happiest moments of the day, Lindsay says there were two in particular: "Choosing untraditionally to walk
out together and seeing our closest friends and family all waiting for us. Also the moment immediately after the ceremony when we were alone for a moment and could enjoy each other's company as husband and wife for the first time."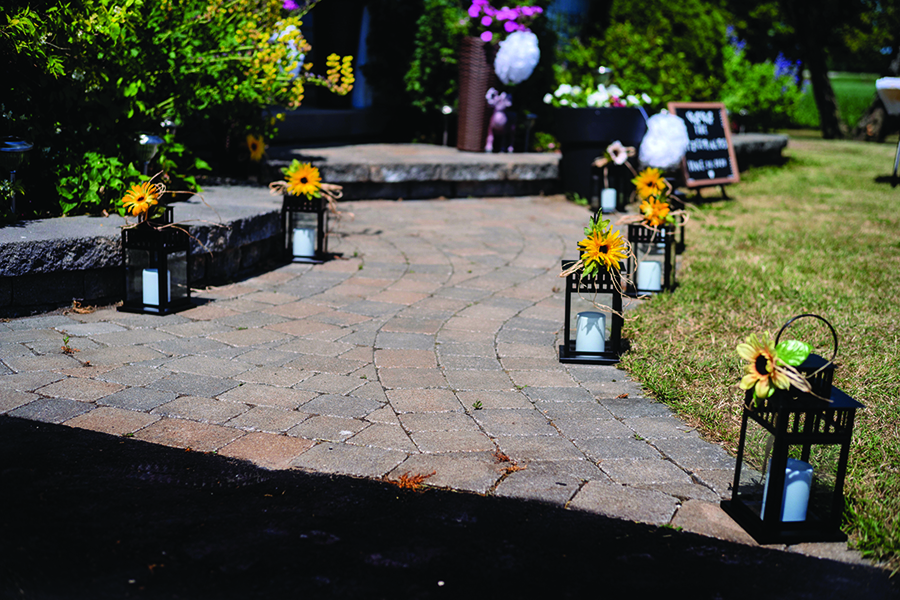 The Details
Venue: Front porch of their home
in Moose Creek
Photographer: Kathi Robertson Weddings
Videographer: Trish McEachern, groom's mother
Officiant: Keith Langille
Flowers: Pollen Nation
Cake: Catherine Boisclair, bride's mother
His and Hers Masks: Little Hansen Creations and
Slowly Sewing Crazy