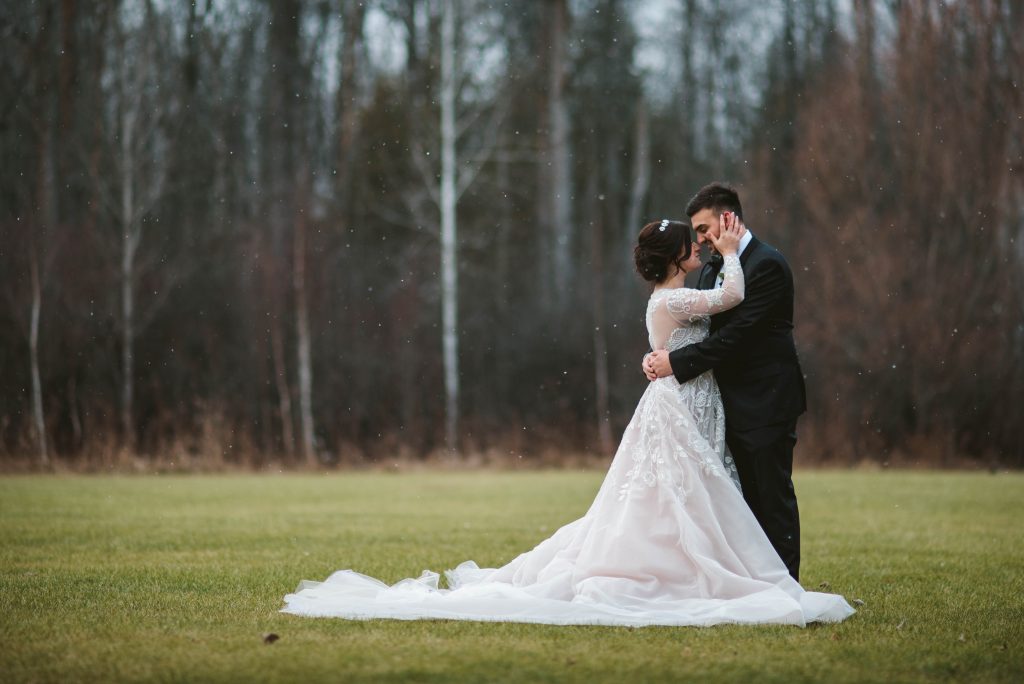 Spectacular Celebration
Compiled by Pam Dillon and Photos by Charlotte Northrope Photography
When Alyssia went to see the Harry Potter movie with her cousins in 2011, her aunt decided to conjure-up some magic of her own, by bringing along a guy named Roberto. The wizardry worked: in the spring of 2017, Alyssia and Roberto got engaged.
And though the date they chose for their wedding, December 9, 2017, was just months away, their day was absolutely enchanting. In fact, Gloss Events & Décor won Wedding of the Year honours at the Ottawa Wedding Awards for the spectacular fete to celebrate Alyssia and Roberto's nuptials.
The ceremony was at St. Anthony of Padua Church, the reception was at Orchard View Wedding and Conference Center, and the look, Alyssia says, was "a dark romance with ethereal elements."
She asked Brittany West, owner of Gloss Events, to help make it happen. "I've known Britt for a few years and of course knew she would have to be the one to help me execute my vision."
Britt and her team of vendors were thrilled to take on the challenge. "A small sample of a black and white floral print wallpaper that the bride loved, and a neutral monochromatic palette became the inspiration behind our design," she explains.
"We commissioned two artists to create a massive black, grey and white floral canvas painting, which doubled as a photo backdrop early in the day and then became a visual showstopper behind the bar in the evening." A striking floor plan was complemented with dramatic décor elements, lush greenery and floral touches. Place settings were finished with gold chargers, hammered gold cutlery, and place cards—personalized Nutella jars—that doubled as wedding favours.
There were plenty of other striking features, including the tiered black wedding cake with painted blooms by The Cake Whisperer, and the dramatic five-by-seven-foot seating chart with a memorable hashtag—#sherobbedhisheart—to put a creative spin on a guest book. Since Roberto is a painter, a canvas and paints were made available for guests to add a personal touch.
Alyssia found her gorgeous, long-sleeve Hayley Paige gown at White Satin Bridal Couture and accessorized it with blush sequin Jimmy Choo shoes and a crystal-studded Sara Gabriel headpiece. For the outdoor photographs, the bride and bridesmaids wore chic black leather jackets, in stylish contrast to their elegant gowns. Flowers were by Pollen Nation Floral Studio, including full, textured bouquets that made their own distinctive fashion statement.
The party started the moment guests arrived at the cocktail reception, held in a heated tent featuring white hi-gloss bars, white lounge furniture and food stations. "Guests couldn't miss the central 10-foot tree made by the florist, surrounded by a round bar filled with seafood, cheese, and endless antipasto," Britt notes. When
it was time to head into the hall, everyone was handed a glass of champagne to kick-off festivities. In Alyssia's words, "We wanted our wedding to be a big celebration."
"And what a celebration," Britt enthuses. "The festivities could not be contained." The bar served individual champagne bottles and the dance floor filled and stayed full. "Between each delicious course of lobster and steak, the party continued to grow." Later, the tent re-opened for a spectacular late-night buffet that included McDonald's burgers, egg rolls, pad thai, Dairy Queen blizzards, cotton candy, Beavertails and fruit with a chocolate fountain.
And guests enjoyed every bit of it. "The dance floor never emptied, just cycled as they refilled their champagne or had a bite."