Photos by Palm Tree Studios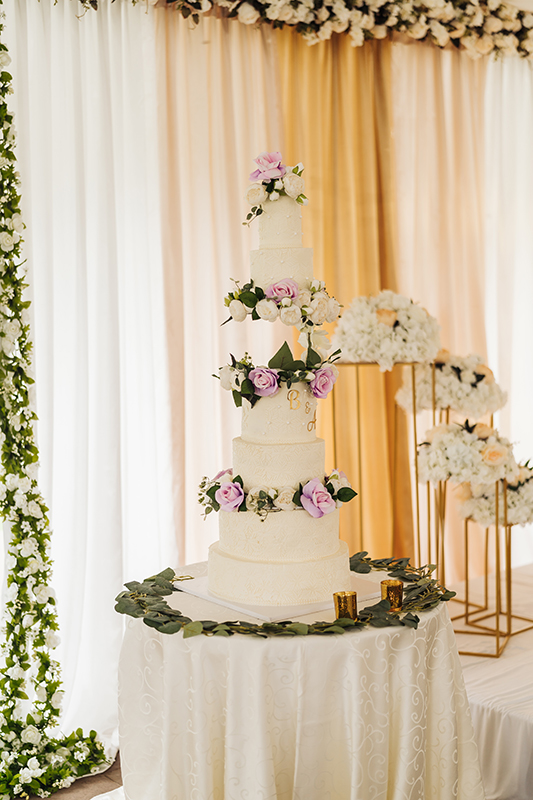 You could say this extraordinary confection by Sara Muhi "takes the cake." A grand, six-tier masterpiece, it seems to defy gravity; and it definitely wowed all the guests at a recent wedding. That's just what the owner of Ottawa Cakes by Sara intended.
And what better reason to dream up and deliver spectacular, frosted magic than a wedding in her own family? When Sara's little brother got engaged, she knew she'd be making his wedding cake. "At that point, the biggest wedding cake I had made was four-tiered, so the aim was to create something that size."
As the wedding date drew nearer, the cake designer was inspired to outdo herself. "I decided that this was my opportunity to create something new and unique and to take a risk, so I kept adding tiers to the design," she explains. "Once I had the six-tier design in mind, I still wanted something more—something to add a wow factor to it, something the bride, groom and the guests wouldn't expect."
So she came up with a mother lode of "something something." Thanks to Sara's clever design, the top two layers of this sky-high cake hover high above the rest. They appear to be suspended in the air, with nothing but a delicate trail of pretty blooms linking one part to the other. Combined with the impeccable craftsmanship and artistry of the work, the dreamy centerpiece is—and was—a sensation.
"The cake was the highlight of the wedding," she notes, "and just as I imagined, it did take center stage. Everyone talked about how beautiful and delicious it was." What's more, when she posted pictures on her Instagram account, @ottawacakes, the feedback was equally fulsome: "I was overwhelmed by the number of responses I received on my story. Within the same day, I booked two similar cakes with a floating tier illusion."
True Passion for Baking and Art
Although she started baking when she was young, Sara took a roundabout route to becoming a cake master. After graduating from Carleton University with a degree in economics, she got a job
in insurance. "However, my true passion was always in baking and art," she says. As a "hobby baker," she created confections for family members and friends. All the while, she admits, "Part of me knew I could keep going far with this." When COVID hit, she began getting more and more requests.
"This gave me the confidence to finally start selling my cakes. Once I started this business, there was no looking back and now I'm doing this full time." A look at her website, www.ottawacakes.com, reveals she's produced many outstanding cakes, cupcakes, cake pops and cake popsicles. This wedding cake, though? It took her art to new levels— literally.
Of her brother's and sister-in-law's wedding, she says, "It was a great opportunity because they put their full trust in me and gave me a free hand to take risks and create something unique for their big day.
"I wanted this cake to be unique, so I bought a brand new stencil design, and created a floating tier illusion to set it apart from any cake I've made before." To achieve the "beautiful, modern yet detailed design" she envisioned, she made six cakes, "a boatload of buttercream and emptied out both of my fridges to be able to store the cakes during the process."
The intricate detailing and sorcery entailed "a full week's work that felt like 18 million years," she admits, but this over-the-top triumph speaks for itself, ever so sweetly