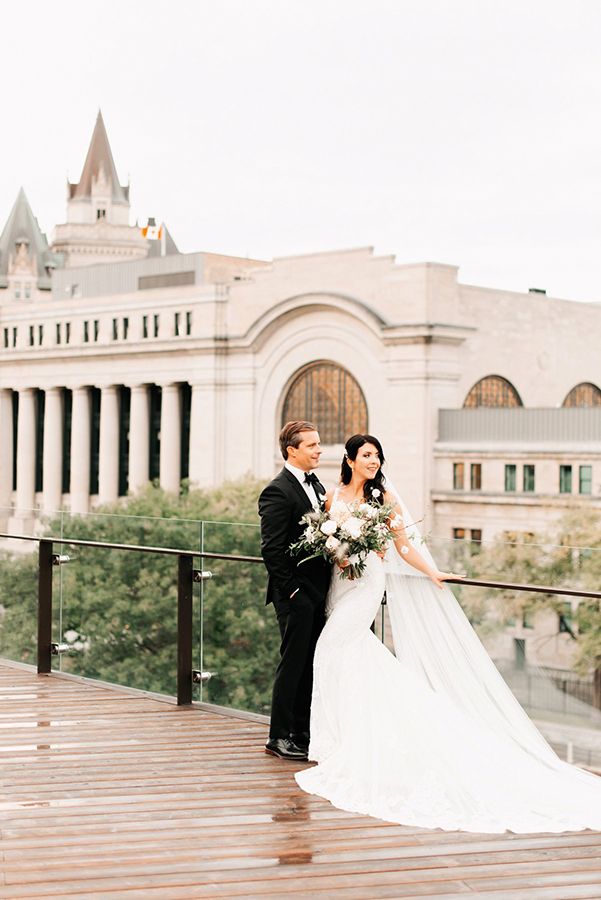 Love great food? Your wedding is a wonderful opportunity to show and share your passion. That's just what Brittany and Mike did for their spectacular 2019 wedding at the National Arts Centre.
"Since both the bride and groom are major foodies, they met with the venue to customize a menu that spoke to them," explains Britt West of GLOSS events & décor.And what a menu! "Delicious bites at cocktail hour, an interactive fresh oyster shucking bar, personal burrata balls topped with heirloom tomatoes and citrus segments, duck confit and mushroom ravioli, four unbelievable main dish options and crème brûlée for dessert…all finished off with the most gorgeous wedding cake." and crème brûlée for dessert … all finished off with the most gorgeous wedding cake."
Is it any surprise this drool-worthy big day was named Wedding of the Year at the last Ottawa Wedding Awards? Happily, guests danced up a storm after the meal and were able to work up an appetite worthy of the epic late-night buffet. It featured Canadian classics: gourmet grilled cheese and personal poutine with the ultimate topping options.
Yes, the day was Foodie Heaven.
Foodies Brittany and Mike treated their guests to all sorts of gourmet delights.
Lucky guests!
Brittany and Mike also "sprinkled" their love of the culinary arts into another signature element of the day: At each place setting, there were tasty wedding favours. Clear, corked test tubes were filled with half sea salt and half peppercorns, and the custom labels read, "We go together like salt & pepper."
Why not spice up your own nuptials with some delicious flaire? Whether you're planning for 10 guests or hoping, eventually, you'll get the go-ahead to host 100, there are limitless options to make the menu memorable—from the cocktail nibbles to main courses, desserts and late-night bites.
Interactive food stations, family-style platters, a sit-down, multi-course meal, a buffet spread, rounds of passed canapes or an eclectic mix of food trucks are just some of the options for sharing culinary pleasures with your nearest and dearest.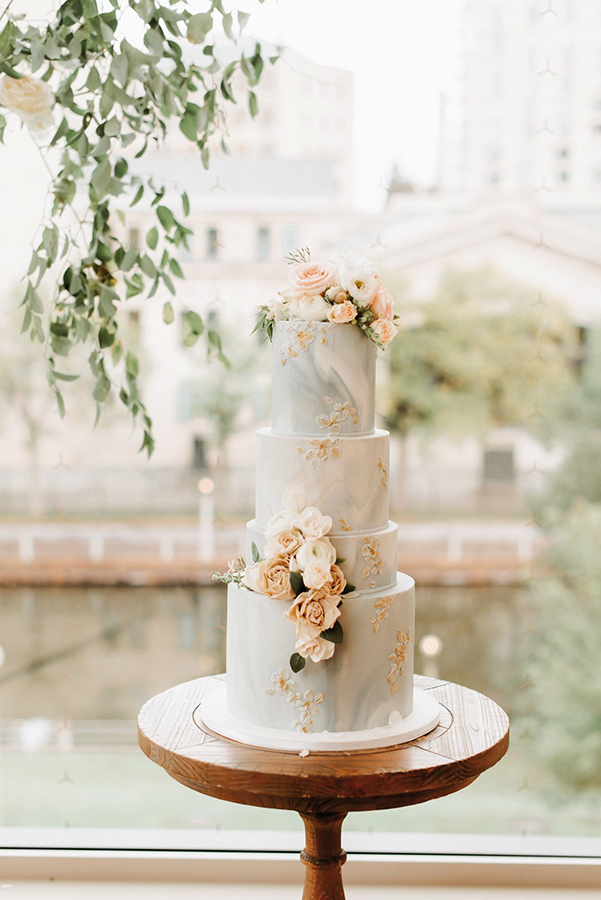 Consider it an opportunity to host your ultimate dinner party and choose a style of presentation that reflects what you love best about hospitality: the flavours, colours, textures and delectable moments that will have guests talking long after the night is over.
Details about Brittany and Mike's Celebration:
Caterer: NAC Wedding
Cake: The Cake Whisperer
Photographer: Laura Kelly Photography
Decor: GLOSS events & decor, Joe's Prop House, Sage Designs, Pearl Decor, Lavish