Koyman Galleries is the setting for a bright, beautiful wedding celebration
Saxon and Caleb |June 3, 2022
Photos by Scott H Wilson Photography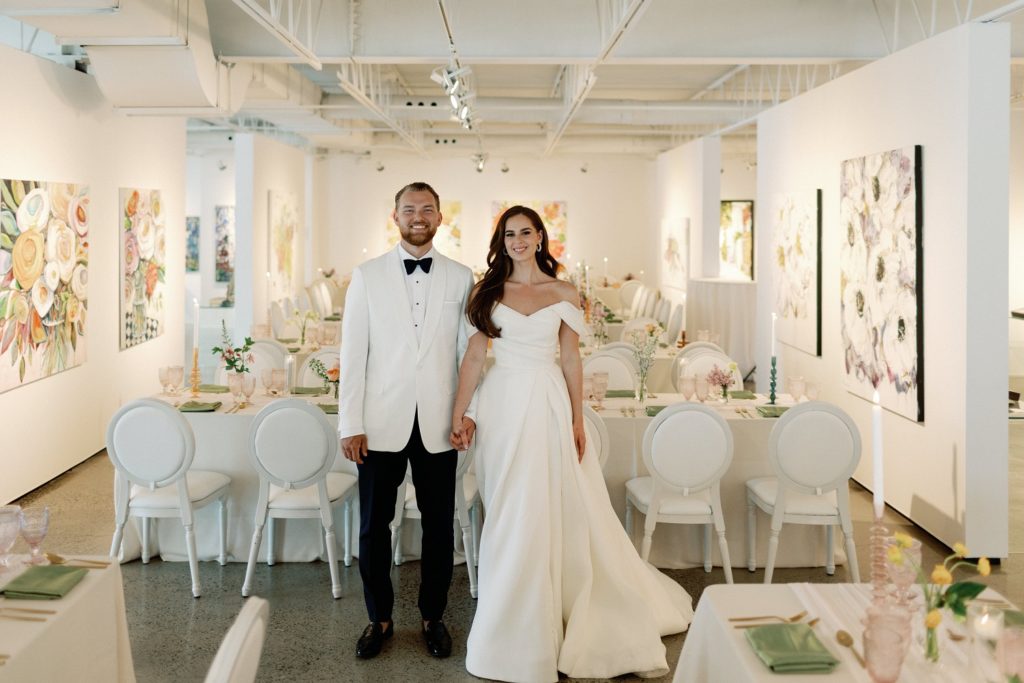 Saxon and Caleb's first date was as Canadian as they come. "Caleb took me snowmobiling," Saxon says. At some point, their machine broke down. Probably, it was cold. Definitely, it was unexpected. Stressful? Absolutely. But, for this couple, it was also pretty wonderful. "I made the most of it and it became a funny memory," Saxon mentions.
Eventually, Caleb matched that memory with another one. He took her back on the trail where their snowmobile quit and asked her to marry him. "He had a beautiful setup right where we broke down on that first date.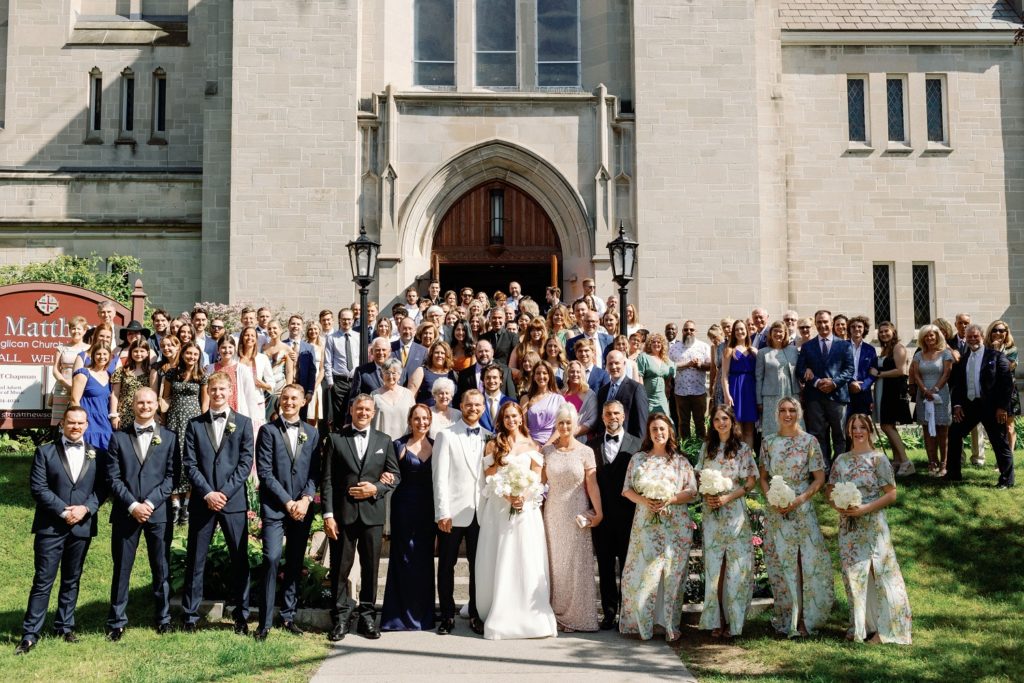 "In his words, 'As Saxon basked in the sun on that day, I realized that she was able to find joy in every single moment, the straights, the sharp turns and even the breakdowns. She had such a sense of peace and gracefulness that I knew I wanted to be surrounding me for my entire life. From that moment on there has been no doubt in my heart that I want to spend my life with her.'"
Until Caleb proposed, Saxon admits, she had no idea he wanted to marry her right from that moment. "So special."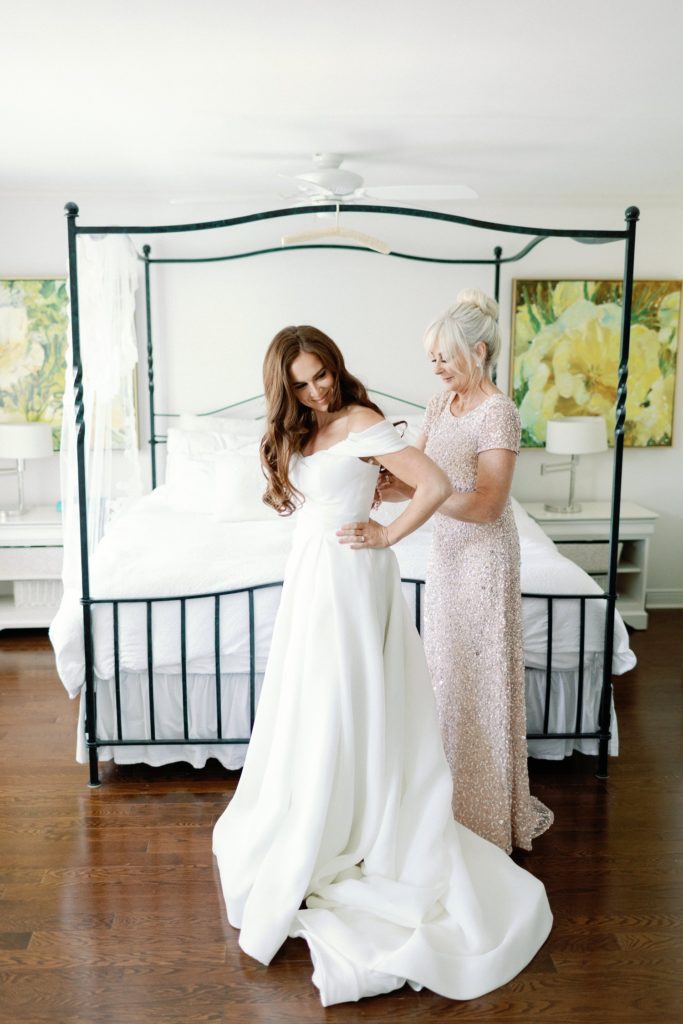 So was their wedding day. It took about nine months to organize the lovely June celebration, involving 95 guests, and thanks to a decision Saxon made early on, there were no mishaps on this particular trail. She hired a wedding planner, Erica Irwin of Erica Irwin Weddings and Events, and calls it "the best wedding-decision I could make.
"Her timelines, due dates, and suggestions were exactly what I needed to help me with planning. I had about what feels like hundreds of wedding questions and she answered all of them and helped me so much in the process of planning my wedding."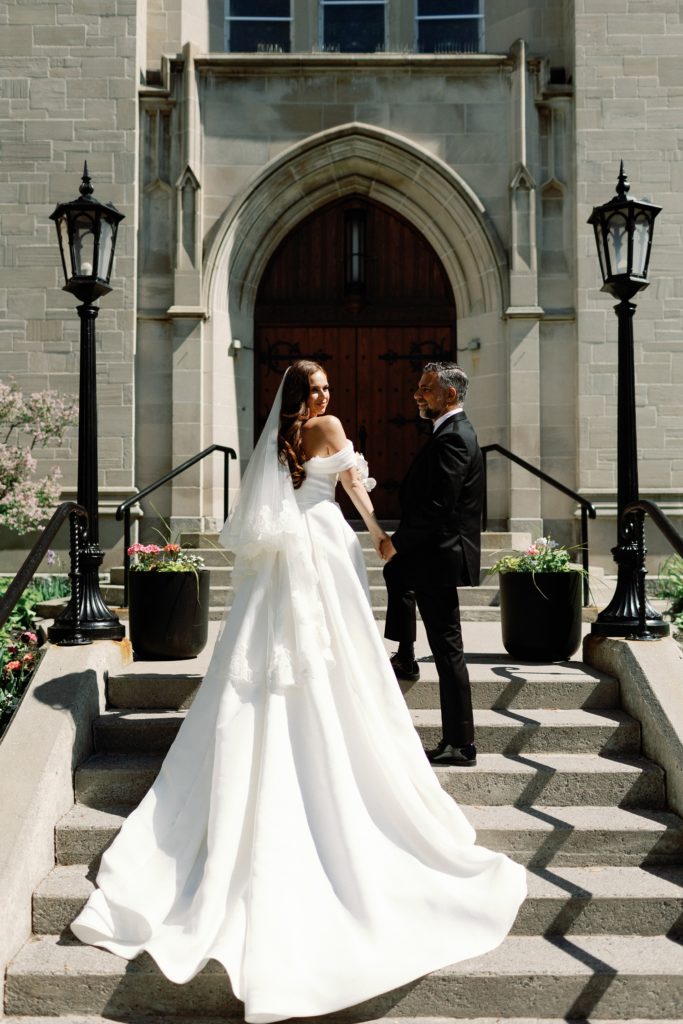 The impact didn't end there. "I cannot even put into words how relieved I was to have Erica coordinating my wedding day," Saxon adds. "I believe it was the biggest reason why I was calm and able to genuinely relax and enjoy my day."
It also helped that this bride had a clear idea of what she wanted: "The vision for the day was colour," she says. Art too. "I pictured lots of gorgeous, colourful paintings and colourful décor." The backdrop would be her father's art gallery, Koyman Galleries, at 1771 St. Laurent Boulevard. Noting that her grandfather established the company back in 1965, she says, "The gallery has been one of my favourite places to be since I was a child." Not only was it "very sentimental and an ode to the Koyman family legacy" to host this life-changing event at Koyman Galleries, she adds it was also "a no-brainer because it is such a gorgeous space."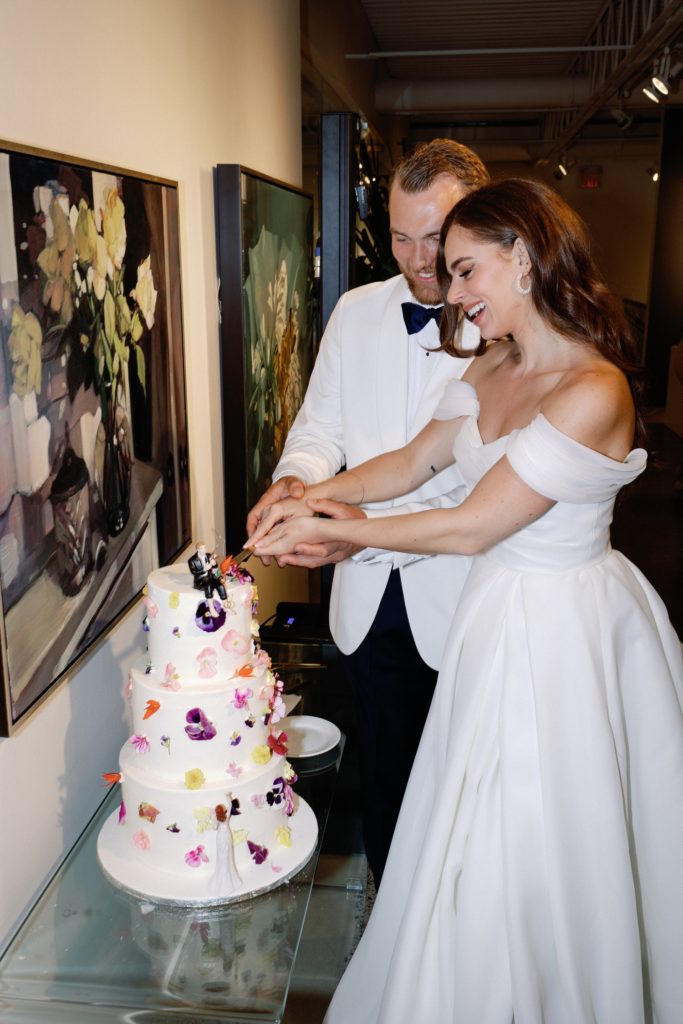 The venue for the couple's exchange of vows, St. Matthew's Church in the Glebe, was also arresting. Saxon's vision for the ceremony was "classic, timeless and simple," and in reality it was "absolutely beautiful.
"The meaning of marriage is something Caleb and I believe to be incredibly deep and profound; making a covenant in a church in front of God and all our loved ones is something we will never forget; we truly felt the weight of it."
But the festivities that followed were light and joyful. "I wanted the reception to be fun, bright, happy and colourful," the bride says. It was. Guest tables were surrounded by big, colourful floral paintings. Even better, there were two big original pieces that matched the florals on the tables. They were painted by Saxon's mother, floral artist Caroline Koyman.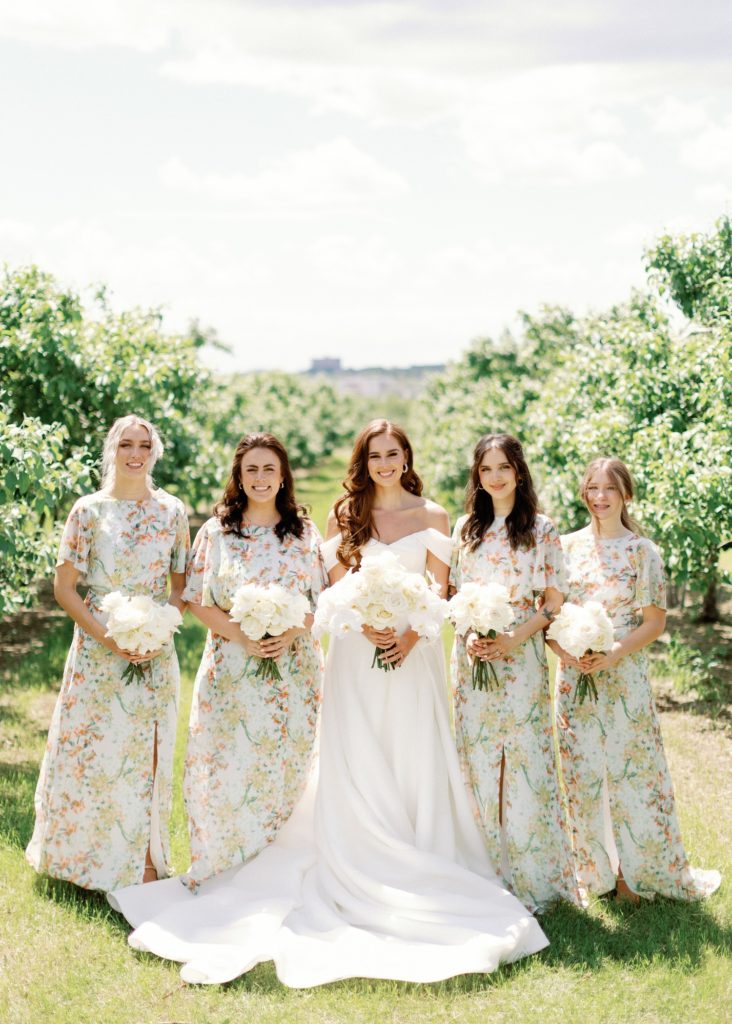 Even the wedding cake was unique. It was covered in colourful, edible flowers. The
cocktail hour featured an oyster bar and for dinner at the reception, there were food stations with street tacos, gnocchi, brisket and poke bowls. Dessert was Suzy Q doughnuts and a three-tier cake. The late-night snack was another big hit: McDonald's. "There was not a single burger left behind."
What filled this bride's heart, though, was having all four of her grandparents on hand to see her and Caleb get married. Another very special aspect of the day, Saxon says, was how genuinely excited she, Caleb and their loved ones were for this union to be official. "It is a very beautiful thing when the people you love rejoice and affirm the relationship and your decision to wed."
+++++++++++++++++++++++++++++++++++++++++++++++++++++++++++++++++++++
Bridal Notes
First Look
Wondering about whether or not to do a first look? At first, Saxon says, she and Caleb were against the pre-wedding alone time. "Our planner, Erica, explained why it was a good idea. We thought about it and eventually agreed." They're glad they did. "It was lovely to have some set-apart time to take in the moment, just the two of us. We loved having the special moment … to say what we wanted to say to each other, cry a little and just be together."
Bridal Look
Saxon describes her bridal look as "classic and romantic. My dress was classic and was very creamy in colour. The material was romantic and soft. My veil had a gorgeous lace trim. I like to throw my own unique additions in, so I wore freshwater pearl hoop earrings, light blue heels with a bow for my something blue, and my wedding bouquet was quite unique as well with creamy roses and orchids.
"For the groom's look we did a summery spin on the classic ivory and black tux and made the pants and bow tie navy blue instead. It was a stunning colour combination."
The Details:
Couple's Names: Caleb Alexander and Saxon Koyman
Date of Wedding: Friday June 3, 2022
Venues: St. Matthew's Church and Koyman Galleries
Photographer: Scott H Wilson Photography
Planner: Erica Irwin Weddings & Events
Officiant: Pastor Jason Boucher
Videographer: Jeremy Baxter
Bride's Gown: Maison Bridal – Chic Bridal
Groom's Attire: Custom Moores pants, tux jacket from Mario Uomo
Bridesmaids' Gowns: ASOS
Groomsmen's Attire: Tip Top Tailor
Flowers and decor: The Gathering Co
Hair: Parla Hair
Shoes: Etsy
Cake: Patisserie L'etoile
Desserts: Suzy Q Doughnuts
Late night food: McDonalds
Music: DJ Jamie D with Midnight Music