By Meghan Lavergne
Photos by Grace & Gold Studios
Working with other wedding vendors on a styled shoot is a dream experience. We all get to grow in our art and businesses by collaborating on a project. Mid pandemic, at one of the rare times we were allowed to gather as a small (distanced) group, you could feel the buzz of excitement that occurs when all the pieces fall into place and you know the result will be stunning.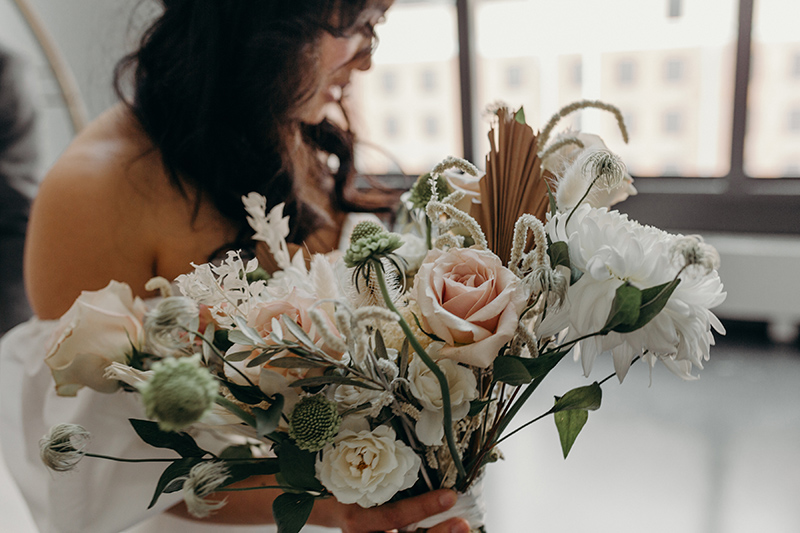 Tracy Grace of Grace & Gold Studios has a beautiful feel for how to immerse herself in the day, in the look and feel of her couple, in bringing out the natural love and beauty that each photograph can capture.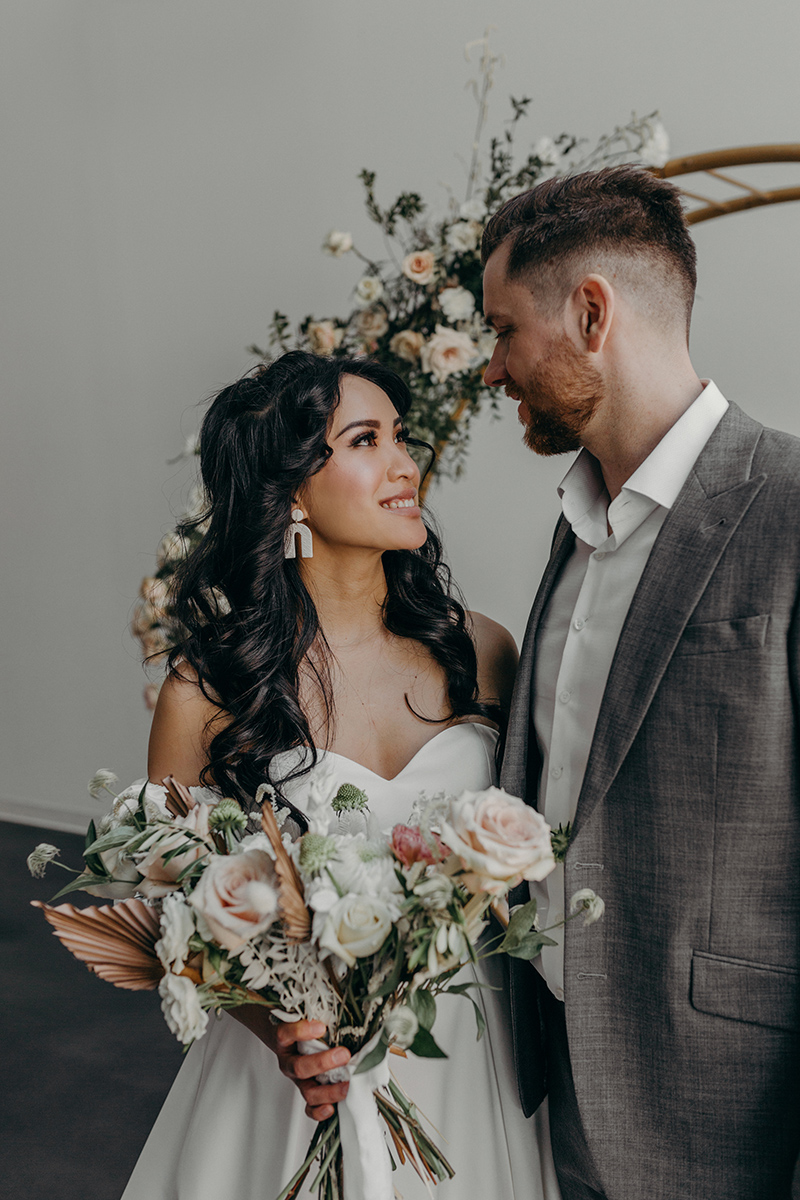 Jessica and Dave, the models, are already part of the Sinders family as a real-life bride and groom-to-be (though this is not the gown she'll wear at her wedding). You can see their love for each other in every look; it makes us starry-eyed to think how Tracy will capture that love on the day they really get married.
The Ottawa Art Gallery is a great venue offering beautiful views and a blank slate so your own vision can come to life. The right florals add extra oomph to a styled shoot, and Jenna from Amethyst Florals is gifted at creating the perfect pairing of petals and greenery: light and airy, conveying love, abundance and warmth.
On the tablescape, colours and textures are brought to life by Sage Designs, with the perfect cake by Dulce Cake Design. The combination of beautiful place settings, dinnerware and eye-catching elements pulls the design together beautifully.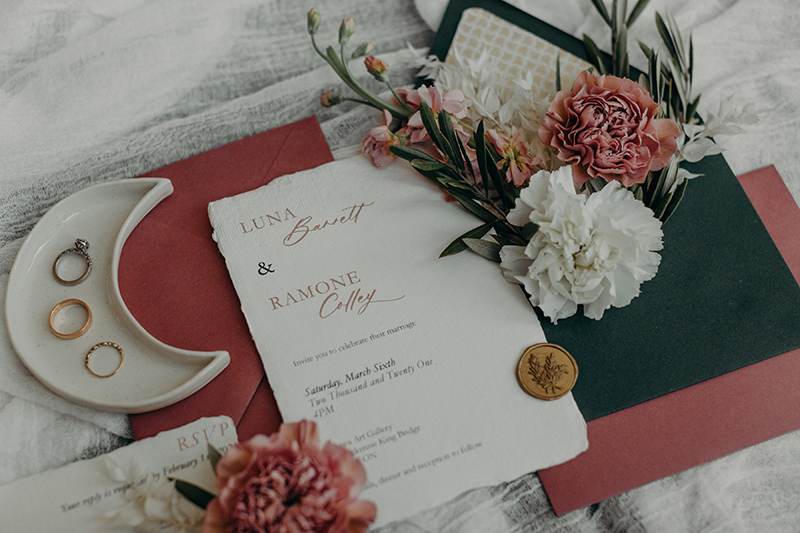 Next I draw your attention to the calligraphy by Avi Scribbles. Her invitations and menu-cards are created with love and incredible attention to detail.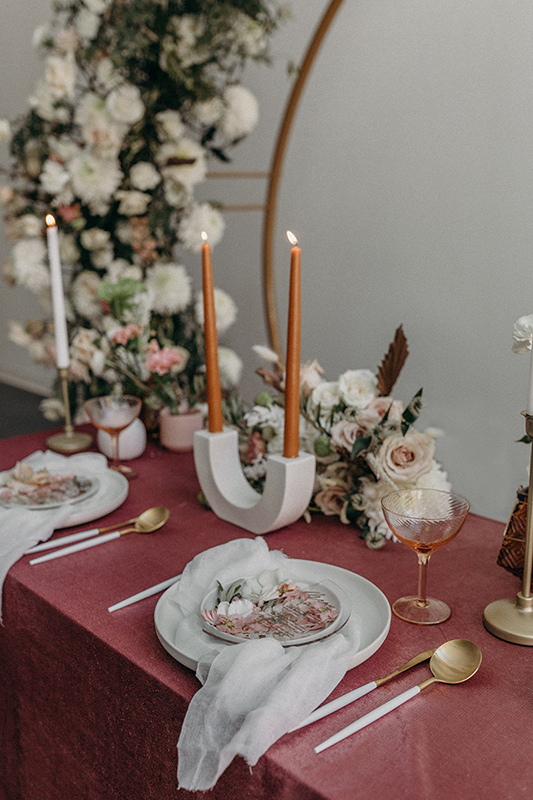 Showpony shows off Jessica's soft curls in a half-up hairstyle, and One Fine Beauty, represented by Gary Bahm, enhances her natural beauty with earth tones and a soft, dramatic eye and neutral lip.
Last but not least: the dress. Simple and elegant, it's a great example of how you can incorporate the newest trend in puffy sleeves as an addition to your gown. Whether you're looking for a timeless design or a dramatic style that will have everyone in awe, a classic gown can be accessorized to suit any possibility.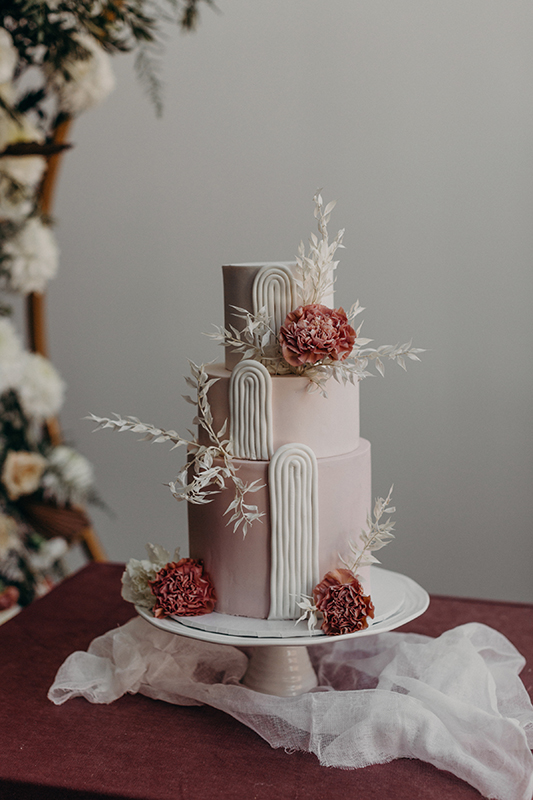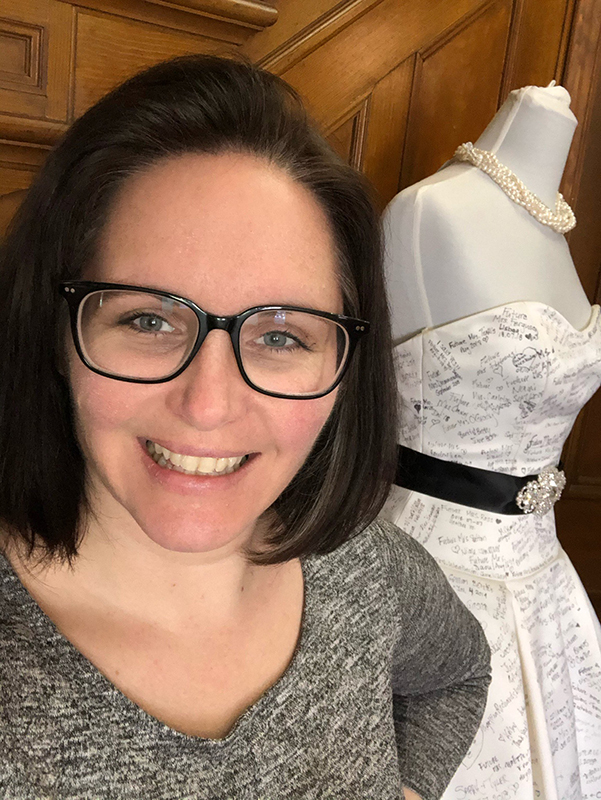 Meghan Lavergne loves weddings. She's co-owner of Sinders Bridal House with her sister, Stacey Lavergne, and she's been working in the wedding industry since she was 16.
The Details:
Venue: Ottawa Art Gallery
Photography: Grace & Gold Studios
Florals: Amethyst Florals
Stationery: Avi Scribbles
Dress: Sinders Bridal House
Decor: Sage Designs
MUA: One Fine Beauty, Gary Bahm
Hair: Showpony Hair
Cake: Dulce Cake Design
Couple: Jessica and Dave