Sarah and Willy
Photography by Kathi Robertson and Mike Lucy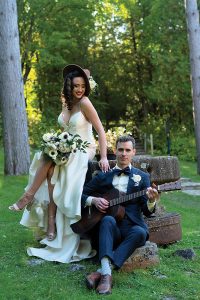 Pictures of Sarah and Willy's wedding at the Mill of Kintail show a beautiful couple, a sublime setting and the kind of captivating outdoor affair brides-to-be dream about in the age of COVID-19. You'd never know the September 20, 2020 celebration was arranged in a few short weeks, after other plans unravelled.
That's why these newlyweds called their wedding day Plan D.
"It's a good thing I'm a certified wedding planner and have my own wedding planning business, because I pulled it off in just over a month," says the vivacious bride of her lovely day. "With all of the changes, I could definitely relate to my 2020 brides that had to make alternative plans."
Oh Brother, Who Art Thou?
Perhaps it's fitting that Sarah and Willy's love story began with a mix-up. They met at work, and Sarah admits, "I was quite confused at the beginning because Willy seemed to forget a lot of our conversations, and was often hot and cold." It was weeks before she realized Willy had an identical twin, Calvin, who also worked at the same place "and sometimes I was actually chatting with him!"
Soon she had the brothers sorted out, getting to know Willy better through work activities. Their first date was at Nepean Point, and they got engaged September 1, 2019. Like a lot of engaged couples then, they thought they were free to have whatever 2020 wedding they wanted.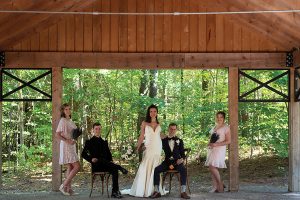 Plan A was to have a small ceremony at Nepean Point with a couple of witnesses. "I was going to wear a traditional Chinese dress called a Cheongsam (Qipao), and Willy was going to have a matching bow tie." The next day they were going to fly to Iceland for their "honeymoon/wild elopement ceremony with the white dress." Their engagement photographer and his girlfriend were going to accompany them for the first, elopement-half of the trip; in 2021, Sarah and Willy intended to hold a big party to celebrate with family and friends.
Then COVID-19 entered the picture. At first, the couple held out hope a September elopement and trip were still possible, but as time passed and the pandemic persisted, they started considering backup plans.
Plan B involved keeping the same date, and eloping at Nepean Point with photographer Kathi Robertson and witnesses in attendance. "I would wear the white dress, and we planned on having a small dinner with immediate family at a local Chinese restaurant."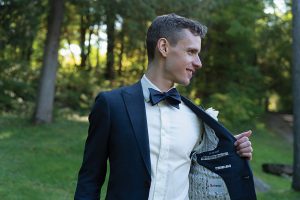 As the number of coronavirus cases grew, though, there were restrictions on gatherings. On top of that, Nepean Point got covered in scaffolding.
Next came Plan C, which involved tying the knot in the gazebo at Walter Baker Park in Kanata. But when Sarah went to check the setting, she was underwhelmed. "I realized that from most angles you could see kids playing in the background [and] sports games."
So it was time for Plan D, and a more intimate outdoor venue for the COVID wedding.
A friend suggested the Mill of Kintail and when Sarah called the date, September 20, was still available. By that point it was August 13, so the wedding planner had to dream up a concept, a bridal look and a décor design—fast.
Sarah chose a French flower market theme, with a build-your-own bouquet bar and a macaron tower serving as décor features and wedding favours. Besides sourcing products from far and wide to achieve the look she wanted, she also called on people she knew to be part of her big day. "All of my vendors I either had close, personal relationships with or I had worked with in the industry."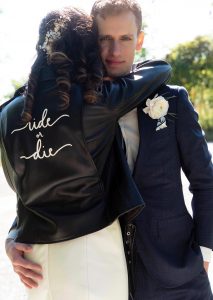 For instance not only did her wedding assistant Katelyn help set up the event, she also served as Sarah's bridesmaid. As for Sarah's bridal style, she says, "I love vintage Hollywood and wanted to go for a timeless, vintage glam look paired with a simple but elegant dress." A Ride or Die biker jacket and a statement hat allowed her to have some sartorial fun with the photos.
Actually, fun came in many forms on September 20.
Though the in-person event was limited to the wedding party and immediate family members, a hitch-hiking-themed drive-by was incorporated so other relatives could be part of the celebration. "It was such a fun and COVID-safe way to see more of my family," Sarah mentions. "I felt so loved. My cousin Kelly decorated her vehicle and my uncle David and aunt Kathy drove one of their beautiful vintage vehicles."
Glitches kept coming too, though. At noon the day before the wedding, another COVID rule change in Ontario limited gatherings to 25 guests. Luckily, Plan D was under the guest limit; Willy's groomsman had to bow out because his partner gave birth early.
And though the happy couple enjoyed every minute of seeing their family members and friends, Sarah says, "What we both remember the most is the way we looked at each other the entire day." She asked Willy to bring his guitar along, since music is a big part of who he is, and when the music played for Sarah to walk down the aisle, it was a special song Willie created just for her. "I cried happy tears from the moment my foot touched the aisle until the very end," she says now.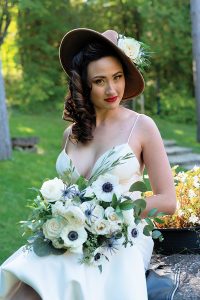 The LOOK
Red lipstick and winged eyes are Sarah's signature staples. Her sleek, fit-and-flare dress was the Avery, in ivory, by Watter Wtoo. She added Hollywood curls and Badgley Mischka shoes. She already had the biker jacket and hat.
The BLING
Sarah's engagement ring, custom-made at Magpie Jewellery, "has a light blue sapphire at the centre that matches Willy's eyes!" Her stacking rings were also from Magpie Jewellery, her earrings were from Sarah Walsh Bridal, and her bracelet and gold jade ring were from her Chinese grandmother. "Jade is good luck in Chinese culture."
Sweet Details
The bride's mom wore white to the wedding. "I helped her pick out her dress and I loved it. In my mind it was her day too!"
Sarah got changed in the woods because she didn't want to wrinkle her dress on the way to the wedding.
Willy's custom suit had music notes on the inside, his initials on the cuff, and the wedding date sewn in.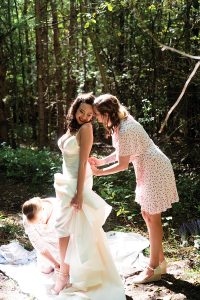 Venue: Mill of Kintail, Almonte
Custom engagement ring: Magpie Jewellery
His band & her stacking rings: Magpie Jewellery
Her band: Spence Diamonds
Bridal earrings (Drop): Sarah Walsh Bridal
Bridal earrings (Moons): Mejuri
Flowers: Bridal bouquet, boutonniere, hat flowers and cake flowers from Love In Bloom by Capital Florist; market flowers from Costco; dried lavender from Cowichan Valley Lavender
Officiant: Lynne from Exceptional Ceremonies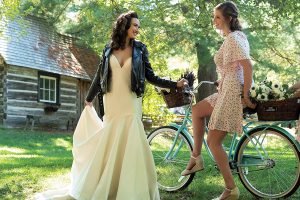 Photographer: Kathi Roberston Weddings
Event design & set-up/tear-down: And Always Events
Music: William Collins Music
Music equipment: Long and McQuade
Bride's gown: Watters Wtoo design, found at White Satin Bridal Couture
Custom suit, bow tie and pocket square: Surmesur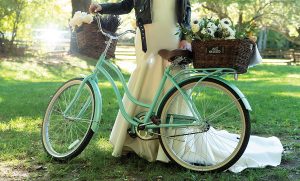 Groom's shoes: Steve Madden
Bride's shoes: Badgley Mischka
Nails: Breathtaking Nail Spa
Hair: @jmac.hairfairy from RISE Hair Team
Hair cut and Colour: Saab Salon Spa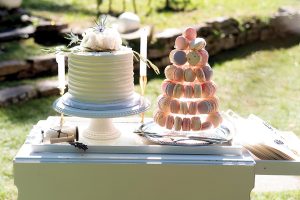 Makeup: Makeup by Nicole
Cake: Arnie Sweets
Macarons: Quelque Chose
Ring box: BelovedFineJewels
Vow books: Paper Decorum
Decor items: Crates, flower buckets, area rugs from boutique GALERIA Les promenades; pipe and drape from Fiesta Ottawa; tea cart from Big Vintage; ribbon from Silk and Willow; chairs from Prior Engagements; candles and vases from Yummi Candles; candelabras, cake platter and gold votives from And Always Events, engraved guitar pick from Pure Jewel Designs, custom water bottle labels from PixelaCraftStudio, wax seal from Artisaire
Flower market sign: Cottonwood Shanty
Leather jacket: Zara, lettered by Simply Calligraphy
Pumpkins: Fallowfield Farms