Sara and Tristan | December 18, 2021
Photography by Amar Studios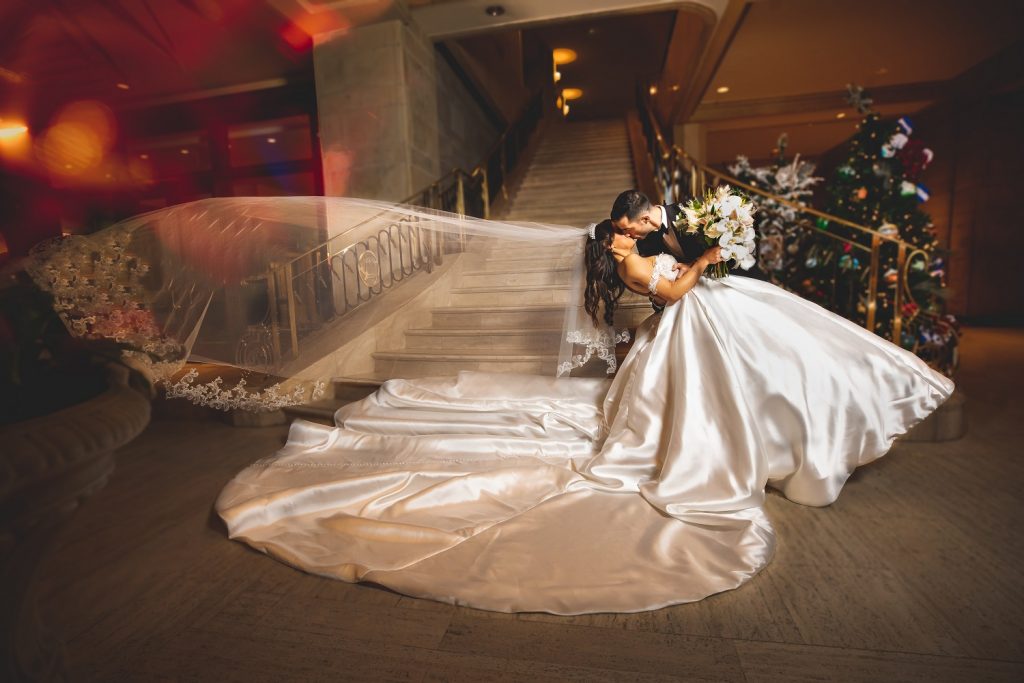 Sara and Tristan's love story began in a Grade 12 economics class. The student group happened to include a football player named Tristan, and the teacher happened to seat the new girl, a dark-haired beauty named Sara, at the front. Not only did that incentive work its magic straightaway—the football player's attention stayed fixed on the front of the class—the long-term result was a life-changer.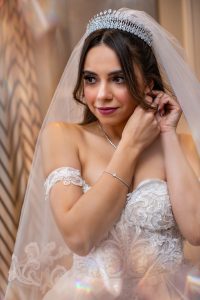 Sara and Tristan became high school sweethearts and, a dozen years later, on December 18, 2021, they hosted an epic wedding at Ottawa's historic castle, the Fairmont Château Laurier. "It was definitely a fairy tale," says the bride who looked like a beguiling princess on her special day.
"I love the Château," Sara admits. That's why, at that same iconic landmark on May 22, 2021, "in the heart of the pandemic," Tristan asked her to be his wife. Soon. Very soon. "We wanted to get married in June," she explains. When June didn't work, due to COVID restrictions, they chose August. Nope. The stars didn't align for the celebration they wanted. Next they chose December 18 and, Sara says, they were firm: "We're not changing that date."
It worked out rather gloriously.
In fact, the celebration was all the things of wedding wishes and dreams. There were touches of boho chic and elements of English charm, with a contemporary twist. Royal "princessy"? Yes, but modern. The ceremony had a classic, romantic ambience, with lots of candles and sparkle, while the reception had loads of Gatsby-style pizzazz. That was thanks, especially, to the striking black-and-white checkered dance floor Sara designed and Moe from MoeSignature (a floral and event decor design company) pulled off.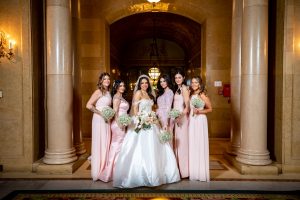 In a word, it all was spectacular.
Sara "was very creative with her vision and gracious in allowing her vendors the ability to add additional special touches to make the wedding truly memorable," notes Elise Schmitz, creative director of Toast Events.
Achieving Sara's Cinderella bridal look was another creative process. Noting she went wedding-gown shopping at just three or four places, this newlywed says, "I was very laid back about it." Naturally, her dad thought she looked beautiful in every dress she tried on. There was one gown, though, at La Maison Bridal Boutique, that captured her heart. "It just felt right," she says of the dreamy, off-the-shoulder ballgown. "I fell in love. I was twirling. It was so me." She discovered her lovely long veil at the same bridal boutique and her mom brought her an elegant tiara from the Middle East. As for the matching necklace, drop earrings and bracelet, Sara mentions she designed them with Philippe of Philippe & Co. Jewelry of Montreal.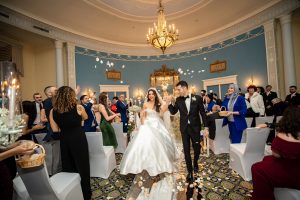 Her understated, naturally beautiful makeup and lush, effortless hair were the finishing touches to a breathtaking bridal style.
The attendants had plenty of their own finesse. Sara's bridesmaids wore blush, the groomsmen wore matching blush ties and the groom was tall, dark and handsome in his classic tux and bowtie. The grandeur of the castle, the dazzle of the design elements and the grace of the bridal party were a heady combination, but it was the sentiment of the day that really shone through.
"We've been together forever," the bride explains. "Since we were kids. We've grown [up] together." In that time their families, Middle Eastern and Italian, have become close too, so when Sara and Tristan's wedding day finally arrived, there was plenty of reasons to rejoice and revel. "It was truly a celebration of love," she says.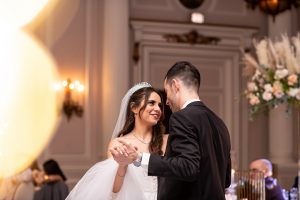 The Details:
Venue: Fairmont Château Laurier
Photographer/Videographer: Amar Studios
Planner/coordinator: Toast Events
Officiant: The Hitch Doctor, Edward
Bride's Gown: La Maison Bridal Boutique
Décor/Florals: MoeSignature
Pianist: Kimberly Dunn
DJ: KRZ
Cake: Sweet Me Desserts