Jessica and Alain | August 29, 2020
Photos by Captured By Cait Photography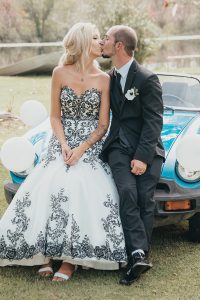 When Jessica married her best friend and high school sweetheart Alain Cote last summer, she chose a rustic chic theme and a waterfront location by the Tay River in Perth. Boy, was there water.
"The night before," Jessica says, "we had crazy amounts of rain that flooded our outdoor wedding set-up." So there were tears, too. "Luckily, I have an amazing family and great groomsmen who were quick to react, and dug tiny trenches, and managed to save the wedding ceremony."
Just in time for Saturday's outdoor ceremony, the sun appeared. Nearby, four tents were decorated with twinkling curtain lights, and the white-draped tables were festooned with centerpieces made by the bride. She looked radiant in her strapless mermaid gown and fingertip veil. "It was beautiful," she says, "with the autumn leaves across the river as the background."
Then the heavens opened and the bridal party and guests had to run for cover. "I've never seen flooding happen so fast; we could see the water from the river rise and come rushing." Everybody and everything got soaked.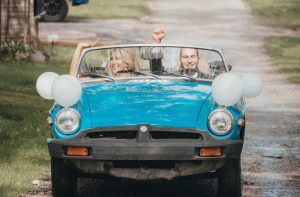 That's when the day got really interesting, and extra special. "Although all this was happening, the wedding guests stayed—with smiles on their faces and helping hands," Jessica explains. "Everyone switched from fancy shoes to bare feet and rubber boots and had a blast playing in the water, making the most out of the situation. Yes, adults played in the water too."
The newlyweds changed into pants and hoodies, and urged their friends and loved ones to do the same. "The rain stopped just in time to eat. So our first dance, cake cutting and dancing were in casualwear."
By all accounts, the day was unforgettable. As one guest joked, "If 2020 was a wedding, yours was it." Other comments included "Most unique, fun wedding ever" and "Best wedding ever." Photographer Caitlin Mellor describes a bit of what she captured with her camera: "Kids were falling in four-inch-deep puddles, garbage cans were floating away, decorations were blowing over. And with all this there was not one single frown. It was all smiles and laughs." She calls it one of the most fun weddings she's experienced. "Such a lovely day for a lovely couple."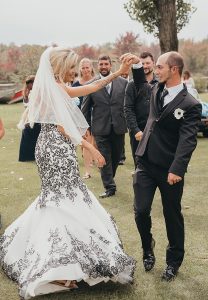 Flower Girl: Giulianna
Flower Boy: Jessica and Alain's son Nicholas
Wedding Gown: Christina Wu design found at All That Glitters Bridal Salon
Groom's and Groomsmen's Attire: Moores Clothing
Bridesmaids' Dresses: azazie.ca
Bride's hair: The Curly Red Head, Perth
Bride's Makeup: Maude Robichaud
Cake: Darlicious Delights
Flowers: Le Grand Jour Mariage
Music: Groomsman and DJ Simon Productions
Décor: 613819partyrental.ca and Chez Lily Party Rentals