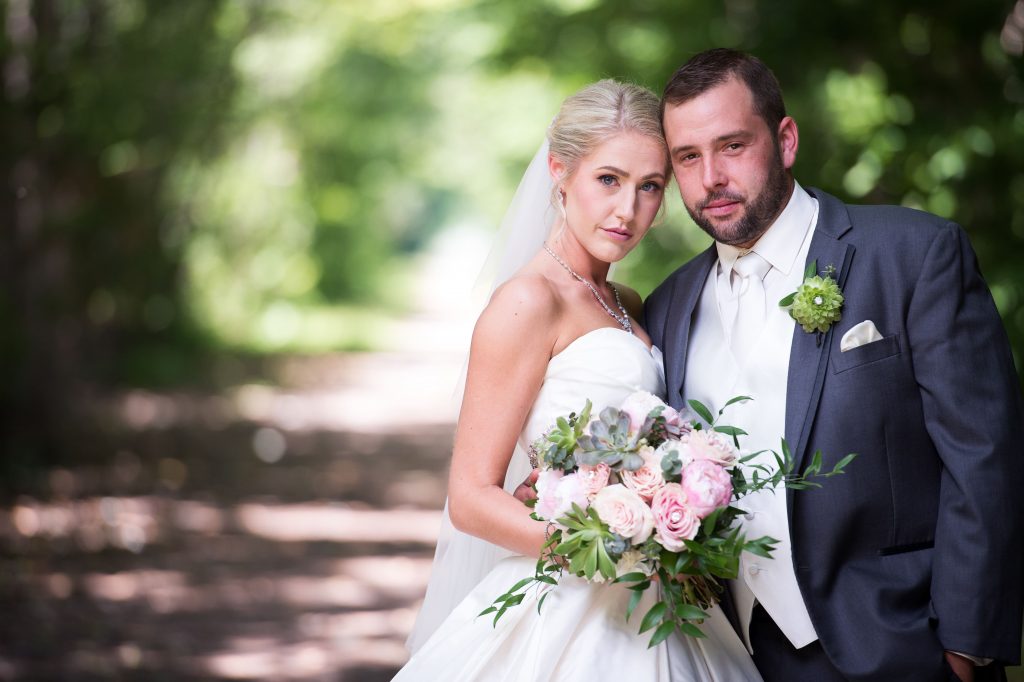 Cinderella in the Woods
Compiled by Pam Dillon and Photos by Elenora Luberto, Jemman Photography
As Jennifer and Chris went for a walk in the snow at Hog's Back Falls on December 17 of 2016, she didn't think anything of it. Since the couple lived in the area, they often did this. Once they got to the falls, snow was falling as they approached the bridge where couples place locks to profess their love. In that moment, Chris proposed. Weeks later they returned to place their own lovelock in memory of the magical milestone. By that time, they were already starting to plan their July 21, 2018, wedding at Orchard View Wedding & Events Centre in Greely.
And there were many more special times to come. For instance, when Jennifer went shopping for her wedding dress, she was in for another surprise. While trying on different styles at Renewed with Love Bridal in Carleton Place, she slipped on a ball gown just for fun. Remarkably, it was picture-perfect. The strapless raw silk gown by Canadian designer Paloma Blanca fit like a glove.
Since the design featured crystal and beaded detailing under the bustline, she chose complementary accessories, including a diamond tennis bracelet given to her by her grandmother, plus earrings and a necklace that her mother gave her as a birthday gift. "I was going for a clean/classic look with a touch of bling," Jennifer notes.
With her pretty blues eyes, delicate features and long golden hair, dressed in a romantic style the bride looked like a princess on her big day and her vision for the occasion—Cinderella in the woods—came to life too.
"We would describe our wedding as simply elegant with a touch of nature," she says. The outdoor ceremony site at Orchard View was already stunning, so minimal decoration was required. They lined the aisle with small lanterns and, luckily, hanging flower baskets already in place worked well with their colour scheme of light pink, grey and deep purple with hints of gold.
Chris wanted hints of wood incorporated, so the couple created various decor accents that featured both the romantic colours and woodsy elements. The seating chart was made from an old wooden door, and Jennifer hand-painted signs on canvas for the cake, card table, and photo booth, while Chris made easels out of tree branches. Wood slabs were used for cake stands and centerpiece bases.
"Our coordinator at the venue, Amanda Baker, was a life saver," the bride notes, making all the organizational details come together easily. Jennifer also has high praise for photographer Elenora Luberto of Jemman Photography—"She is truly an artist," the experts at Mill Street Florist, who "took our budget and vision and made our dreams come true," and the professionals at Pearl Décor, who provided Chiavari chairs.
Highlights of the day itself included the first looks. Chris was brought to tears when he set eyes on his bride in her ball gown, and Jennifer shed happy tears too. They were also delighted to have two very special youngsters as part of the wedding party: Jaxton served as the ring bearer and Jordan was the flower girl. "It meant a lot to us to have family and friends come from all over the country to celebrate with us." The first dance was also particularly memorable, since Jennifer loves to dance and Chris isn't a big fan. "There were many smiles and giggles," she says, adding, "Dancing the night away was the perfect way to end the best day of our lives so far."