Noël and John | July 7, 2018
Photos by Stacy Munro Photography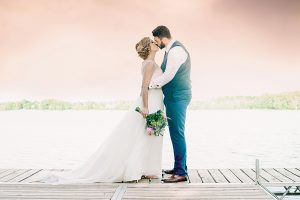 On a summer day along the Mississippi River, Noël and John got married surrounded by their closest family members and friends. The setting was her childhood home. And for this special, outdoor celebration, with loads of sentiment and family significance, Noël's parents' waterfront property was just the place.
"I had my brother and sister as my Maid and Man of Honour," Noël says. "And all three of my nephews and my daughters were also in the wedding."
As the bride explains, this wedding was about more than two adults exchanging vows. In fact her favourite part of the day was when John gave her daughters each a ring. "He purchased them gold rings with their birthstones. We were all officially joining together as a family."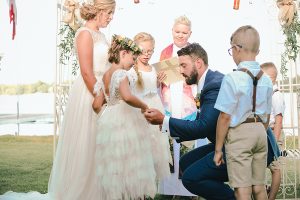 In terms of wedding style, there were navy suits for the men, teal and purple ensembles for the ladies, and beautiful cream gowns for the bride and daughters. "We went with bright coloured flowers," Noël mentions. "I love colour!" Vintage boho elements—from a rustic blue door frame to an enchanting collection of colourful, mismatched chairs—added to the charm.
A gesture of kindness was another one of the highlights. Family friends Doug and Deb Coady lent Noël and John their son's car. He was a good friend of Noël and her sister and, unfortunately, had passed away. Although he "couldn't be with us in body, he was definitely there in spirit," Noël says. "Being able to use his car was a very special part of our day. We are forever grateful to them for entrusting it to us."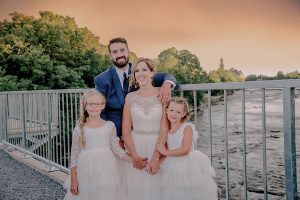 Flowers: Beth from Cashmere & Rose, Almonte
Gown: Renewed with Love Bridal Outlet, Carleton Place
Hair: Candace Fleming, Portrait Salon
Makeup: Leigh-Anne, One Fine Beauty
Shoes: The Shoe Company
Bridesmaids' Dresses: David's Bridal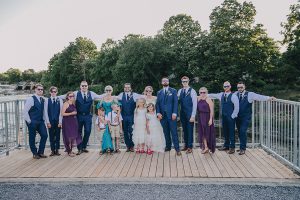 Groom's Attire: Tip Top Tailors Kanata
Catering: Chesswood, Carleton Place
Cake: Family friend Mary Brown