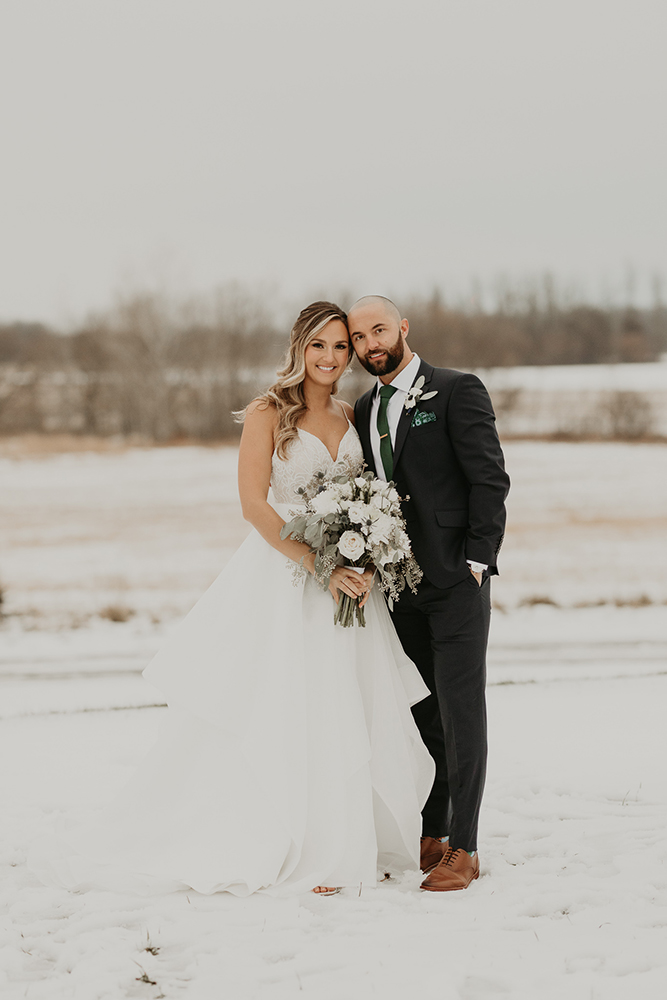 Lisa and Matthew | November 27, 2020
Photos by Celine, Barefoot In the North
As a freelance wedding coordinator for 10 years, Lisa was able to put her talents to work for her own big day at the Lodge at Strathmere. "Due to the pandemic," she notes, "a lot needed to be dialed back, refined, or eliminated from the original vision of our wedding. That said, our advice to any 'COVID couples' would be to go for it. Even if you can only have 10 people, 20 people or 50 people, get married. All the other things surrounding the day can be modified, but what matters the most is the marriage to your partner."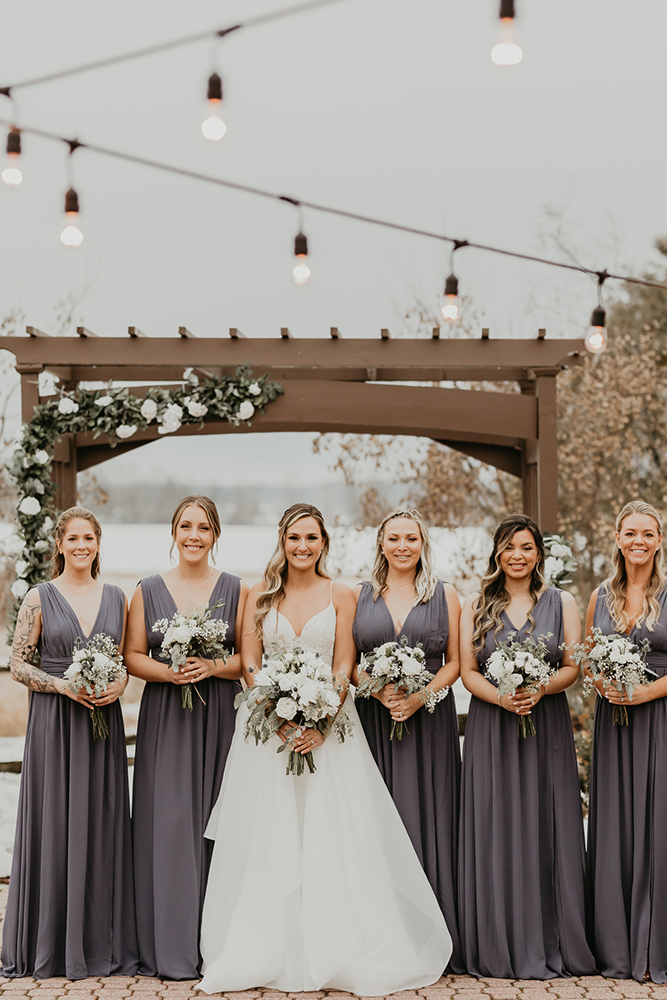 For this long-time couple, the highlight of the day was the ceremony. It started with them giving their mothers roses, as a gesture of gratitude for the love bestowed upon them. Thirty people were on hand virtually, via live streaming, and about 40 friends and family members were there in person. "Our hearts were full," says the bride. To keep the ceremony short, since it was November and cold outside, they wrote love letters to each other rather than reading their vows aloud. The letters were opened separately that morning.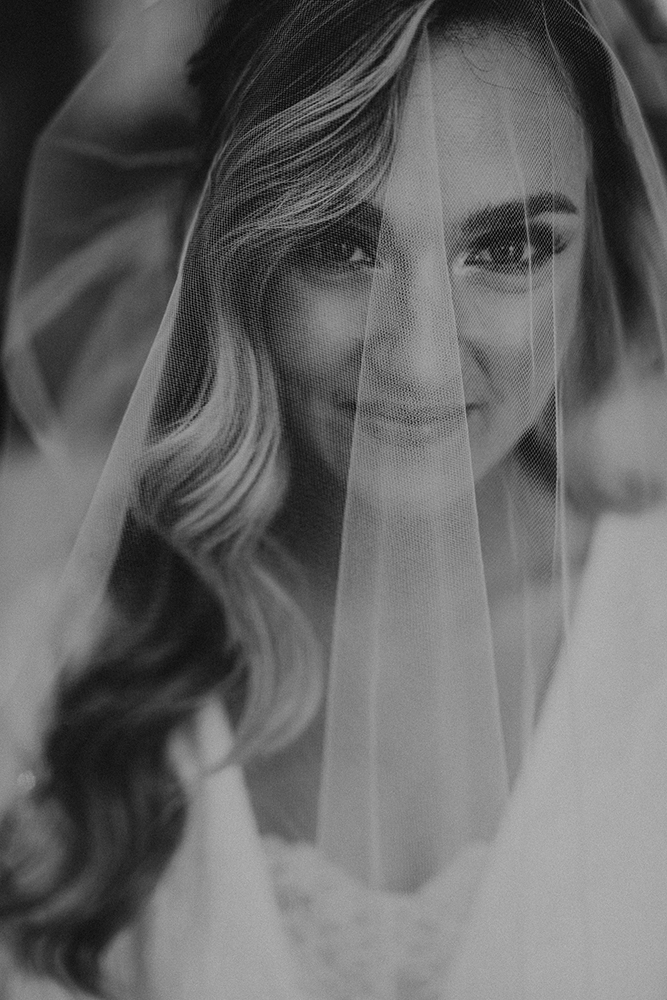 In keeping with the theme Love and Family, their seating chart featured guests' photos as escort cards. There were framed photos throughout the venue, and the first dance included a video for guests to watch while Lisa and Matthew had the dance floor to themselves. "It was a slideshow with childhood photos of us growing up," Lisa explains. "The last few seconds of the video had our engagement photos and a line that read #MeetTheMcNultys, a nod to our wedding hashtag."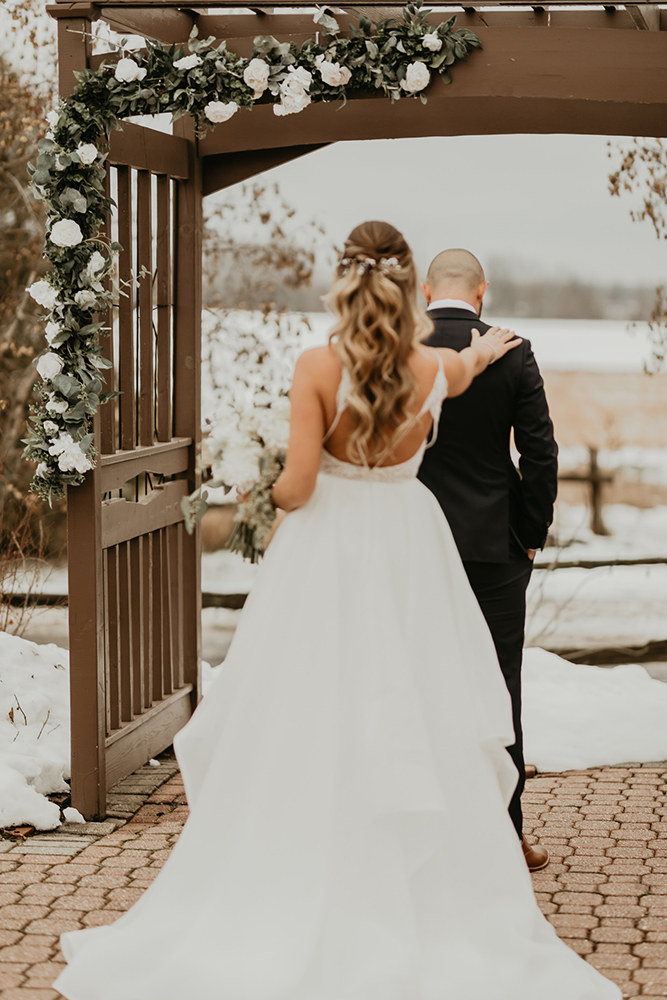 Though guests didn't get to meet one McNulty, (the four-legged one), the couple's dog did make an appearance. As a nod to Bauer's "cheeky personality," they placed a mini, customized felt replica of him on the side of their wedding cake—with icing on his tongue to look like he'd taken a bite out of it.
Venue: Strathmere, The Lodge
Coordinator: Lisa Levia, Strathmere
Officiant: Shelley Styles, Styles Weddings
Photographer: Celine, Barefoot In the North
Videographer: Hour Media
Live stream: Baldwin Audio Visual
Bride's Gown: Blush by Hayley Paige's Perri design, from White Satin Bridal
Groom's and Groomsmen's Attire: Jimmy the Suit Guy
Bridesmaids' Gowns: Lulus Weddings' Heavenly Hues design
Flowers: Opportunity Knocks Events
Hair: Saly Mak, Rinaldo's Lansdowne
Makeup: Olivia Foulkes MUA
Table and Ceremony Flowers: Rustic Engagements
Cake: Serendipity Cakes by Olivia
Desserts: Mavericks Donuts
Music: Dylan Holton on live guitar; Quality Entertainment DJ