Joyful, romantic day for a truly inspiring couple
By Pam Dillon
Photos by Ashley MacPhee Photography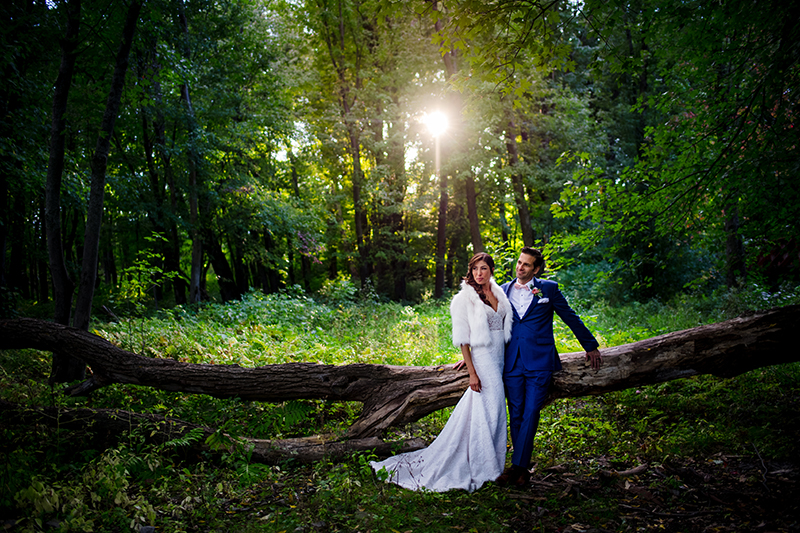 When Nicole was getting to know Mathieu in spring 2019, her first visit to his place was a revelation. As an elite athlete, the dark-haired beauty was used to the world of conquering challenges, training for triathlons and racing across finish lines. At the time Mathieu invited her over, since he had his little boy with him, she had just come back from snowboarding at Tremblant.
Crossing the threshold at his heritage property in Aylmer, the Type A go-getter discovered a different realm. In Mathieu's home where, remarkably, "nothing matches, but everything flows" she
also got to know "an extremely creative person"—Type B, through and through. Truly, though, she never imagined the love and devotion of this patient, easy-going man would help guide her way.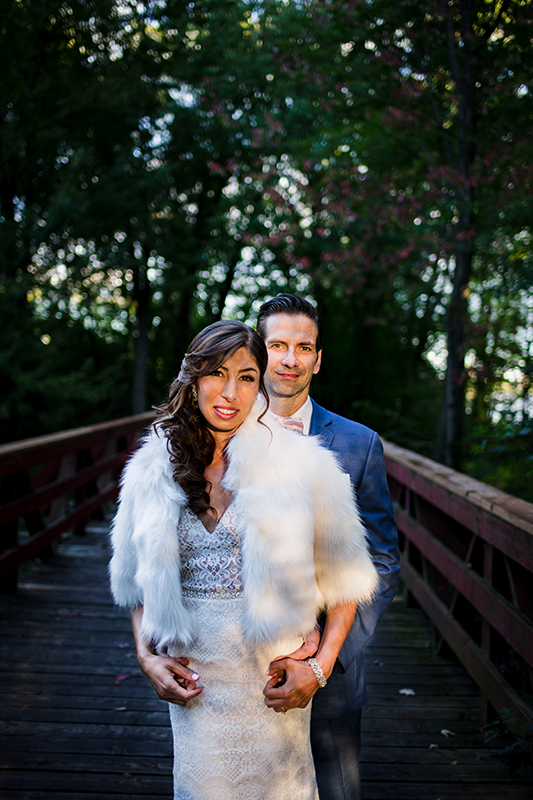 Just three months later, while training for the World Championship 70.3 Ironman in Nice, France, she was run off her bike by a drunk driver.
Gatineau's Lac-des-Fées Pathway is flanked by a road on one side and a field on the other. Nicole was on the paved path when she saw a red car travelling way too fast. Suddenly it veered out of its lane, crossed the other lane, jumped the curb. She slammed on her brakes. A bystander said she flipped multiple times. "My helmet was severely cracked."
Nicole remembers being on the ground, not knowing where the driver was, glancing over to see the car fishtailing in the field, then the driver revving the engine, heading her way. "He's coming at me," she thought.
Mercy came by way of a flat tire.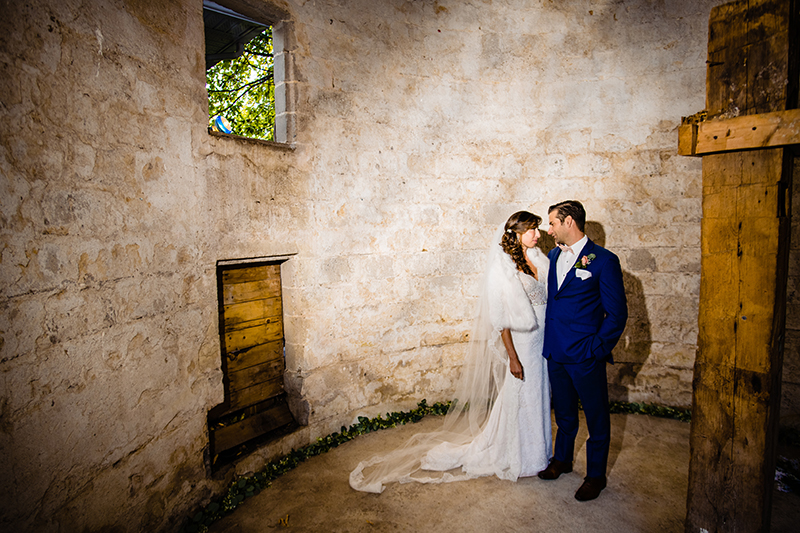 Still, Nicole had a traumatic brain injury and a brain bleed; as a clinical researcher, she knew the ramifications. "I work in neurology," she says wryly. One thing was certain in the aftermath: Mathieu, that new boyfriend, was a source of unflagging support. "He was ever present, ever there for me.
While the road to recovery has been tough, they've been on it together. For the first five months she was in denial; she did the 70.3 Ironman in France against doctors' advice. Finally, in
January of 2020, she crashed. That's when the rehab really started. It continues to this date. There have been ups and downs and setbacks, with a global pandemic to contend with too.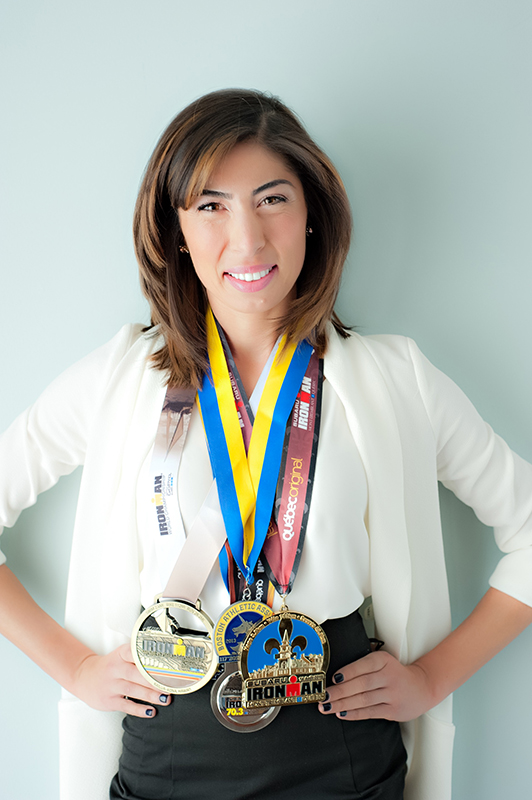 But along with the challenges for this bright, lovely, dynamic woman, there are many triumphs and life gifts—including Mathieu, supportive loved ones, and a joy-filled wedding day that took place September 26, 2021.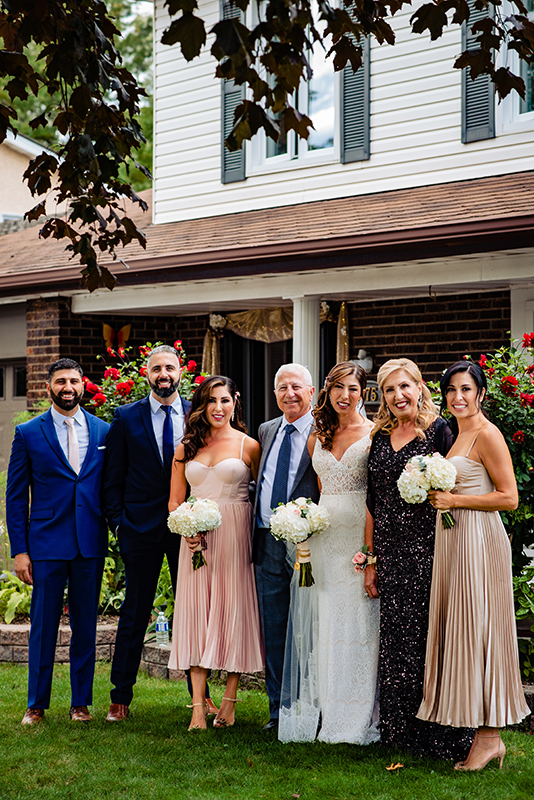 Fittingly, they held their reception on that property Nicole first visited in 2019, where time makes known its many charms. And Nicole's large Lebanese family was a big part of making the occasion extra special.
Prior to the big day, her two sisters, two brothers and their spouses pitched in to set up the tent, string outdoor lights and organize tables and chairs. While Nicole's mom was in the kitchen
baking wedding desserts, the others were creating bouquets, boutonnieres, headpieces, centrepieces and more. "Everything was done with love."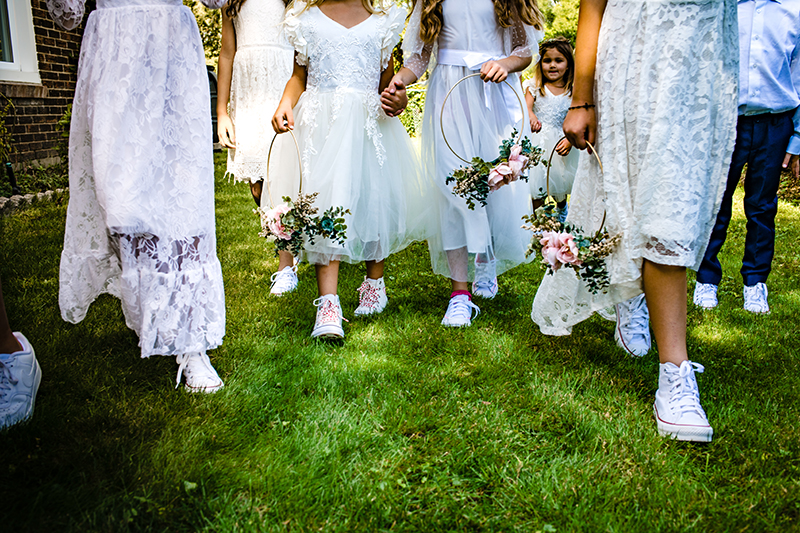 Just as the family support meant a lot, so did the opportunity to host those loved ones "on the most important day of our lives, on a heritage property we cherish and work hard to maintain,"
Nicole says. "It was an incredible feeling to share that love with people we adore the most."
Love showed itself in countless ways at the romantic, outdoor celebration. An old silo served as a relationship museum, with photos of Nicole and Mathieu's adventures displayed in antique frames found on the property.
Meanwhile all the youngsters in the family—Nicole's stepson, plus 12 nieces and nephews—were included in the wedding party, and they all wore Converse sneakers to run down the aisle, in honour of Nicole's passion for running.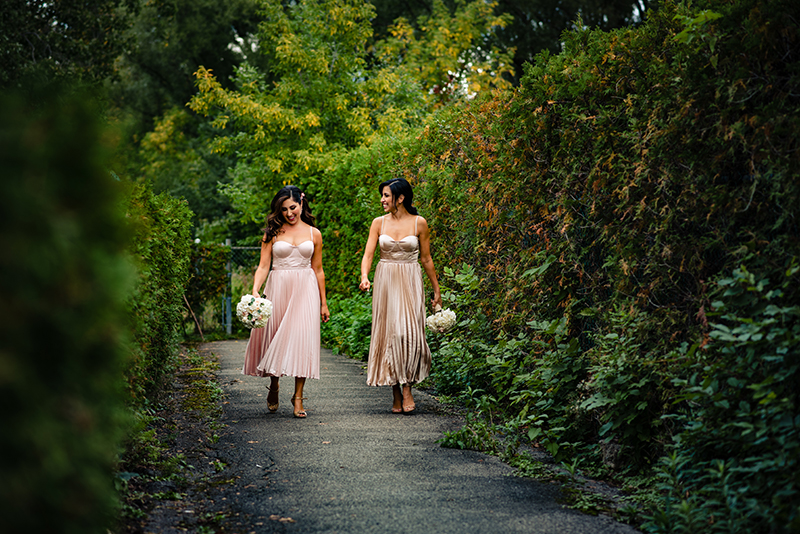 Since Mathieu, "a gentle farmer at heart," is mindful of his environmental footprint, many items, from attire to decor, were either rented or refurbished. Even the decision to hold festivities outdoors was a reflection of these two and how they embrace life. Noting that connecting with nature is an integral part of her rehab, Nicole says she and her beloved spend a lot of time in the natural world.
Luckily, on this day the weather was perfect, the ambiance was relaxed, and the guests were wowed when the bride and groom performed a choreographed first dance. As for the bride? Not only did she complete the Boston Marathon two weeks later, Nicole continues to celebrate this "second shot at life," with Mathieu by her side. "I couldn't imagine life without him."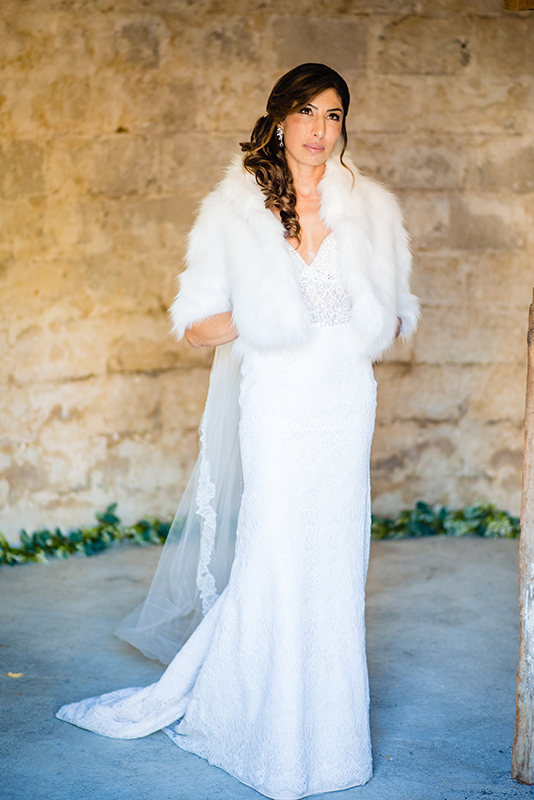 The Details:
Venue: Couple's home in Aylmer
Planner: Mary Ciancibello
Officiant: St. Elias Orthodox Cathedral
Photographer: Ashley MacPhee Photography
Bride's Gown: Mikhaella from Renewed with Love Bridal Outlet
Bride's Gown Alterations: Super Stitch
Accessories/Shoes: Fur bolero from Fitzroy Rentals; Earrings from Olive + Piper
Groom's and Groomsmen's Attire: St+Amour Style & Mode, Hull
Bridesmaids' Gowns: Fitzroy Rentals
Flowers: Handmade by sisters and sisters-in-law
Hair: Elee Hitti
Makeup: Leigh Anne King, One Fine Beauty
Desserts: Lebanese pastries made by mother of the bride
Music: DJ Nick, Ottawa
Food: Jeremiah's Classic Catering
Décor: Line Decor, Ottawa
Tent, Chairs, Tables and Cutlery Rental: Parliament Parties