Details make each wedding day memorable. Unique elements— representing your personal tastes, interests, and history together—can
tell your love story and infuse your celebration with signature style. From the wedding party (Hello, canine ring bearer!) and the ceremony
to the seating chart and the décor accents, there are countless ways to add personal pizzazz to an occasion that is, after all, a reflection of you. These local couples have come up with diverse, creative ways to make their big day distinctive and meaningful. Hopefully their ideas will spur some one-of-a-kind tweaks to your wedding design.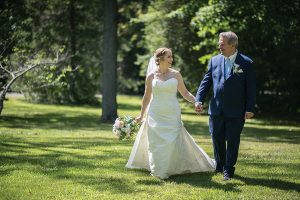 Sweet Music
Debra and Warren
Photos by Andrew Van Beek
In 1977, Debra started a fan club for a popular Ottawa rock band called Octavian. Warren was the lead guitarist/vocalist. At their 2019 wedding, an original love song recorded by Warren and Debra was played for the procession and served as the basis for a CD gifted to guests.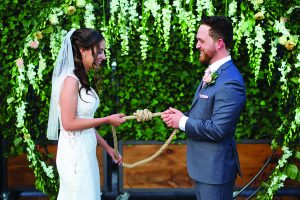 Let Love Grow
Julie and Kyle
Photos by Mike Lucy
Fittingly, Let Love Grown was the theme for Julie and Kyle's wedding at Aquatopia Conservatory. Officiant Rinnette Emerson read a poem
the couple created together and the two also "tied the knot" literally, with a rope, symbolizing the decision to share their life.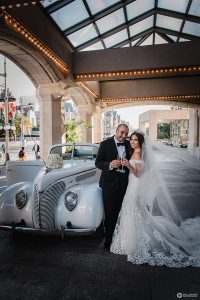 Royal Touches
Connie and Siavash
Photos by Paul Doumit Photography
From the bridal accessories to the décor, Connie and Sia's wedding had regal flair. "Our custom invitations, menus and dance floor all incorporated a crown, our initials and gold and silver details," the bride notes. "There were white flowers and candles everywhere."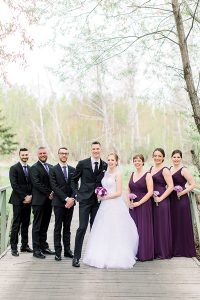 Plum Lovely
Stephanie and Michel
Photos by Chelsea Mason Photography
Stephanie and Michel's big day at the Brookstreet Hotel had a modern theme and a palette of plum, lilac, and silver. The highlight of the day,
for this bride, was the first look. "I was so nervous and emotional but as soon as I saw my handsome groom, it didn't matter."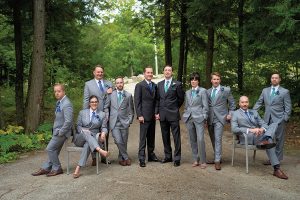 Well Suited
Matthew and Shawn
Photos by Kathi Robertson Weddings
When Shawn and Matthew tied the knot at Le Belvédère in September of 2019, they were dapper in dark suits. Matthew wore a green tie and Shawn wore a blue one. Their attendants followed suit (pun intended) in chic grey ensembles, some sporting blue ties, some wearing green.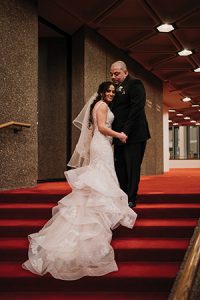 Winning Team
Christina and Andrew
Photos by Lauren McCormick Photography
Christina and Andrew's classic wedding featured gold and navy accents and decor. "Our favourite part was incorporating our love for hockey
in a way that didn't clash with the theme," Christina notes. "Our seating chart was a hockey rink with the tables as our favourite hockey teams."