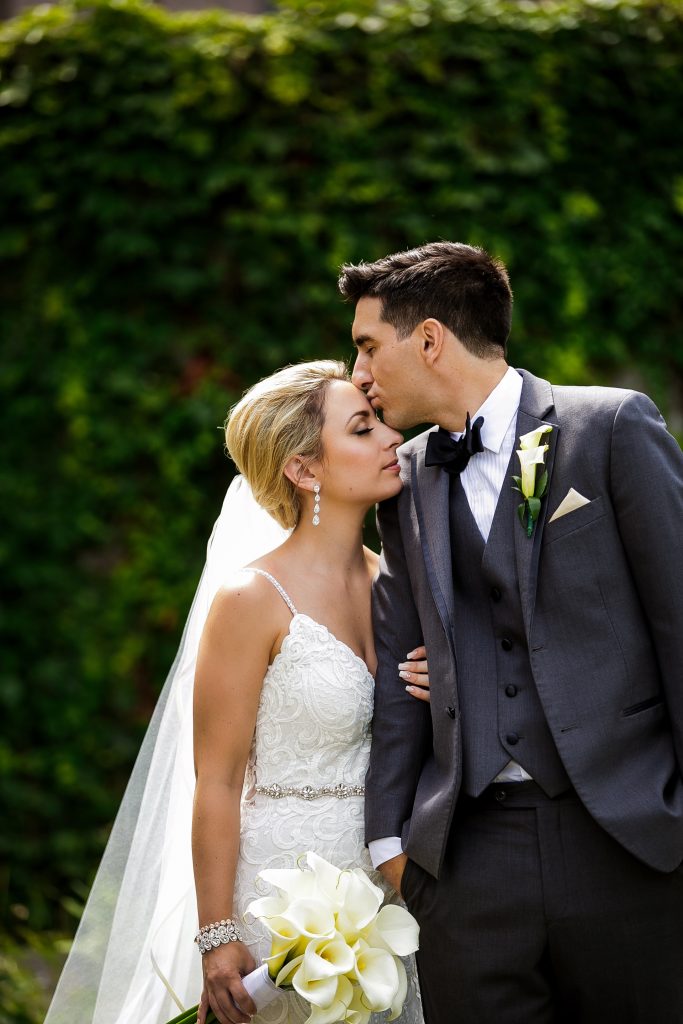 Something Old, Something New
Traditional family connections
By Iris Winston and Photos by Kathy Youssef, Fleischer Photography
There is a tear in Sofia Paradiso's eye and a catch in her voice as she talks about her wedding day. "Everything was perfect," she says, as she recalls July 28, 2018, when she and fiancé Joey Cardinali tied the knot at the Notre Dame Cathedral basilica in Ottawa and celebrated their wedding with a reception and dinner at the Crowne Plaza, Gatineau. "I'll never forget walking in and seeing how beautiful everything looked and how perfectly the decorations, the flowers, the lighting and everything else had come together," says Sofia, as she describes the white floral arrangements enhanced by greenery in elegant gold stands and the glittering candelabras on each of the tables for the 230 guests.
By their wedding day, the couple had known each other for five years, after meeting at a party at a mutual friend's house in February 2013. However, their romance might have begun much sooner, as they had attended the same schools and even been in the same classes.
"Even though we went through junior high and high school together, we never connected or had friends in common," says Sofia, now an occasional teacher with a local school board.
Then came the fateful party and the pair "just clicked" and have been together ever since.
Their first official date was something of a difficult experience, recalls Joey, who has been a Drain-All Ltd. employee for all his working life.
"I was pretty nervous when I went to pick Sofia up at her family home," he recalls. "I had texted her that I was coming and expected her to be waiting at the door. I was very surprised when her father answered. He invited me in to meet her mother and brother. That's a lot of pressure before a first date. We laughed about it afterwards, but at the time it was pretty nerve-wracking."
Despite the uncomfortable beginning, Joey was soon preparing to propose. He planned to take Sofia to a favourite restaurant for the event, but discovered that it had closed its doors, so forcing a last-minute scramble to find another romantic spot.
"We finally stumbled on Gezellig's in Westboro and then went for coffee, while Joey was trying to find the right place to pop the question. That turned out to be the parking lot of our old high school, on the coldest night of the winter," says Sofia.
In keeping with tradition, Joey dropped to one knee and presented Sofia with a cushion diamond surrounded by a double halo of smaller stones, the type of ring she had always hoped for.
From here on, the couple were in planning mode, preparing for the big day the next summer.
"The week after getting engaged, I went to With Love Bridal Boutique in Kanata with my mom, dad and brother and looked at a lot of dresses," says Sofia.
"I had thought I wanted a lace dress with long sleeves, but it didn't look right. Instead, I chose a Mori Lee double lace, layered dress with pearl-beaded spaghetti straps and a low back. I didn't make the decision that day but went back with my mom and two grandmothers the next week."
Next came such accessories as a dramatic, cathedral length veil and Sophie Webster shoes with metallic rose-gold straps and rhinestone heels.
On the big day, Sofia followed through with the "something old, something new" tradition. She tucked a handkerchief that had been a wedding gift to one of her grandmothers into her gown and pinned a gold brooch with tiny pendants representing faith, hope and charity — a momento she had received as a small child — into a seam to cover the "something old" section. Her shoes, dress and veil represented her new acquisitions, and a borrowed, jewelled hair comb that belonged to her maid of honour was added for further good luck. Finally, her mother sewed a blue ribbon into her garter, so that she would also have something blue to complete the ensemble.
It was all part of the tradition of family togetherness that is at the core of the couple's background and their future.
TRADITION
Something old, something new,
Something borrowed, something blue,
And a silver sixpence in her shoe.
This 19th-century English rhyme has long been associated with bringing the bride luck on her wedding day.
Something old was originally considered a way to provide protection for the newly married couple's first child. Today, wearing an item belonging to a loved, older relative is seen as a way to demonstrate continuity.
Something new is a signal of optimism for the future as the couple move into their new life together.
Something borrowed from another happy bride is a symbol of repeating the joy for the new bride's special day.
Something blue was often a blue garter worn under the wedding gown. The colour blue represents fidelity, purity and love.
The sixpence (a British pre-metric coin once made of silver and no longer used) in her shoe represents prosperity.
WEDDING PARTY
Bride: Sofia Paradiso
Groom: Joey Cardinali
Maid of honour: Haley Smallwood
Best man: David Cardinali
Bridesmaids: Alisia Cardinali, Jessica Cardinali, Isabella Cerquozzi, Olivia Gatto
Groomsmen: Jamie Barresi, Luca Paradiso, Luigi Santurbano, Christopher Smallwood
Flower girl: Daniella Cardinali
Ring bearers: Alessandro Cardinali, Wyatt Smallwood
Service conducted by Father Vincent Pereria
MORI LEE WEDDING GOWNS
Meticulously detailed beadwork and rich fabrics are two of the key characteristics of Mori Lee wedding dresses.
Chief designer Madeline Gardner, a graduate of the Fashion Institute of Technology in New York City, has won a number of awards for her gowns.
Her focus is on the innovative partnering of traditional styling with current fashions and, of course, perfect fit to flatter every bride.
GET THE LOOK
Cathedral length wedding veil: Sofia's cathedral length lace veil added a dramatic touch and extra elegance to her walk down the aisle. These full-length veils usually range from 108 to 120 inches (275 to 305 cm).
Up hairdo: Sofia wore her hair in a sophisticated swept-up style, secured by a jewelled comb, which gave added emphasis to the flow of her gown and veil.
Low-backed gown: Her stylish, low-backed Mori Lee lace wedding gown, with pearl-encrusted spaghetti straps and drop V-neck, said elegance with every step she took.
Sophie Webster shoes: Her Sophie Webster ankle-strap, heeled sandals in rose gold with sparkling rhinestone heels, caught the eye almost as much as the rest of her ensemble.
Joy of family connection: In keeping with tradition, the Paradiso-Cardinali wedding celebrated the closeness of family connections, as well as the couple's special day.