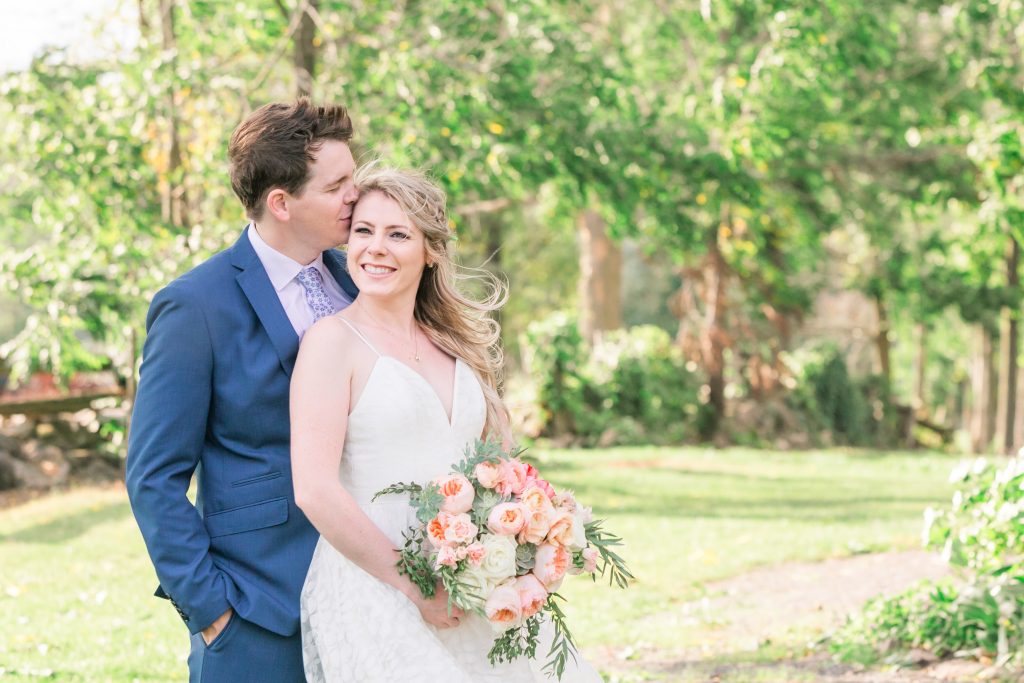 Amazing good fortune
Compiled by Pam Dillon and Photos by Phillipa Maitland Photography
Stephanie and Sandy's fall 2018 wedding was truly extraordinary, courtesy of the tornado that whirled through the region in the midst of their celebration. Happily, severe weather in no way marred the festivities. Instead, a windfall of serendipity and caring hospitality at Stanley's Olde Maple Lane Farm, ensured this couple's wedding was special for all the right reasons.
"The tornado definitely made the day unforgettable," Stephanie says. "We were lucky to be far enough away from the actual storm that the only consequence was the loss of power." Fortunately, the outage happened right after staff had finished making dinner.
"I'll never forget sitting by candlelight, hearing the rain on the tin roof of the semi-permanent tent, and enjoying the warm and delicious fall soup," she adds.
"The short time it took to get the music up and running served as a very intimate moment for all the guests to chat and enjoy the excitement of the storm."
Stephanie and Sandy chose the first day of fall, Friday, September 21, 2018, as their wedding date after getting engaged on Thanks-giving Day in 2017. When the big day finally arrived, the forecast called for wind and rain, so Stephanie was nervous about the out-door ceremony slated for 3:30 p.m. Luckily it remained sunny and warm. Since the storm held off, guests were able to enjoy outdoor games and the photographer, Phillipa Maitland, was able to take outdoor photos. "We got a lot of really nice ones of us, our families and wedding party outside under the windy trees and in front of the barn while the weather cooperated."
Stephanie wore Truvelle's Hamilton design, featuring a plunging neckline and double spaghetti straps, which she found at Revelle Bridal. Her accessories, a gift from Sandy, were from Michael Hill and her floral hairpiece was from Rebel Petal. "I tried to stay true to my everyday look, somewhat casual but elegant and a bit bohemian," she explains.
The laidback vibe extended to other aspects of the wedding. Not only was there a mix of genders on both sides of the wedding party, attendants wore looks and colours that suited them best. For this bride and groom, it was more important to have the people closest to them feeling comfortable and happy.
That easygoing, gracious outlook certainly shone through when the power went out. It was about 5:30 p.m., right before dinner, as the newlyweds were about to do their first dance. No lights and no sound system were no big deal. Since the food was ready, guests enjoyed a scrumptious meal by candlelight. Staff members got the generator going by the time dessert was served, all was fine. "We had just enough lights for a beautiful ambiance and music back on for the dances and party to begin." That was certainly a relief, Stephanie mentions, since she and her dad had prepared a hilarious father/daughter dance to surprise guests.
She gives a lot of praise to the vendors, especially the DJ and the on-site hospitality pros, for making the day such an unexpected pleasure. "Steve Bourguignon from 2J's Music Machine was amazing. He went above and beyond, most notably when he hustled home to his house in the tornado to get his personal generator to keep our party going." What's more, she adds, "The staff at Stanley's treated us like family." In all, she says, the wedding was lovely. "Windy but perfect."