From pasta in Italy to masks at the bridal salon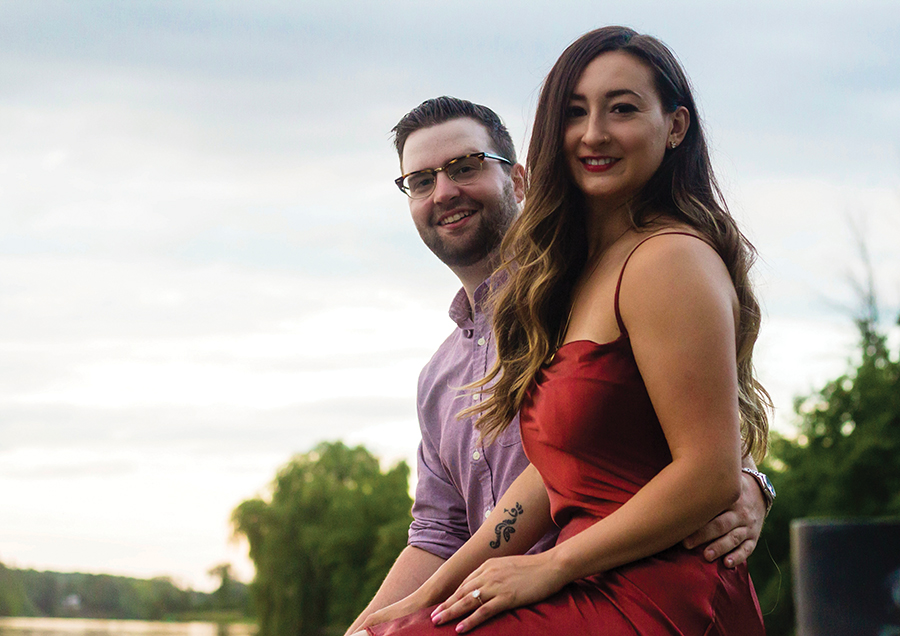 At the start of 2020, when the year was fresh and new, Deanna Spagnuolo and her boyfriend Shayne were in Italy. It was the end of January, and time for pleasure. They took a haunted walk and a pasta-making class, read by the Roman Forum, and ate pasta, pizza and Caprese salad. They also got engaged.
Little did they know a deadly pandemic was about to hit the European nation. "While we were there, they had a cruise ship docked off the port of Rome that had an outbreak, and there was an outbreak in a hotel a block away from ours," Deanna says. "Despite the craze that the country was heading toward, we had a beautiful engagement."
The Ottawa couple initially met in 2014, and after both ended up working at Shopify they became best friends. Their first date was in April of 2016, at a restaurant in Manotick. "It was amazing."
The next day they met again in Berlin. It was a work trip, and they decided to extend the time away, travelling to Barcelona and Rome. In Rome, the magic happened. They made a wish in the Trevi Fountain; they also said "I love you."
Shayne and Deanna always talked about returning. That's why, on this trip, she had a feeling he might propose. Still, she was taken by surprise. So was Shayne. Though he had things organized for the all-important occasion, life took an unexpected twist. His plan called for exploring ancient ruins, dining at a Michelin-star restaurant, then retracing the path they took to the Trevi
Fountain and that first profession of love.
Alas, the Uber driver dropped them off at the wrong place, derailing their arrangements. Next, though? Next came the good part. Despite a series of snafus, they managed to have an incredible day that lasted right into the following one. Shayne found another memorable spot for a meal. By the time they finished dinner, it was late. Barely anyone was around as they talked and walked, to the Coliseum, around the Roman Forum, and finally to the Trevi Fountain. The place was empty as they tossed in their coins, and when Deanna turned around Shayne was on one knee.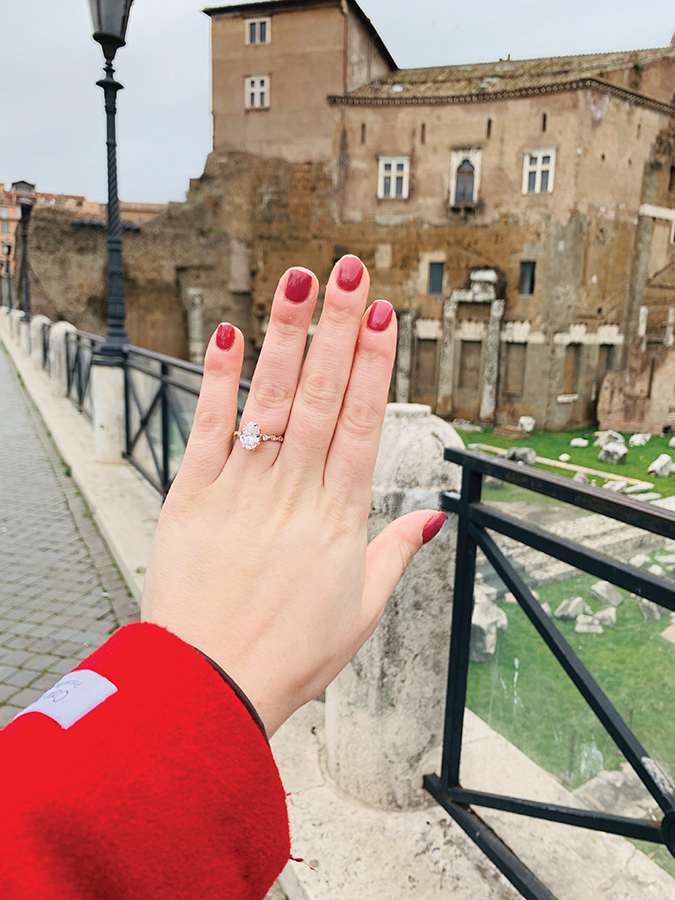 She cried. "I was so happy."
A week or two after the happy couple returned home, Italy was locked down, and since then COVID-19 has wreaked havoc on countless wedding plans. Deanna is frank: "We've definitely thought of just eloping and planning a party for when this is all over."
Though making arrangements has been "a slow and uncertain process," a date has nonetheless been set for September of 2021 and a venue has been booked: The Cape in Prince Edward County.
They're also finding creative ways to include family in this special time. That means taking extra precautions for Deanna's immunocompromised father. It also means compromise in some aspects of organizing the wedding.
"I had a vision of having the people closest to me at my dress fitting and initially thought my only option would be a virtual fitting," Deanna admits. Though she was able to go in person, she was only allowed two guests. As is the norm now, they had to wear masks, and keep a social distance. "It was so intimate though, which both my parents and I loved." In the latter half of 2020, everything from formulating a guest list to asking loved ones to be in a wedding party is tricky, since conditions and government rules are subject to change. "We haven't planned the
menu yet, but we're trying to do that soon before we potentially go into lockdown again."
For these two who forged their connection at Shopify—Shayne is a Developer Experience Lead and Deanna has left the company to start a marketing agency—there are definitely some wedding-planning adventures on the path ahead. They already know how to make the best of things, though, and their "big four" vendors are booked. The rest they'll tackle together. "We never dreamed that these would be the circumstances," Deanna says. "But here we are, trying to do the best we can."