By Chris Wilson
You've probably seen a video clip or two of a jumbotron marriage proposal. In the crowd at a professional sports game, the camera zeroes in on a hopeful suitor who gets down on one knee to ask for their partner's hand in marriage. An unforgettable moment? Yes. But what if the Significant Other—flustered and unnerved by the commotion—shakes their head No?
Ouch.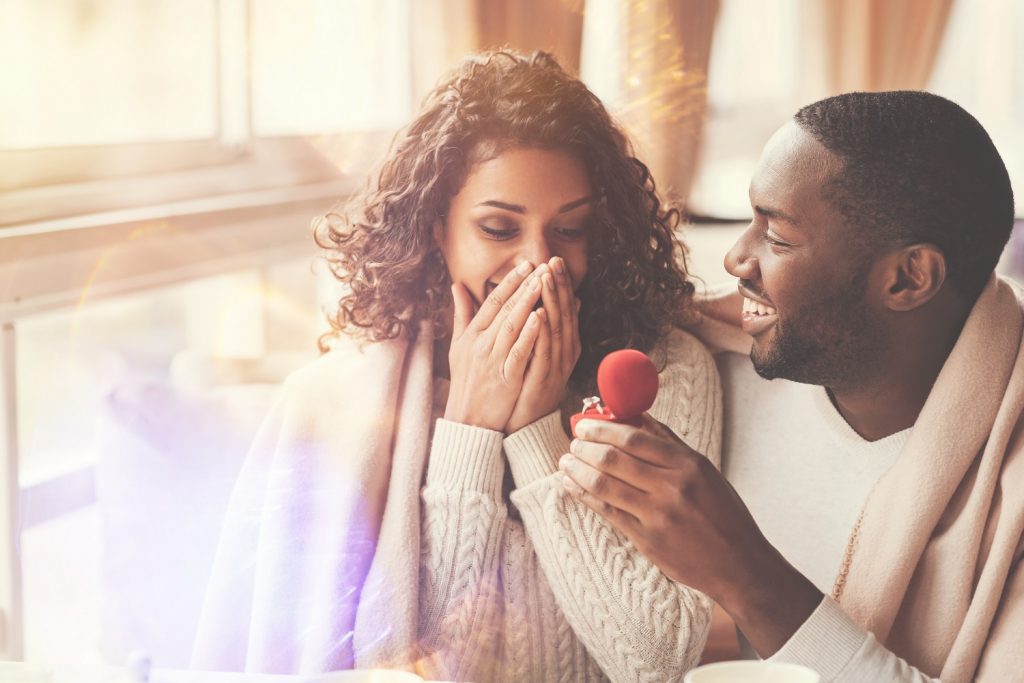 It's a distinctly personal approach that's also inclusive. "We value community and collaboration so in working with us,
clients also support local farms, buisnesses and shops. … Our partners are all local small businesses." tastershub.com
Or a buddy thumps the hapless suitor on the back as a show of "support," and next thing you know the ring has gone flying down there somewhere in the sea of popcorn boxes, hotdog wrappers and other detrious on the sticky floor of Section 222 in an arena that holds19,000 people. You may have seen that gem on a highlight reel too.
While most public proposals don't unravel so glaringly, there are innumerable less risky, more romantic ways to pop the all-important question.
Why not do it in the comfort and privacy of your own home? A tender, loving and meaningful proposal can happen right where you are. There are many ways to get creative with an at-home proposal, as well as many benefits. Here are some of the perks:
The Perks
Intimacy. Proposing in public can certainly be exciting, but doing so at home is more personal and intimate. You can express yourself more openly too.
Ease. When you propose at home, you won't have to worry about losing the engagement ring, bystander interference—the waiter materializing to fill up your water glasses, or plans going awry.

Comfort. If your future fiancée is shy and doesn't like a lot of attention, proposing at home is a thoughtful, considerate option. The private setting will keep them from feeling overwhelmed, an you're more likely to get a sincere "yes" if you choose to ask in an empathetic way in an intimate, undisturbed setting.

Surprise. If you propose to your partner at home, you're more likely to catch them off guard. Even if you've talked about marriage, they're unlikely to expect you to propose while you're sitting on the couch together watching a movie or wearing your pajamas.
The Plans
Get creative. Incorporate shared jokes or meaningful elements. Here are some ideas you can personalize. Plan a treasure hunt and include the engagement ring and proposal on a piece of paper. Have your soon-to-be fiancée search for items or clues until they find "the one." You can have a theme, add music, use mood lighting, include flowers, chocolates, small gifts: there are tons of ways to surprise and delight your Other Half, build excitement and wow them into an overwhelming, appreciative, heartfelt YES.
Include your pet. If you have a pet, attach the wedding ring to their collar and have them enter the room. This is an adorable way to propose at home, and it gets your furry family member in on the action. Create a movie trailer. If you're talented at video editing, why not make a custom movie trailer that includes your proposal? Schedule a couple's movie night, then play your trailer at the beginning to surprise them in a sweet and meaningful way.
Involve the kids. If you or your Other Half have kids, have them take part in the proposal too. They can help plant the clues for your treasure hunt, or serve as the cheering section when you get down on one knee.
Play a boardgame. Plan a game night and use a board game to pop the question. Scrabble is an excellent choice since each player gets seven tiles and marryme is just that: seven tiles. If Monopoly is a game you both like to play, write the proposal on a game card and wait for your Other Half to pick it out of the pile. (Make sure to have the champagne cooling and other romantic surprises at the ready.)
Serve a romantic dinner. You can't go wrong with a romantic dinner. Create the mood with music, candles, a white tablecloth, fine tableware and bubbly. Conceal the ring in the tablescape for a surprise, or serve cake for dessert with Will You Marry Me written in icing.
Decorate a room. Go all-out decorating a room with flowers, balloons, photos, rose petals and more to surprise your Other Half. Choose letter balloons to pop the question, arrange flower petals to ask the question, or decorate the walls with pictures of you together. Champagne, flowers and other thoughtful treats will add to the ambience. When your Significant Other enters the room, the next step is to get down on one knee.
Get loved ones involved. If you want friends or family involved in the big moment, invite them for a planned dinner. Tell guests ahead of time, and make sure they promise to keep it a secret. When you pop the question, loved ones will have their cameras ready to capture the moment.
The Pros
Enlist the help of professionals to make your proposal unforgettable. These experts can help execute your vision so you can enjoy the big moment without worrying about details:
Proposal planner. Similar to a wedding planner, a proposal planner can help you create the perfect moment. They'll ask for details about your partner to help develop a memorable and meaningful way to pop the question and get a Yes.
Musicians. To make your proposal ultra romantic, hire professional musicians. A violinist or acoustic guitar player will add a romantic element, while a trio of singers can add fun pizzazz.
Photographer. Most couples have professional engagement photos these days. You can plan a photo session for after the actual engagement, but also consider hiring a photographer for the big moment itself. The breadth of emotions and responses will be recorded and treasured for years to come
Catering. A caterer or private chef can be a great help. Work with someone who is creative and will time everything for maximum romantic impact. You can spoil your partner with a divine meal and without worrying about untimely interruptions. A caterer will also be especially helpful if you're planning a big dinner with lots of people.
The Pointers
These pro tips will help you make the occasion a success.
Clean up. Do some major housecleaning before the big event arrives. Get rid of clutter; clean the kitchen; vacuum, dust and wash the windows and glass surfaces. You want your place—and the backdrop for this all-important proposal—to be pristine and inviting.
Create a backup plan. Things don't always happen as intended, so have Plan B in place. If your future spouse needs to reschedule your date, make sure you can accommodate a change in date or you have the flexibility to alter arrangements. Consider different scenarios and options if you want to keep things a surprise.
Practice before the big event. Write down your proposal and say it aloud a few times. This will help you feel confident, lessen any nervousness, and keep you from flubbing your words.
Make a To Do list. Write down everything you need to do. Whether it's hiring a private chef, creating scavenger hunt clues or ordering a custom sign, put everything on an itemized list so you don't forget anything.
Bypass interruptions. For the perfect home proposal, let friends and family members in on the secret. They can help ensure your Significant Other arrives at home, as intended, and will also be sure not to show up at your doorstep or call in the middle of the big moment.
Information shared from Porch.com