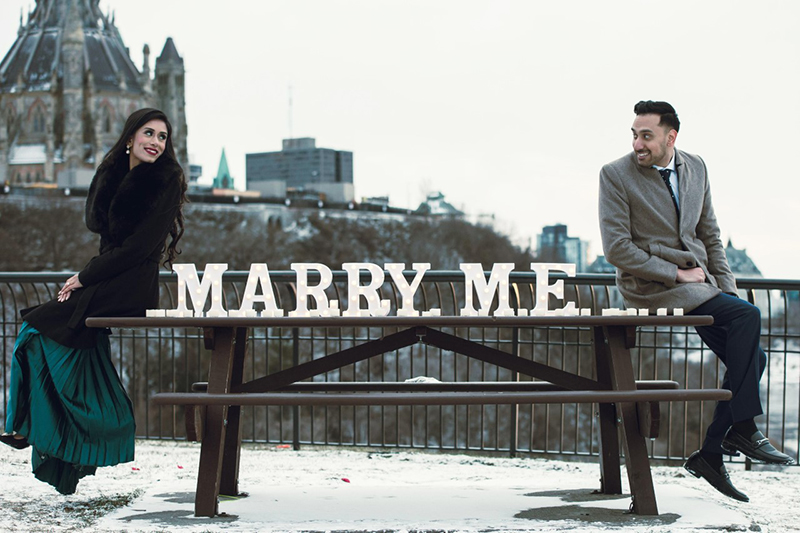 Sana Aman and Omar Iqbal
When Sana and Omar started medical school at the University of Medicine and Health Sciences in Saint Kitts, little did they know they'd find each other on that tiny Carribean island. She flew down from Ottawa; he flew in from Chicago.
"The odds of us meeting otherwise would have been slim," Sana points out. They connected, though, and formed a bond. "As our friendship grew, we knew this was something special. Five years later, through thick and thin, here we are, loving each other more and more as each day passes."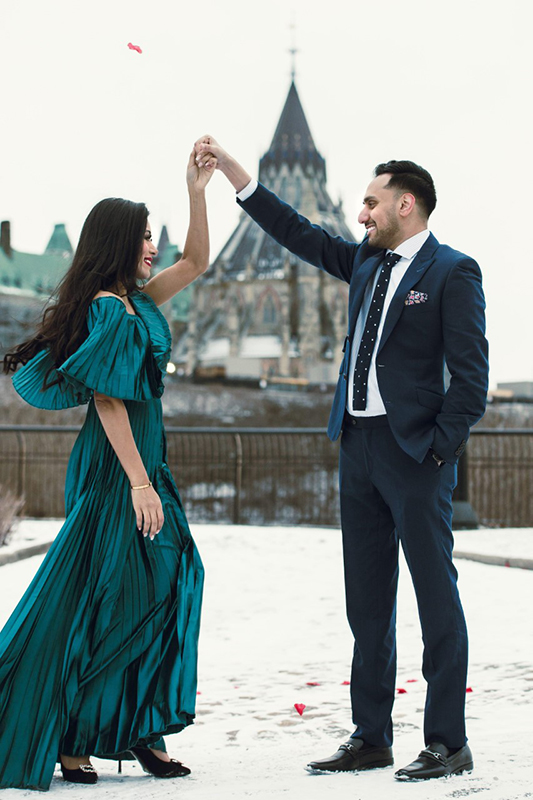 They talked about eloping. "But," Sana says, "COVID-19 kept throwing our plans around." It also kept them apart. "As borders shut down, we waited until border security made an exception for loved ones, and applied for him to be able to come through." Eventually, Omar was able to fly in from Atlanta, Georgia, and then quarantine for two weeks. The time wasn't wasted, though. He was orchestrating the perfect romantic tableau to propose marriage here in Ottawa.
The date he chose was December 26th, 2020, and the setting was at the heart of the city, between Major's Hill Park and the area behind the Château Laurier outlooking the Parliament Buildings and the Ottawa River. The time? Sunset.
"He told me to get ready for a fancy date," Sana notes. She was confused because December 26 was the date for Ottawa to start a 28-day lockdown. Where could they go? Trusting her beau, she got dressed up anyway. Now, she admits, "I had no idea Omar would plan something so romantic."
Then they danced. Later, when Sana shared the happy news and engagement pictures on Instagram, she wrote, "You are my heart's dancing partner, and I could dance forever with you."
He did, with flower petals and Marry Me spelled out in glowing decorative letters on a picnic table overlooking an iconic, historic spot in Canada's capital.
Handsome in a formal suit, he went down on one knee, presented a ring, and asked the beautiful woman in the teal-green gown to be his wife.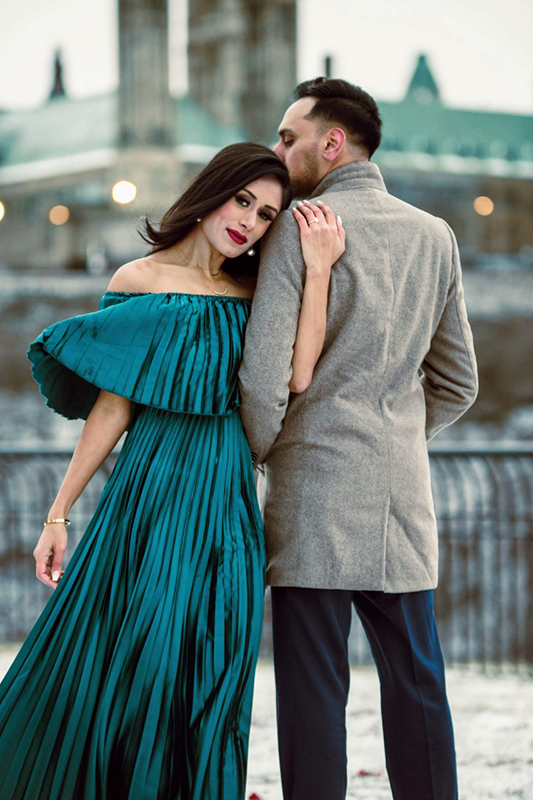 She said yes.
Yes, it was winter. Yes, it was the start of another pandemic lockdown. And yes, it was a dreamy, unforgettable celebration for two—no social distancing required.