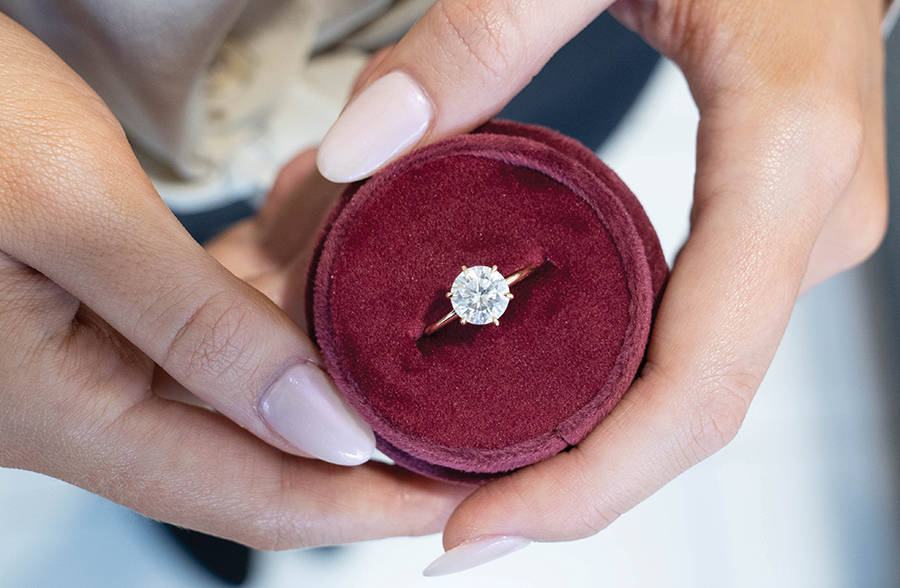 Moissy Fine Jewellery's Colleen Montague showcases an alternative to customary engagement and wedding rings.
Colleen Montague brought head-turning sparkle to Canadian Jeweller Magazine when she was on the cover of its October issue. In the cover story, Dave Gordon called her a trendsetter and a game changer. Other people call her Mrs. Moissanite.
As the woman behind Ottawa's new Moissy Fine Jewellery, which specializes in moissanite gemstones, Colleen is keen to showcase the dazzle of an alternative to traditional engagement and wedding rings.
Moissanite is a conflict-free gemstone that's brilliant, colourless or near-colourless, and durable. These days it's catching the eyes of millennials, eco-conscious jewellery wearers and price-conscious buyers. Over 120 years ago, Nobel Prize-winning French chemist Henri Moissan discovered the rare mineral (silicon carbide) in a crater in Arizona. More than a century later, scientists in a research laboratory were able to create silicon carbide, making it possible to bring the brilliant new lab-made gemstone to market.
By chance, Colleen discovered moissanite online and recognized its potential. Today it's the most common, sought-after non-diamond stone. Colleen and her husband Lloyd have Moissy Fine Jewellery locations in Arizona (the birthplace of moissanite) and Toronto, and now one at 431 Richmond Road in Westboro.
Moissy offers premium grade moissanite and an extensive in-store selection. There are over 100 designs at Ottawa's brick-and-mortar location. Since the store is operating by appointment only due to COVID-19 (at the time of publishing), there's personal time and assistance to explore options and try on different pieces. moissyfinejewellery.com
What's Trending in Moissanite
Colleen and her team dish the latest:
-Round is the favourite moissanite shape, and the most popular sizes are between 1.25 and 1.50 carat-.
-Shoppers are loving a beautiful classic style with a colourless clear centre stone and a dainty band.
-A three-stones look, representing past, present and future, is also growing in popularity. Three-stone combinations can be custom created with moissanite in any shape or size; the most popular combo for 2021 is cushion and round cuts.