Dairy Special Day
June 22, 2019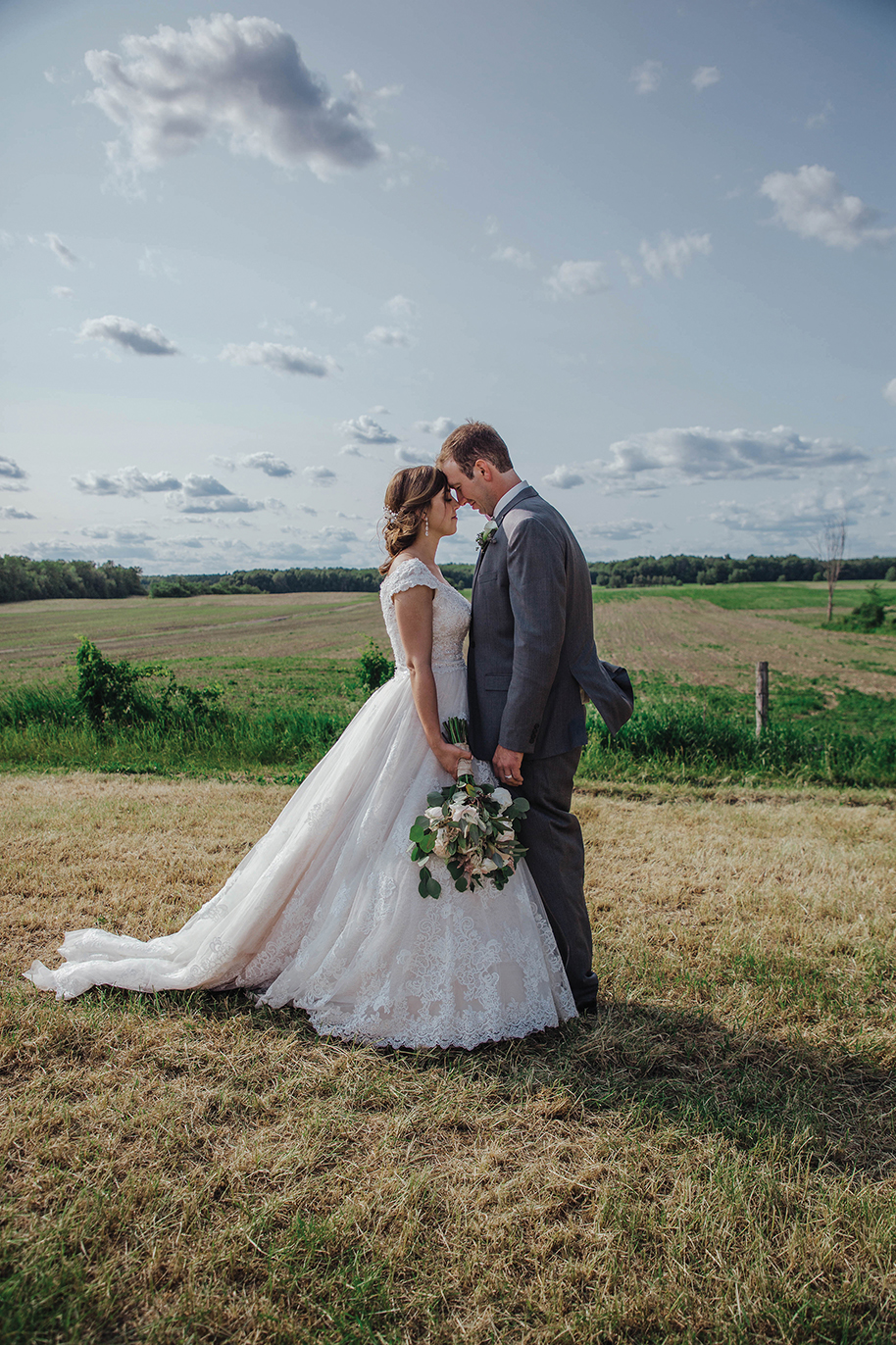 A lot of bridal couples go searching for rural venues because they want their wedding day to have the rustic charms of a farm setting and the beauty of the countryside. Alexis Roy and James MacLachlan didn't have to look. They were able to have all that and "moo-re" on their special day, including a selfie station with a cow. The theme for their nuptials was Everything Dairy and not only did their dinner and reception take place in the machine shed at the dairy farm that belongs to James' family, their signature drink was a Vodkow Mooojito.
This uniquely personal wedding started with an unexpected trip down memory lane: "Our moms were friends in high school." But the couple took their wedding planning in some truly fun and creative directions of their own, from the barnyard to the water. Following a traditional ceremony at Precious Blood Catholic Church in Glen Walter, a small waterfront community just east of Cornwall, Alexis and James hopped in a boat instead of a limo. For the bride, one of the most memorable aspects of the day was the "getaway pontoon boat ride" on the St Lawrence River. Following the excitement outside the church, she notes, "We got to sit on the boat and worry about nothing else but enjoying our champagne and celebrating what just occurred."
Numerous other moments also stand out for Alexis, who describes the day as "romantic and rustic, with lots of country feels." A personal highlight was definitely her dress, an Oleg Cassini design from David's Bridal. "When I came out with it on, everyone knew it was the one," she says, "and I never wanted to take it off."
A favourite traditional element was the wedding cake. Family members, including Alexis' grandmother, her cousin's wife, her dad's girlfriend, and her husband's aunt and uncle, produced the cake of her dreams. "It was the product of many minds and hands and I absolutely adored it.
"Another detail that I loved was our calf photo booth," she says. "Even thinking back now, I can't believe we pulled it off. We set up a calf pen just outside of the entrance to the shed, set up a quick backdrop and an iPad, and the rest was history. Our guests were in love with the calf and I feel that it made the venue that much more real and sentimental for us. We were on a dairy farm, and that plays such a huge part in my husband's life, and now mine, and it brought me so much happiness to see our guests enjoy a little piece of the farm life that lives within my husband's family history."
The dinner and speeches were also big hits. The food, by Prestige Catering, was "incredible," she says, and friends' speeches "were unbelievably heartwarming." A dinnertime kissing game was a big success and Alexis was delighted by a surprise speech from her brothers: "It meant the world to me."
Dairy accents ranged from cow cookies to handmade cow's milk soap for wedding favours, and at the reception this crowd was definitely in the "moo-d" for fun. As the bride puts it, "I was able to dance like a crazy fool with all of my friends and family, and everyone seemed to enjoy themselves."
Photos by Tammy Jette Photography