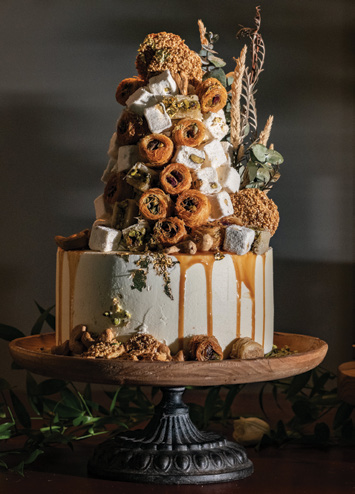 Romance, Fairy Tales and Gorgeous Bursts of Colour
The Arabian Nights collection of Middle Eastern folk tales, including such stories as Aladdin and Ali Baba, is the stuff of enduring legend. Full of romance, passion, intrigue and exotic adventure, it lends itself to a special day that's bursting with rich colour, gorgeous décor elements, decadent sweets and sultry beauty potential.
No wonder it served as inspiration for a styled shoot dreamed up by Lily & Roses Exquisite Events, an Ottawa- and-Montreal-based wedding planner. "Creating a Middle Eastern wedding as a styled shoot was a pure passion project for us, and we couldn't be more in love with the outcome and the experience we had working with so many talents. With people on the Lily & Roses Exquisite Events team having Middle Eastern roots, a project like this was only a matter of time."
At Café de l'Horloge, a century-old building and former postal office located mid-way between Ottawa and Montreal, the stage was set for this memorable and inspiring tableau. With its dazzling stained-glass window, sky-high ceilings and fireplace, the unique wedding venue offered a magnificent backdrop for some ingenuity.
Dramatic make-up and long, lush come-hither hair styled by Gabbie McGuire, a striking bouquet and centerpieces by Fleurs & Sense, and a decadent wedding cake and sweets by Little Leah's Kitchen spectacularly showcase what's possible for you to do—no magic lamp required.
THE TALENT