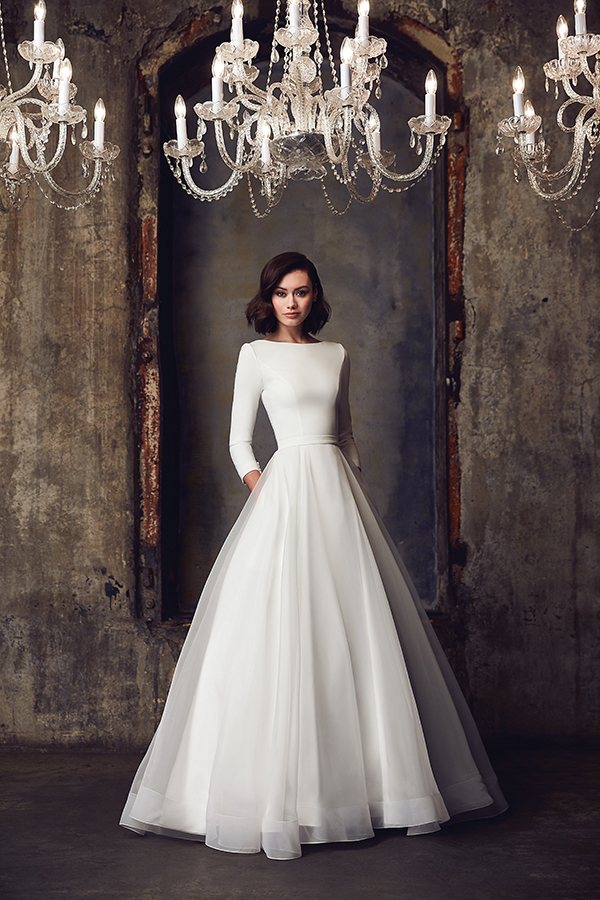 Statement sleeves are on trend for fashion-forward brides.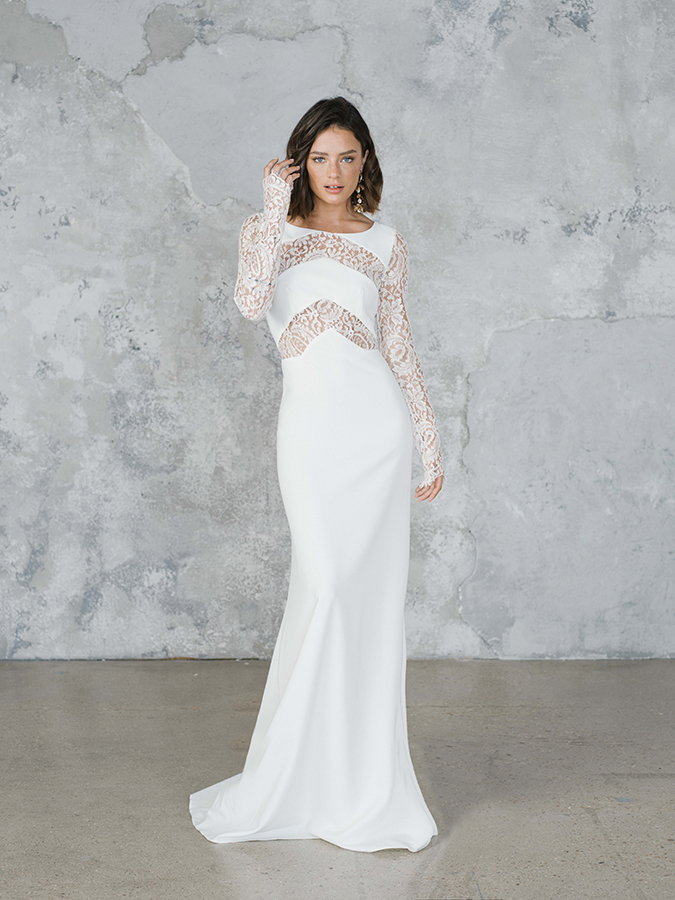 Long sleeves are making a big impact. Though strapless wedding gowns have been the go-to standard for two decades, new style possibilities are materializing for "arm candy." You can even have both options: A strapless gown and sleeves. Some detach; others are worn separately.
In fact, there's a lengthy list of up-to-the-minute silhouette options, ranging from plunging backs matched with sleek, gossamer sleeves to
off-the-shoulder gowns paired with sophisticated puffed sleeves. And there's a sleeve for every sartorial vibe: drama, elegance, feminine allure, modern minimalism, boho whimsy—you name it.
Once upon a time, in the era of Princess Diana, sleeves were all the rage. Eventually they fell out of favour. Too prim. Too conservative. Too
boring. Brides wanted to show some skin and showcase their youthful, womanly appeal with a look that enhanced their décolletage and face. In came the strapless look and it has definitely stayed in, long dominating bridal fashion weeks and wedding day walks to the altar.
In the last few seasons, though, mainstream fashion runways have been showcasing all sorts of hip, statement sleeves: sexy off-the-shoulder
sleeves, flirty ruffle sleeves, striking flounce sleeves, chic bell sleeves and bishop sleeves that balloon out before gathering in a cuff. Bridal designers are embracing the potential too. There's particular allure for brides planning a fall, winter or early spring wedding. After all, you can be ultra stylish and comfortable too.
The Olsen design from Rime Arodaky is a modern, chic crepe and cotton lace confection with Chevron cuts at the bust and waist.
This elegant number from the Rime Arodaky Iconics collection is figure flattering.
Meghan Lavergne, who co-owns Sinders Bridal House with her sister Stacey, offers some timely advice for brides-to-be on the hunt for the dress. "When trying to find the perfect wedding gown, you're looking for that one gown that will make you feel incredible. The gown that will bring a smile to your partner's face or tears to their eyes. You want to walk down the aisle feeling beautiful and confident." So make sure to keep this in mind, she counsels: "Your gown has to represent who you are. You may have heard the adage You wear the gown; don't let the gown wear you."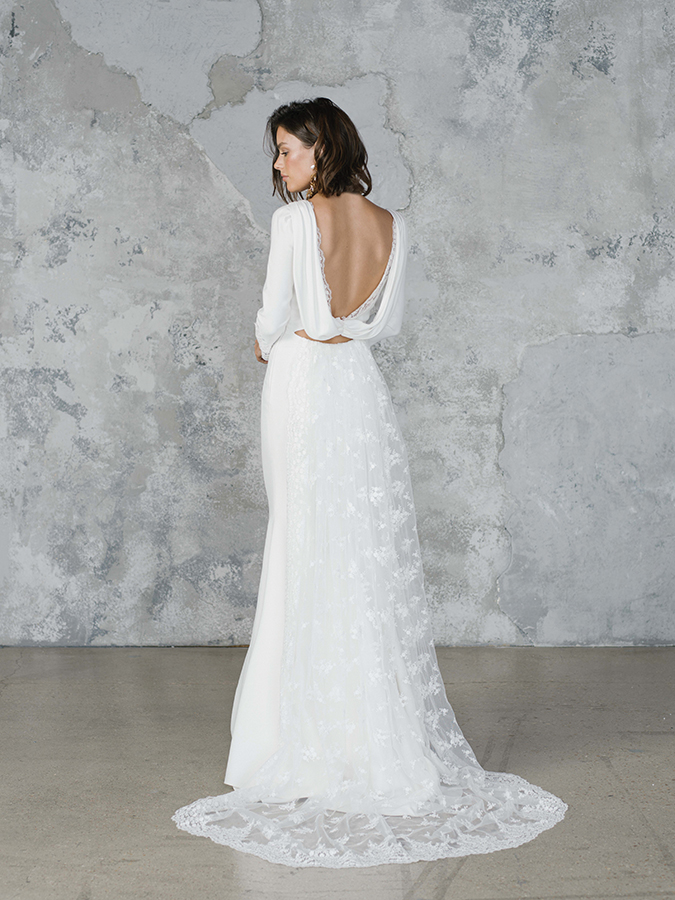 In essence, this means "when you're searching for a garment that is going to complete the vision you had of your wedding day, it has to be what you want it to be. Don't settle for a gown just because it's beautiful.
"Believe me, even we have a hard time choosing gowns for our shop because so many of them are too beautiful to pass up. But it's
more than beauty you need. It's that je ne sais quoi, it's that feeling that you can't stop smiling, that you know you'll see awe reflected in your partner's face when you walk toward him or her. Most of all it's realizing that you can see yourself wearing that gown on the day that starts the rest of your life with the one you love.
"To get to that end result," Meghan says, "Keep this in mind: the sky's the limit. If you want sleeves and it's a summer wedding, you can still try sleeves. Light airy sleeves can absolutely work for a summer wedding and they are an amazing way to customize and glam any gown! If it's a winter wedding then sleeves can be heavier or provide full lace coverage.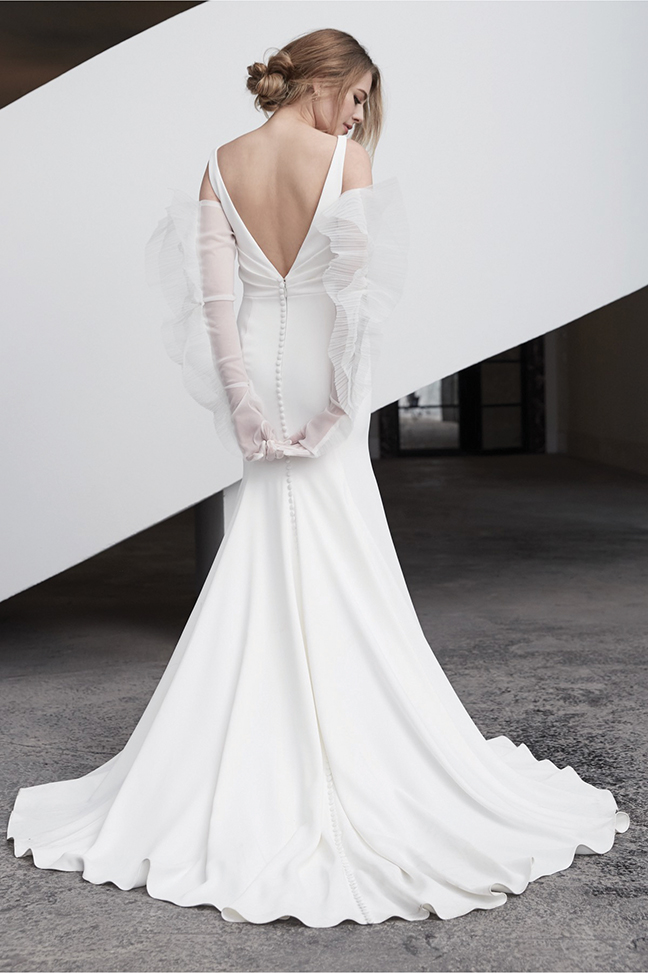 "And they can be the accessory," she points out. While every bride thinks about classic accessories, such as a veil and earrings,
to complement the gown and enhance the look, "try thinking in a different way," she recommends. "Certain parts of your gown can be the best accessory, such as dramatic sleeves, a heavily beaded bodice, a huge intricately beading belt, a full sparkle ballgown skirt. You might be surprised at how much difference the smallest change can make.
Watters Bijou design 69308B is spectacular with these striking arm accessories that are actually statement gloves.
This crepe and organza gown, Mikaella by Paloma Blanca design 2308, features a bateau neckline and three-quarter-length sleeves.