Elegant with a Touch of Country
July 28, 2018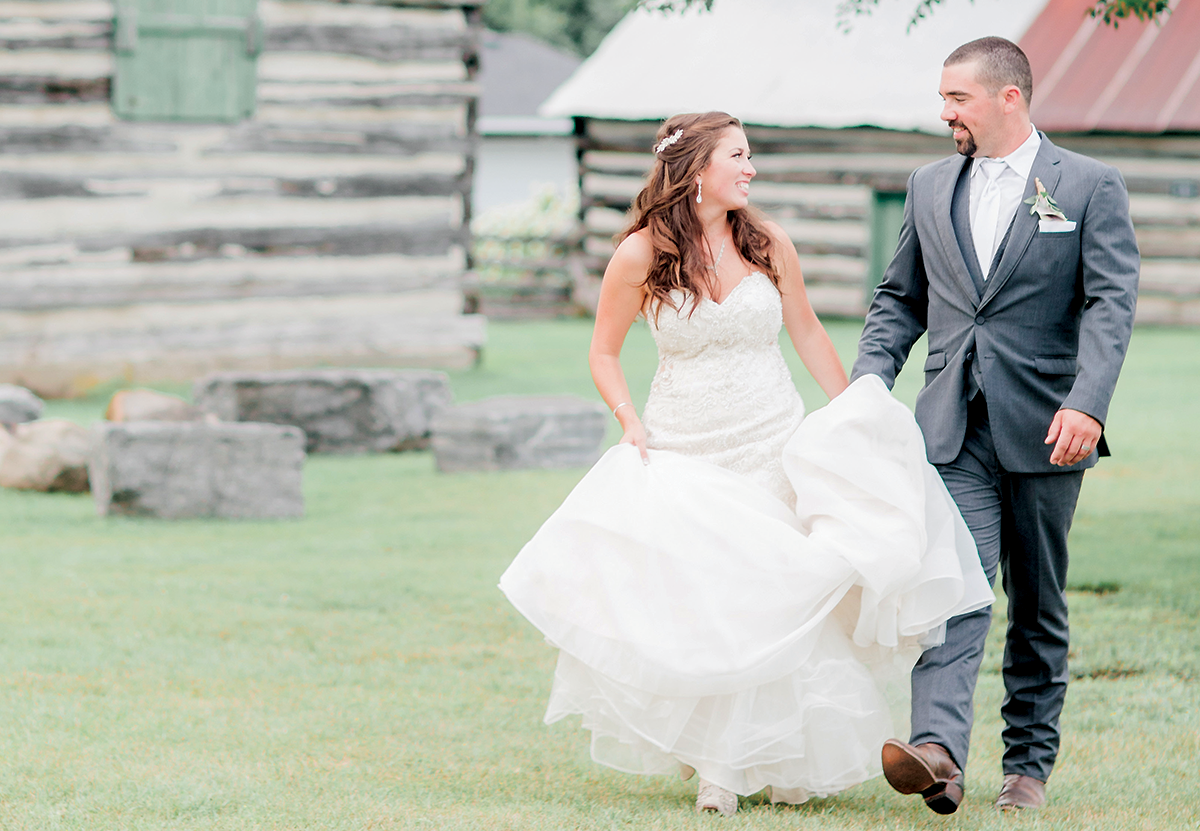 Ashley and Jordy met one serendipitous spring Friday in April of 2010. Although they went to the same high school and had mutual friends, these two didn't connect until they attended the same house party. "By the end of the night, he had got my number, walked me to my car and kissed me on the forehead," Ashley recalls. Later that night she texted him to say, "You missed." She was referring, of course, to the kiss that landed on her forehead.
Soon they were inseparable, and six years later, on
November 5, 2016, Jordy proposed in high style—literally. (Get the details on Page 50.) Naturally, Ashley was "floating on air" when she said yes. It wasn't too long before the newly engaged couple got busy planning their big day. The first thing they booked was their
wedding venue, and on July 28 of 2018, Jordy and Ashley were
married at Stonefields Estate. Describing the event as "elegant with a touch of the countryside," Ashley says, "We tried to have everything that we ever envisioned for our wedding day." In fact, there were all sorts of meaningful elements. Their wedding officiant, Trudy Garland from All Seasons Weddings, used to be their high school principal. "She made our ceremony personal and added special touches to it since she knew both of us so well."
Ashley's found her wedding gown, Morilee's Margot design, at With Love Bridal Boutique. "I fell in love with my dress, when I first stepped into it," she says of the strapless look with a sweetheart neckline and a fit and flare silhouette. "I knew, right then, that this was the dress I wanted to wear when walking down the aisle to my future husband."
Her accessories were also special. On the day of the wedding,
Jordy surprised her with a "stunning" bracelet from Goldform Manufacturing, the Ottawa jeweller that handcrafted her engagement ring and wedding band. She also wore sparkly, white cowboy boots.
And since Ashley wanted to ensure she had something old, new, borrowed and blue, her loved ones helped out. Her mother made her a garter with old lace, her fiancé presented the new bracelet, and she borrowed the veil her sister-in-law wore on her wedding day. "Lastly, my something blue was a gift my bridesmaids purchased. It was a silk ribbon that wrapped around my bouquet and said, 'No one is too old for fairy tales and today is yours.'"
Candace Fleming, owner of Portrait Salon, did Ashley's hair and makeup as well as the bridesmaids' hair, while Sara Clayton did the bridesmaids' makeup.
Since purple is one of Ashley's favourite colours, the bridesmaids' dresses were purple, as were the napkins used at the reception.
Bouquets and boutonnières were by Floral Reef Designs and the
wedding cake was by Dolly Doll Bakery. Old farmhouse windows were used for the seating chart, and centerpieces featured pine slabs,
votive candles and sparkly silver mason jars with flowers.
There were funny, heartfelt speeches and the music, by JP Bedford of Capital Entertainment Services, was great, but the real highlight of the day was personal. In Ashley's words, "Walking down the aisle and seeing the look on each other's faces was the happiest we have ever been."