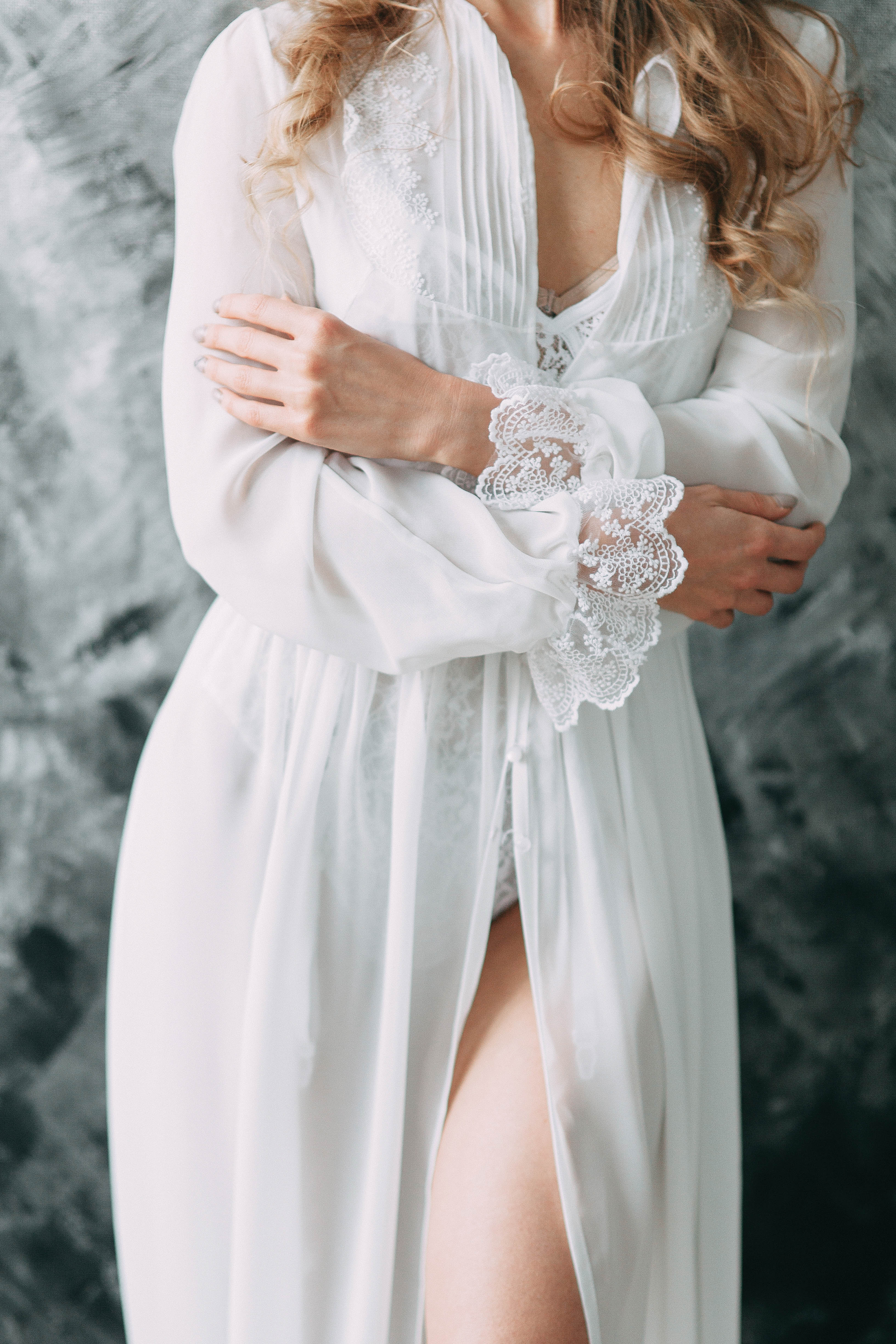 What you wear underneath is the foundation for your show-stopping bridal look.
A lot of time, effort and determined shopping go into choosing the wedding dress of your dreams. Since this is a big-ticket budget item, as well as a key part of your special day, high expectations and careful consideration are customary. There's nothing "bridezilla" about being picky. But whether you're on the hunt for a romantic princess look with a voluminous skirt, or a sleek, sophisticated off-the-shoulder style with minimal ornamentation, it helps to have an open mind as you go swimming through a sea of lace and organza to find the perfect pearl.
It also helps to remember there's more to pulling off a show-stopping bridal look than that glorious "It" gown you eventually fall in love with. The details matter in a major way. Not only do accessories and styling — shoes, pedicure-manicure, jewellery, makeup, hairdo, and cape or wrap — combine to elevate the polish, what you can't see is critical too.
The items you wear under your dress can play a major role in how it fits, how you look, and how you feel on your big day. In fact, depending on the fabric and cut of the gown, specific undergarments or shapewear may be essential. For instance, in sunlight a chic satin slip dress may reveal your navel and other body contours you didn't intend to display. When you look back at your wedding photos in 10 or 20 years, you don't want to notice visible lines, creases, straps or bulges while gazing at the gown that made you so happy.
Banish VPL, back fat and muffin top
The right underpinnings will ensure that gorgeous dress looks just as you envision, regardless if it's backless, strapless, low-cut, or fit-and-flare with illusion cutouts at the waist. Since today's fashionable gowns are strategically designed to enhance your womanly shape and beauty, it's essential that your undies stay put and provide the foundation for a becoming silhouette.
In fact, some lingerie greatly impacts the draping of a dress. If you've bought a dramatic ballgown for a romantic, fairy-tale-themed wedding or you've purchased a mermaid style to show off your curves, be aware there are slips that can enhance the shape and your comfort while wearing the gown.
There are also bras that can give you extra oomph up top, as well as bottoms that can boost the shape of your behind. Remember Pippa Middleton in her bridesmaid dress at her sister's royal wedding a few years ago? Her look from the back earned its own title: People magazine's Top Body Moment of 2011. You may want to amplify what Mother Nature gave you or you may just want to ensure your panty lines don't show; either way, here are some basics to consider when shopping for your all-important wedding-day undergarments.
Make shopping for undergarments a priority
Consider the right underwear as less of an afterthought and more of an essential. It's worth taking great pains and spending what's necessary to get the best combination for fit and comfort. Don't scrimp and don't put it off. You don't want to settle for an inferior choice and you don't want to worry about unsightly dimpling or unflattering angles when you're in the spotlight.
Mind the timing
Wait until you buy your wedding dress to buy your foundation garments. At your first dress fitting, ask the stylist which lingerie will work best with the cut, design and material of your dress. Shapeez and Spanx are a couple of the shapewear brands available locally. Next, shop earlier in the day and not after a heavy meal or when you feel bloated. You want a good idea of how the items you try on will fit and feel on your wedding day. Your comfort and confidence are important. Finally, after you purchase the underthings, wear them to the next dress fitting, and if you've purchased a new bra, wear it out to break it in.
The material matters
Now is not the time for cotton. To stay out of sight and out of mind, the fabric of the underthings should be smooth, seamless, stretchy, lightweight and cling-free. You want the undergarments to move with your dress and your body, so when you bend over to toss the bouquet, no lines or seams become apparent. The weight and the material of the underwear also must depend on the style and fabric of your dress. Underwear requirements for a heavy silk empire-waist gown are different than those for a figure-skimming sheath or snug-fitting charmeuse trumpet style, since the latter styles are more revealing.
Choose the right colour
Be careful about colour too. Bright "bridal" white is not necessarily the best option. If the material of your dress is somewhat sheer or delicate, white or coloured underwear may be noticeable (especially in photographs) — and that's not what you want people looking at. Most brides select shapewear that matches their skin tone, not their gowns.
Get expert assistance
Do you know the difference between a balconette and a demi-cup? A catsuit and a bodysuit? An open-bust slip and a convertible slip? Don't do any guessing. Take photographs of your wedding dress from different angles and call to make an appointment at a lingerie shop or department. Professional help will make a difference. While you may be tempted to purchase the smallest size of shapewear you can squeeze into, be warned. Your waist may look trimmer, but you'll bulge at all the edges—from your thighs to your armpits. Ideally, you want to be smooth all over, as well as supported, secure (with no wardrobe malfunctions) and serene as you move lightly through a memorable day.