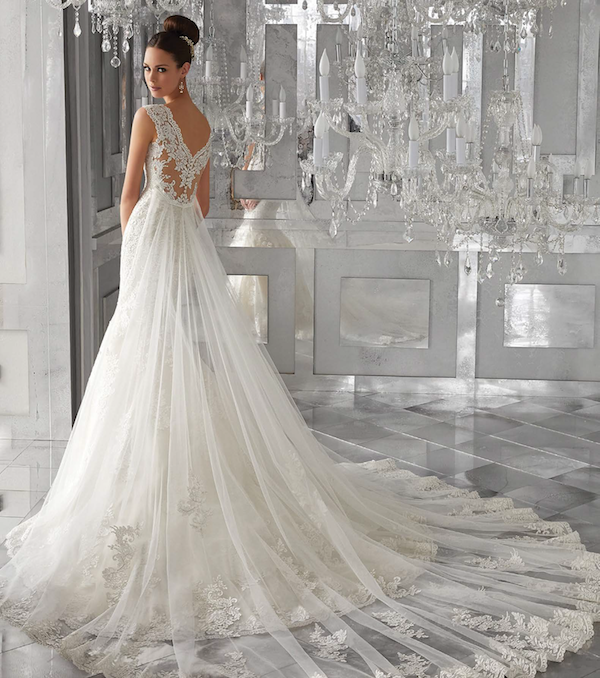 BY ARIEL VERED
Spring: it's a season that is known for inspiring renewal and reinvigoration. The 2018 bridal fashions reflect that vibe, with fresh and exciting styles mixed in with classic wedding dress features. From intricate details and elaborate silhouettes to dramatic accessories and pearls galore, you can have your pick of the stunning wedding gown of your dreams.
Put a bow on it
Big exaggerated bows are bringing an exaggerated volume to ball gowns and sheath dresses alike. Oversized bows can be the cherry on top of your dress, evoking an aura of old Hollywood glamour. Or choose a dress that takes the more delicate route of clusters of tiny bows on belts, sleeves or down the back of the dress.
Victorian vibes
Romance is in the air with styles that evoke Victorian era fashion. Lace remains an always classic choice, with high necks and vintage-inspired sleeves. Big, pouffy sleeves and brocade prints bring an air of dramatic air, while Shakespearian-inspired sleeves have a dreamy quality to them.
A touch of black
Want to make a bold impression as you walk down the aisle? Black bridal fashion is one of the hottest trends this season. While a black wedding gown may seem a bit extreme to some brides, black accents are showing up on gowns in high contrast details like black bows, gloves, ribbons, even hairpieces. A pop of black looks incredibly chic.
Feminine and bewitching embellishments
Three-dimensional embellishments like oral appliques bring a timeless, ladylike quality to a dress. Feathers and cascading ru es provide texture and layering that is ultra- feminine. Pearlescent hues are go-to wedding colour schemes this year and it's showing up in bridal fashion in stunning ways. Pearl-encrusted dresses and intricately beaded sheaths are super glam, yet romantic options. Or accessorize an understated gown with over-the-top necklaces draped down the bodice.
Lovely, laid-back separates
There's no need to be tied up in a corset on your wedding day. Brides are opting for a comfortable and laid-back style for their big day with separates. Think ivory pantsuits, white jumpsuits or a sweater and tulle skirt combo. Styles range from high fashion styles and cuts to more demure, simple versions that act as blank slates for you to accessorize.
The cold shoulder
Capes: they're not just for superheroes and royalty. Covering up the shoulders with a cape or capelet offers a fashionable, yet understated, quality to any simple silhouette. Whether sheer material or a heavier fabric, the cape is a canvas for stunning designs of intricate embroidery, sparkles and beading. And for the cold-shoulder-loving brides, strapless is being replaced by over-the-shoulder and halter styles. These are timeless, classic looks that can still turns heads with bold cut-outs and open necklines.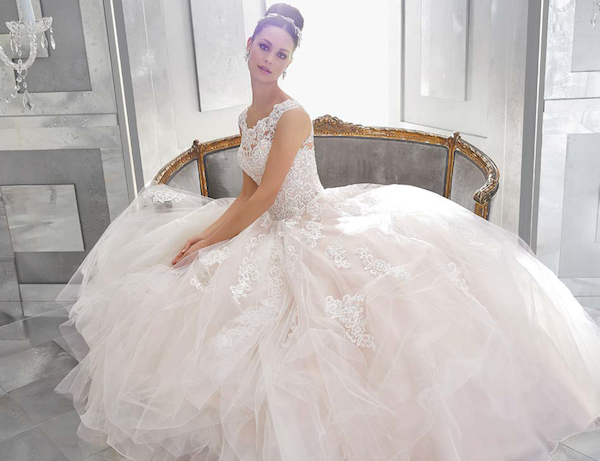 Drama from top to bottom
Voluminous ball gowns are making a comeback with tted bodices and billowing skirts of tulle. Top o your ball gown (or any silhouette for that matter) with a statement- making veil. Choose an extra- long veil to oat behind you for the walk down the aisle. Other stunning options feature intricate embroidery and beading.
Eye-catching hues
Believe it or not, your wedding dress doesn't have to be a shade of white! Figuring out what your "something blue" is, can be a lot easier if the something blue is your wedding dress. A soft baby or Easter egg blue is the ultimate in eliciting an air of fairy tale romance. e warm metallic hue of rose gold is a big colour in weddings this year that will look gorgeous on all different skin tones. Make a bold and beautiful choice to be a lady in red. And there's always millennial pink, one of the hottest colours in fashion these days.
High necks and deep Vs
A high neckline lends a regal feel to any dress. A lacy high-necked dress recalls Victorian style, while a satin high neck brings a more sleek and modern edge. Top your dress o with an updo hairstyle and you'll feel just like Pippa Middleton on her wedding day. Plunging V-necklines are still a fashionable and alluring choice, complemented by sleek bodices and owing skirts. Go for an illusion plunging neckline if you want the look, but don't want to show so much skin.