GLOSS Events and Décor earns repeat Wedding of the Year honours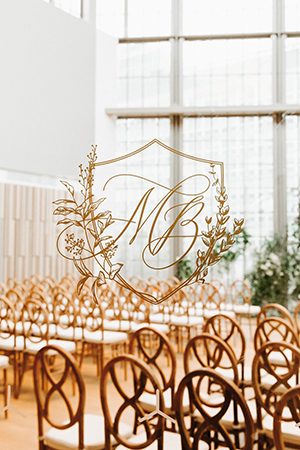 When GLOSS Events and Décor won the Wedding of the Year Award at the 2020 Wedding Awards earlier this year, it was the second time in a row for Britt West's event planning and design company. Describing the repeat win as "humbling," Britt also calls it a "wonderful reminder that as an industry leader we must always strive to set the bar high, year after year."
Britt doesn't just set the bar high, though. She reinvents the bar.
In fact she dreamed up a champagne/seating chart wall for Brittany and Mike's spectacular, award-winning September 28, 2019 wedding at the National Arts Centre. "As guests left the ceremony and entered the reception space, they were welcomed by an impressive 20-foot structure, draped in florals, with floating shelves," she explains. Those shelves were lined with glasses of bubbly. "The immediate response was one of awe and pure joy, but the excitement factor increased once guests realized that the champagne wall was also one of the most spectacular seating charts ever. Our bride and groom kicked off the celebration by picking up the first couple of flutes, and that's when the cocktail hour really began."
Romance of Europe
Since Brittany and Mike had originally dreamed of a wedding in Italy, Britt says she was inspired to "channel the romance of Europe by infusing the mesmerizing essence of Italian aesthetic into the design."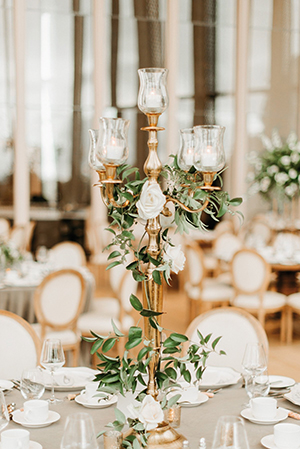 In fact, she adds, "The whole day was designed to feel like a dream fused with modern romance and timeless elegance: Lush florals in a palette of intoxicating neutral hues, a mix of wood tables with others draped in velvet, the ambient glow of hundreds of candles, amazing food, an epic party late into the night in a space with spectacular panoramic views of city lights and the stars."
It's worth noting the bride and groom were keen to make this magic happen. "Each and every unique and exciting element we would pitch to our couple, they would agree," Britt points out. "All the layers of what makes a wedding great, these guys had it: A menu that blew guests away, stunning decor, live entertainment" and a crowd that was ready to party.
As a nod to the couple's love of the culinary arts, there were tasty wedding favours at each place setting. Clear, corked test tubes were filled with half sea salt and half peppercorns, and the custom labels read, "We go together like salt & pepper."
The bride and groom also customized a menu that included everything from an interactive fresh oyster bar and duck confit and mushroom ravioli to four main dish options and a late-night buffet of gourmet grilled cheese and personal poutine. "The meal was a foodie dream," Britt says. "The entire day was an exquisite celebration of life and love."
Embrace the Extraordinary
If you're wondering how to make your own exquisite celebration happen, despite uncertainties related to the coronavirus, this wedding pro offers words of wisdom. "In spite of COVID-19, it is still important to embrace this extraordinary time because love doesn't stop for a pandemic." She suggests hiring a professional wedding planner to help you navigate around the obstacles and deal with the logistics, adding it could be one of the most important decisions you make.
As for Britt, a mother of four who studied interior decorating and event management at Algonquin College, she says she's always captivated by a couple's unique love story. "My ultimate goal is to create a day that truly encompasses the couple, so when their guests leave, they are saying, "Wow, that was so them!"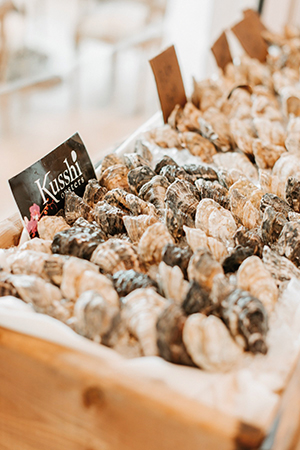 Advice for Couples Planning a Wedding
"I always ask my clients to dream big, imagining that budget restrictions are not a concern. We start from the ultimate plan and then systematically pull back until it fits into a comfortable price point. By doing things this way it allows my couples to be creative and figure out what is truly most important, as they envision one of the most special days in their life together. So my best advice is just that: DREAM BIG."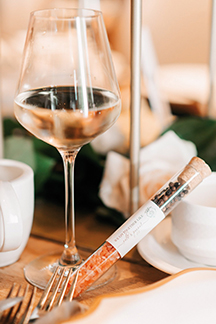 Ѽ Caterer: NAC
Ѽ Florist: Pollen Nation
Ѽ Disc Jockey: Interlace Group
Ѽ Photographer: Laura Kelly Photography
Ѽ Decor: GLOSS Events & Decor, Joe's Prop House, Sage Designs, Pearl Decor, Lavish
Ѽ Wedding Cake: The Cake Whisperer
Ѽ Musician: Dylan Holton
Ѽ Wedding Gown: Martina Liana from With Love Bridal
Ѽ Bridemaids' Dresses: Lulu
Ѽ Men's Attire: Nordstrom
Ѽ Officiant: Gord Marriage
Ѽ Makeup: Klava Z Makeup
Ѽ Hair Stylists: Hair by Adamo
Ѽ Jewellery: Birks
Ѽ Invitations/Stationery: Wishtree Stationery
Ѽ Seating Chart Decal: Canadian Buzzard