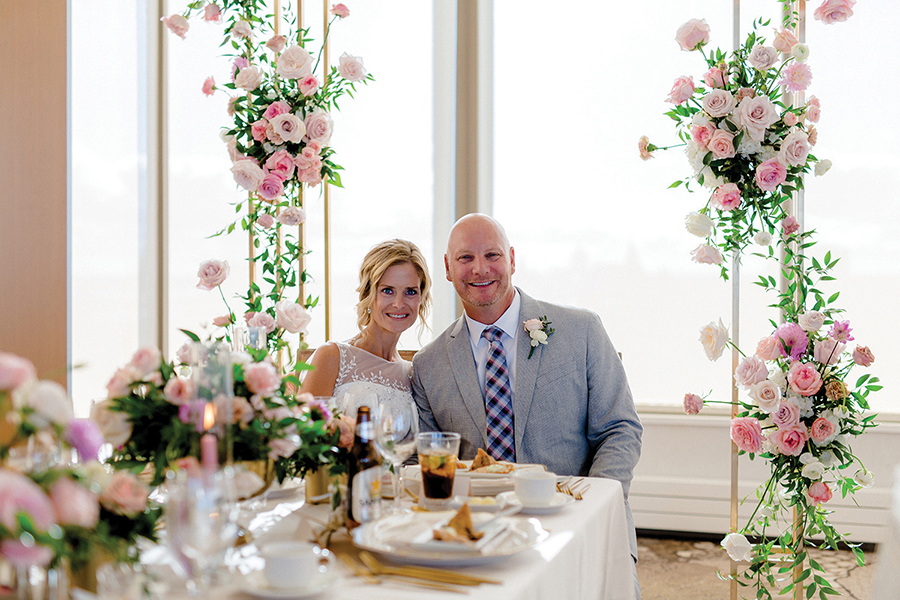 The Couple: Sarah and Scot
The Images: Kelly Margaret Photography
The Look: Erica Irwin Weddings
Big room. Small wedding. That's the storyline wedding planner Erica Irwin, of Erica Irwin Weddings and Events, worked with last summer, with a beautifully happy ending. It's also a familiar script these days, as people have smaller weddings in spaces that have traditionally accommodated large gatherings.
This stunning celebration—Sarah's marriage to Scot—shows you how it can be done. "What it lacked in guests it made up for in style," Erica notes.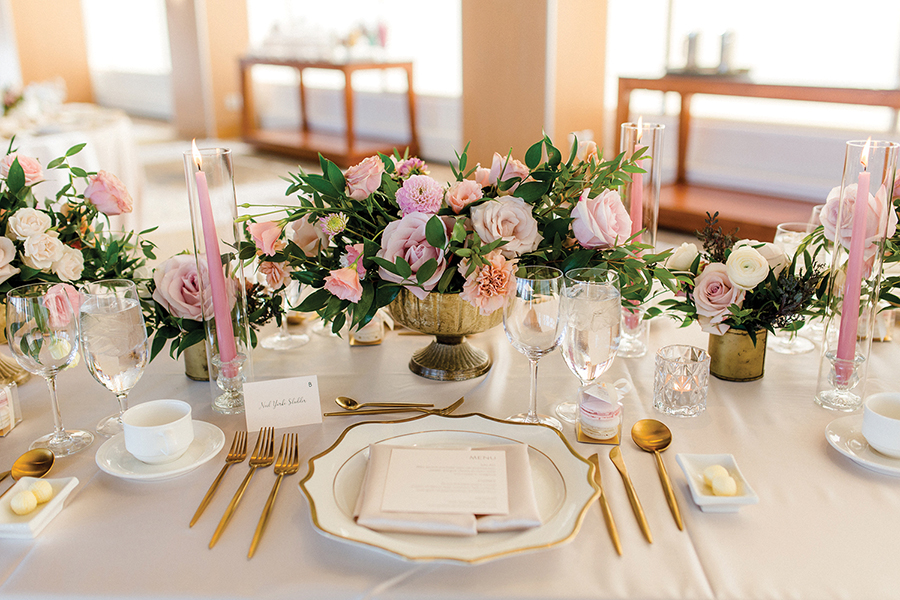 Originally, Sarah and Scot planned to have over 100 guests for their August 21, 2020 nuptials. When gathering restrictions made that scenario impossible, they opted to put things on hold until 2021 in hopes restrictions would be lifted by then. By July, though, they realized they didn't want to postpone, so they reached out to see if they could go ahead on their original date. "If the pandemic had shown them anything, it was that being together and [being with] their families were more important than a big reception."
The couple also had some good luck. Though provincial restrictions limited gatherings to fewer than 10 guests when they made the decision, by the time their wedding drew near the restrictions were loosened: fifty guests were permitted.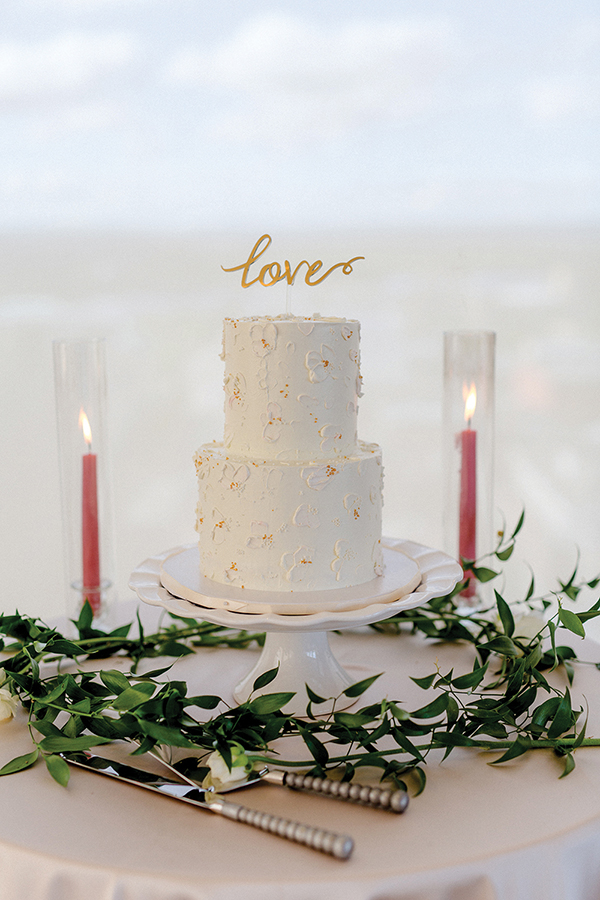 Still, there was a large space to configure. "Since the guest list went from 100-plus to under 50, we needed to make sure the décor was stunning and filled the room," the wedding planner mentions. The venue, TwentyTwo, is a big reception space located on the 22nd floor of The Westin Ottawa. It boasts panoramic views of the city. Erica designed the layout so that the ceremony, held on one side of the room, "included two show-stopper flower pillars, rustic-rubbed Roma chairs, an aisle runner and tall flower arrangements at the end of the aisle." The reception was on the other side.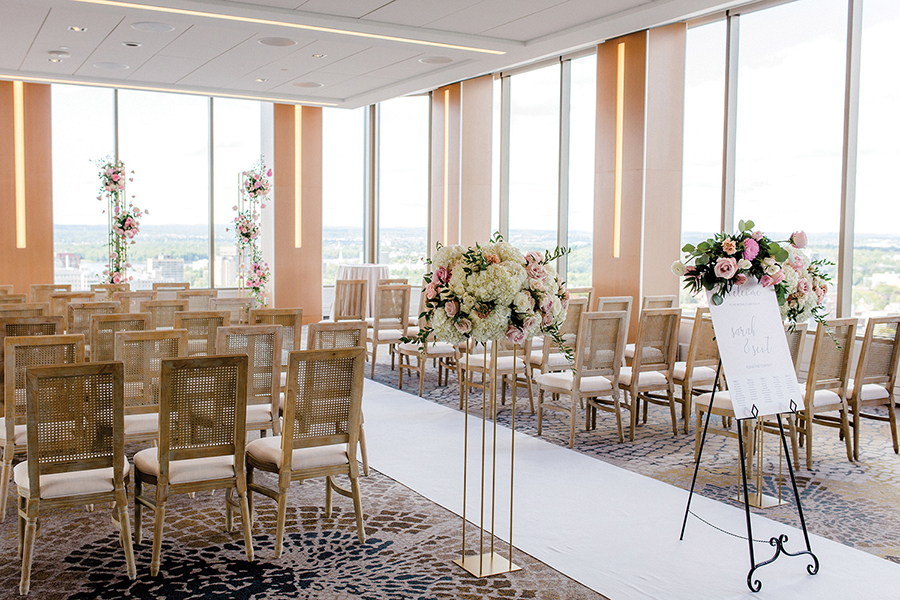 "The reception side of the room had a mix of harvest and round tables, with pink and cream flowers lining the middle of the long tables and tall floral centerpieces on the round tables. The flower pillars were moved after the ceremony to flank the couple at their king's table.

"The tablescape was very important for the guest experience," she explains. Highlights included "custom menus made for each guest meal choice, gold and cream sunflower charger plates, muted gold cutlery, macaron favours for each guest, nude linens and napkins with an abundance of candles."
The end result was an intimate setting that put family at the heart. "Sarah's daughter was maid of honour and Scot's boys were his best men. Sarah's sister and mom were her bridesmaids while her brother served as MC and all the nieces were flower girls."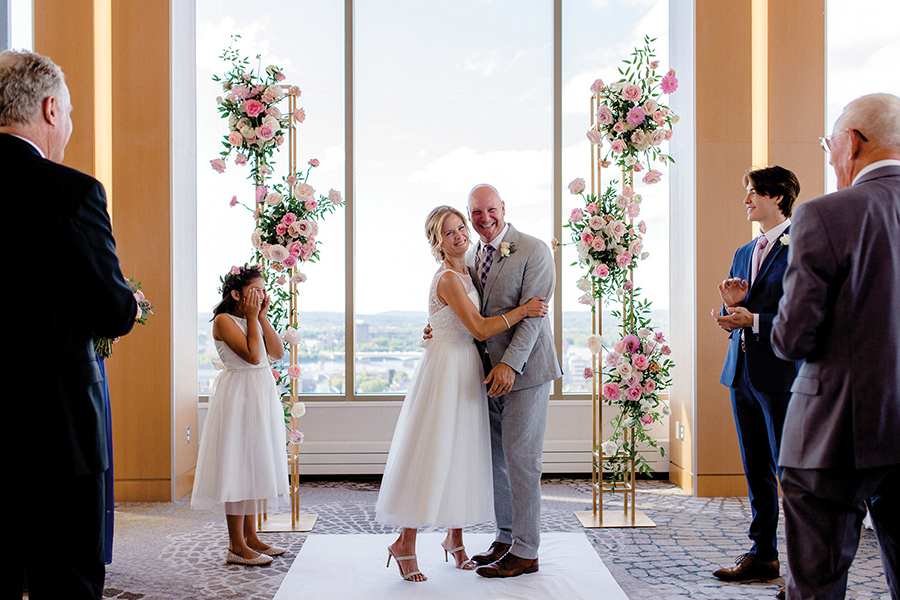 In Sarah's words, "Having our amazing wedding planner meant I was never stressed, even planning in a pandemic! I enjoyed my day and never worried. I loved the grand reveal of our reception room, it felt like a dream come true with the man of my dreams by my side."
The TALENT
Wedding Planner: Erica Irwin Weddings & Events
Photographer: Kelly Margaret Photography
Ceremony and Reception: The Westin Ottawa –TwentyTwo
Wedding Gown: Milanoo
Groom's Attire: Banana Republic
Bridesmaid's Dress: Nordstrom
Groomsmen's Attire: Banana Republic
Flower Girl Dresses: Vasto Boutique
Bride's Hair: Showpony Hair
Bride's Makeup: Natalie Peachy Makeup
Cake: Dulce Cake Design
Catering: The Westin Ottawa
DJ: Oxygen Entertainment
Décor, Rentals and Flowers: WEDECOR
Invitations: WEDECOR Invitations
Officiant: Rinette Emerson, Ottawa Wedding Officiants