What to Ask, What to Look For, and How to Keep the Details Straight
By Kylie Fox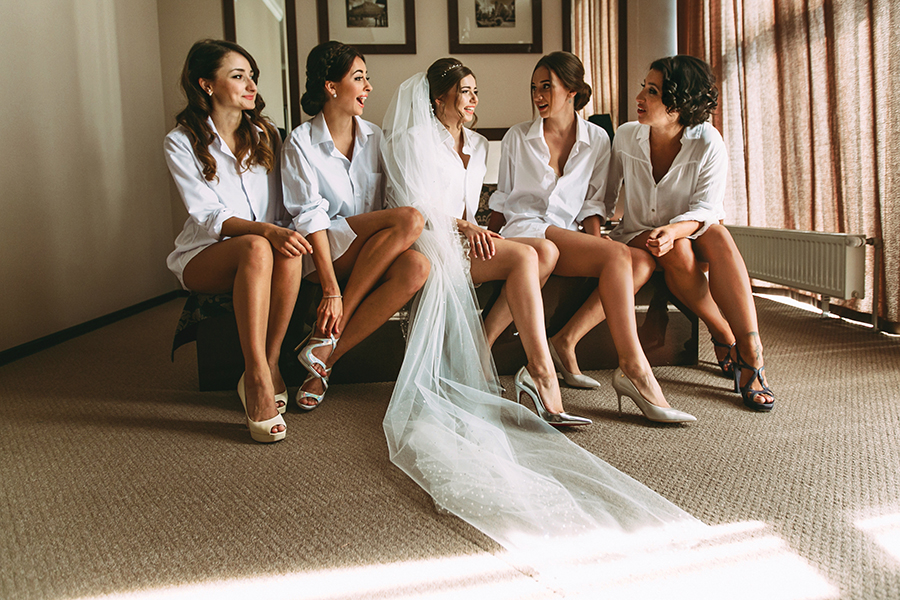 So you're engaged to be married: Congratulations! You have found the love of your life, and now you need a place to do this thing. Cue venue shopping!
Visiting a venue for the first time can be daunting. You are excited, but maybe a bit nervous. You don't know what to expect. You want to fall in love, but also don't want to be too excited and end up disappointed.
How can you make the experience a fun and efficient first step towards an amazing wedding? This Survival Guide will help you home in on priorities, as you imagine yourself saying your I Dos at that dreamy altar.
Book a Few Tours for the Same Day
Blocking off an afternoon to see a few venues is a great way to jump-start the planning process, not to mention a romantic way to spend time with your other half. Ask how long visits usually take when booking the tours, so you can plan your schedule. As you leave one venue and head to another, take the time to chat about your key likes and dislikes. This keeps your feelings fresh and clear in your mind as you visit different spaces. Pay special attention to the feeling you get while walking through each venue. Sometimes all it takes is a feeling for you to know a venue is the perfect place for you. To cap off your day, ask your tour guide for recommendations on a place to grab a bite nearby.
Don't Be Afraid to Take Notes
Venue representatives provide a lot of information in a short period of time. They want you to leave with a full understanding of their offerings and the associated costs, along with the fluttery feeling that this is the place for you. While some may provide you with brochures to bring home, chances are the scope of what you discuss will go beyond those documents. Bring a note pad, wedding binder, or even just take notes on your phone. The venue guides won't mind. They too want to make sure you fully understand what's offered, so there is no confusion later on in the process. This is especially key if you set up an afternoon of venue visits. You want to be certain you remember who offers what: maybe one venue includes a special overnight stay for the bride and groom, while another offers a discounted rate for guests at a nearby hotel. Keeping these differences clearly noted will be a huge help as you evaluate which venue best hits the marks that are most important to you.
Take Lots of Photos
You can probably find beautiful images of your chosen venue on its social media pages. But when it comes to planning your décor, you may have trouble finding images of that specific corner where you'd like to set up a photo booth. Some venues will offer opportunities to come and see the space again before your big day, but it never hurts to have your own photos that you can look back on to help inspire you as you plan.
Pay Attention to the Vibe
How you feel in a venue is really important. Are you comfortable with the venue representative? Do you have a good rapport with them? How do the rest of the staff members interact with you, and with each other? Is the environment friendly, relaxed, uplifting? The vibe of a venue when there is no wedding can tell you a lot about what it will be like when there is a wedding. Knowing that your venue's staff members are genuinely at ease doing their jobs can help you feel more confident in their skills on the big day. On your wedding day, you want to feel relaxed and comfortable asking for help from staff members if you need it.
Ask What Your Day Will Look Like, Start to Finish
What will happen once you arrive at your venue on your wedding day? This is important to know for planning purposes, and will also help you determine if that is what you want your wedding day to look like. Maybe you'll find out you have to set up your tablescapes in the morning, and realize you don't mind because you prefer to be hands-on to ensure the look meets your vision. Maybe all you do is show up, arrive to drinks on ice, and enjoy celebrating until you are told it's time to walk down the aisle. Knowing what to expect, from the time you arrive to the time you leave, can be a huge help in understanding the logistics of your day.
Check Out Those Reviews
The best way to find out what a wedding is truly like at a venue is from those who have already experienced it. Reviews offer candid first-hand accounts. Here are some things to consider. Enthusiasm: Are there exclamation marks galore and lots of adjectives? Great! You know this couple have had an amazing day and are still riding that wedding day high. Personalization: Do they mention staff members by name? Knowing your venue cultivates personal relationships allows you to feel confident in your wedding team. The Author: Has a couple's parents or even a guest taken the time to leave a review? This speaks volumes to the level of memorable experience the venue provides. Reading reviews from the venue's website, and from wedding sites such as Wedding Wire, Facebook and Google, will give you a true sense of what your day will be like from different perspectives. That is absolutely worth its weight in deciding where to host your I Dos.
Ask for a Quote While On Site
You might feel pressure, based on a venue's full calendar, to make a quick decision about booking. Always make sure you know exactly what you are looking at in terms of price, though, before making it official. Ask the venue representative to provide you with a quote. Tell them your estimated guest count and what you want to offer for dinner and at the bar. The more details the better. This will allow you to see the big picture, without having to figure it out yourself. Your tour guide should be an expert on the space and can make sure your quote includes everything you want, so there are no surprises later on.
And of course, remember to have fun. This is usually one of the first big wedding planning decisions you will make. It will set the tone for the rest of the experience. Your enthusiasm for each site visit will be infectious for all of the people you meet. Best of luck and happy touring