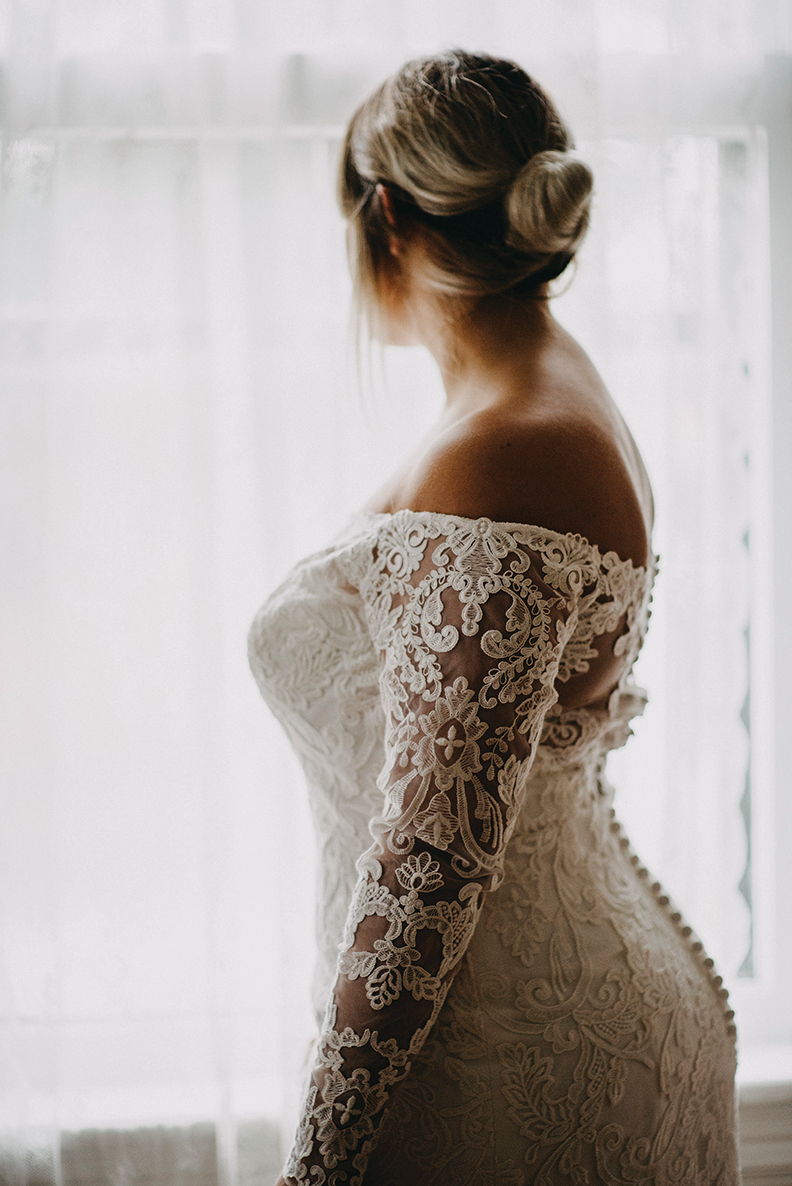 Gorgeous brides come in all shapes and body types, and there's never been a better time to find fabulous wedding gowns to fit a generous figure. After all, there's a demand. The Pinterest Wedding Trends 2019 report notes that searches for wedding dresses for curvy brides are up by 2113 per cent.
Bridal gown designers are paying attention; they're expanding their thinking to be more size-inclusive while expanding their offerings to fit and flatter more plus-size brides. If you've got ample curves, shop with confidence knowing you've got options too. Ottawa area bridal salons offer both the dresses and the know-how to help you look and feel your best—whether you're a size 20 or a size 14—and three local experts offer some professional advice to assist you in your search for "the one."
Sinders Bridal House, at 10 Lake Avenue West in Carleton Place, offers a selection of stunning plus-size gowns, along with the experience to help curvy brides find the perfect dream dress. What's more the website, sindersbridal.com, offers helpful advice about everything from the most flattering cuts and fabrics (and ones to avoid) to the steps you should take before you start dress shopping.
"When it comes to choosing your wedding gown you want to feel confident and beautiful in your own skin," Meghan Lavergne explains. Meghan co-owns Sinders Bridal House with her sister, Stacey. "The incredible thing is that it doesn't matter what the number says on the tag," she continues. "The day you pick your wedding gown you want to know that you have chosen the one that will make you feel just that: confident and beautiful. You want to know that you won't ever focus on this part of your body or that something that always bothered you. You just feel beautiful.
"Over the years we have seen curvy brides fall in love with a romantic lace fitted gown that has long sleeves but shows off her shoulders. We've seen a super confident bride rock a full satin fitted gown, and another [embrace] the beautiful airiness of a ruffled ballgown. It's not about the shape of the gown, it's the feeling you can see on the bride's face when she finds the gown that makes her eyes light up."
Find the dress that makes your eyes light up.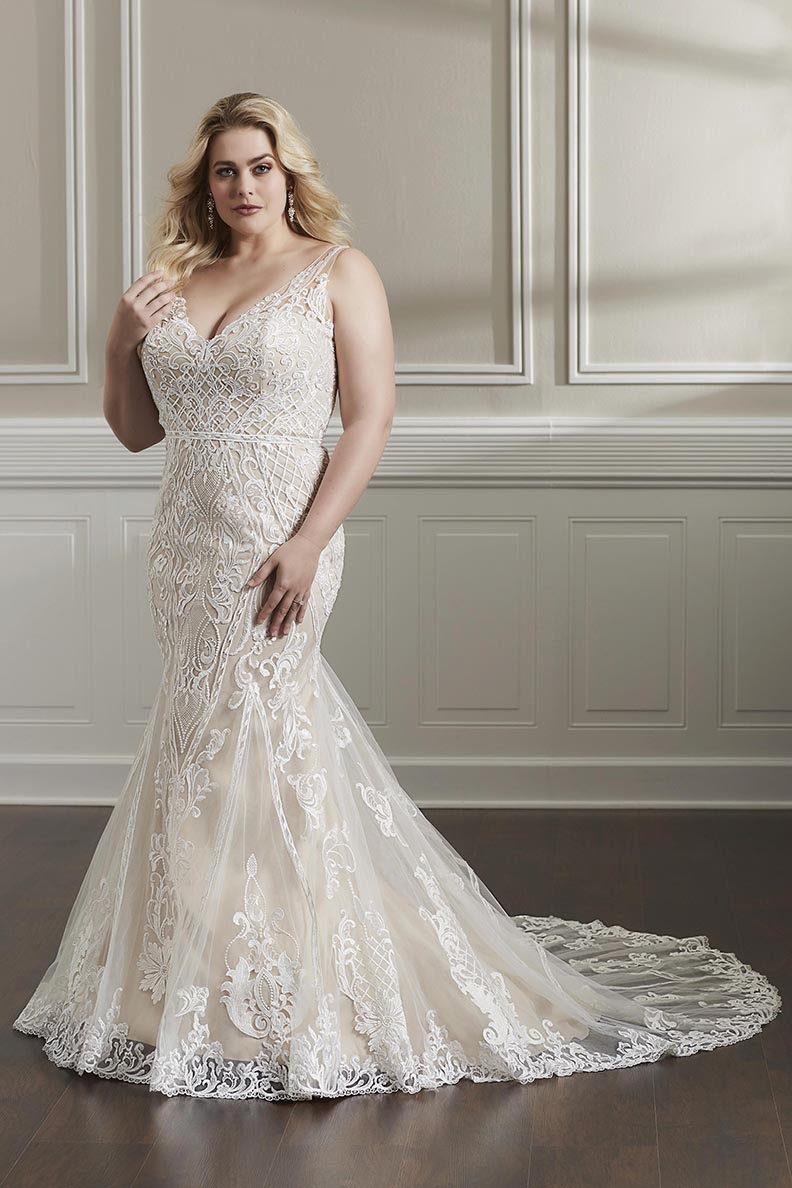 Meghan offers a few more expert tips:
The structure of the gown and a proper fit from a qualified seamstress are worlds more important than forcing yourself to love a certain style because you feel that's the only thing that will flatter your curves.
A small waist can be accentuated with an A-line or ballgown style, while a fitted gown shows off all the curves that make us beautiful curvy women.
Finding the right waistline for your body can help immensely. If you have a long torso you can look for lower or dropped waistlines that will create proportion; if you have a shorter torso you might find more comfort in a natural waist that elongates your legs.
Simply Beautiful Bridal Boutique (beautifulbridalboutique.ca), at 114 John Street North in Arnprior, offers a beautiful line for curvy women. Christina Wu Love is specially designed with the plus-size bride in mind. This collection features gowns that are exquisitely beaded and covered with luxurious laces. However the gowns deliver more than winning looks and style. There's also a specific focus on the structure of each dress to ensure the bride who wears it has the support and comfort to truly enjoy her big day.
"At Simply Beautiful Bridal Boutique we know shopping for wedding dresses can be a stressful time for any bride, but for the plus-size bride it can be downright nerve wracking," says Chris Taillefer, who co-owns the boutique with Chantal Beaulieu. "That's why we're here to help."
Flaunt it if you've got it.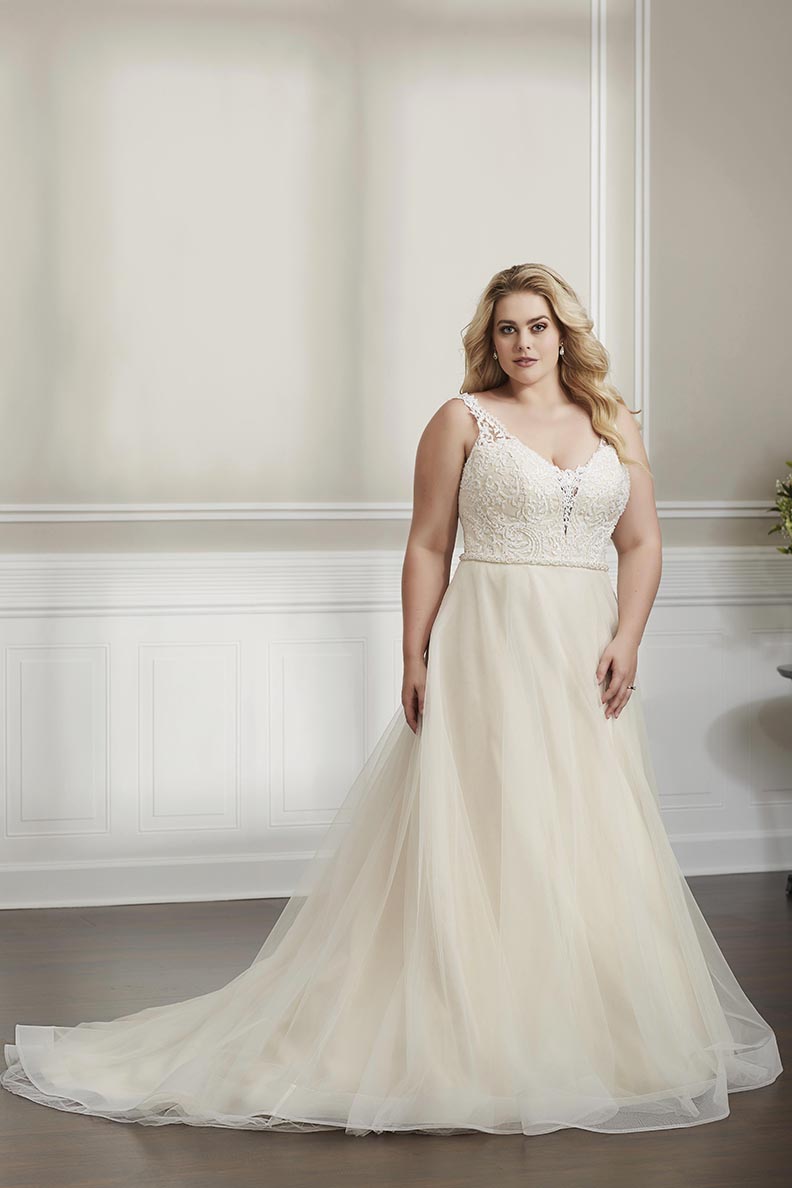 Chris offers some expert tips:
Don't stress it. There are plenty of dresses for curvy girls. Now let's move on, relax and have some fun. It's time to play dress up!
Always remember to take your stylist's advice; she's the expert after all. This might mean leaving your comfort zone of believing you can only wear an A-line dress. With that being said, A-lines look great on everyone. Just be open to all the silhouettes your stylist suggests.
Choose the dress that makes you feel most beautiful. And don't be scared to flaunt it if you've got it.

Rock a ballgown or a fitted style.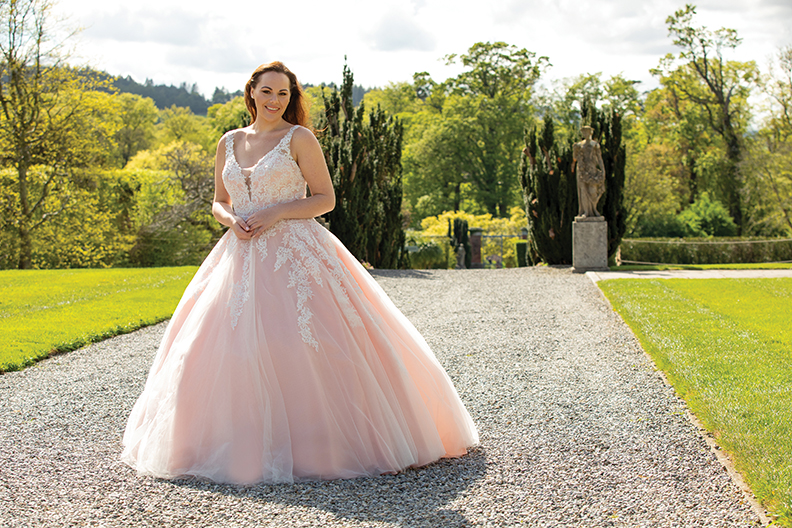 Kim Chenard, owner of Crazy Beautiful Dresses + Décor (crazybeautifulwedding.ca), at 76 Pembroke Street West in Pembroke, has more great dress-shopping know-how for curvy brides to be:
Look for a gown with lots of support in the bodice, such as a built-in bra, corset, boning or straps.
You're not limited to one style. You can totally can rock a ballgown or a fitted gown.
A dress with a lace-up back will accentuate curves amazingly.
Research bridal brands that are leaders in the industry for plus-size brides.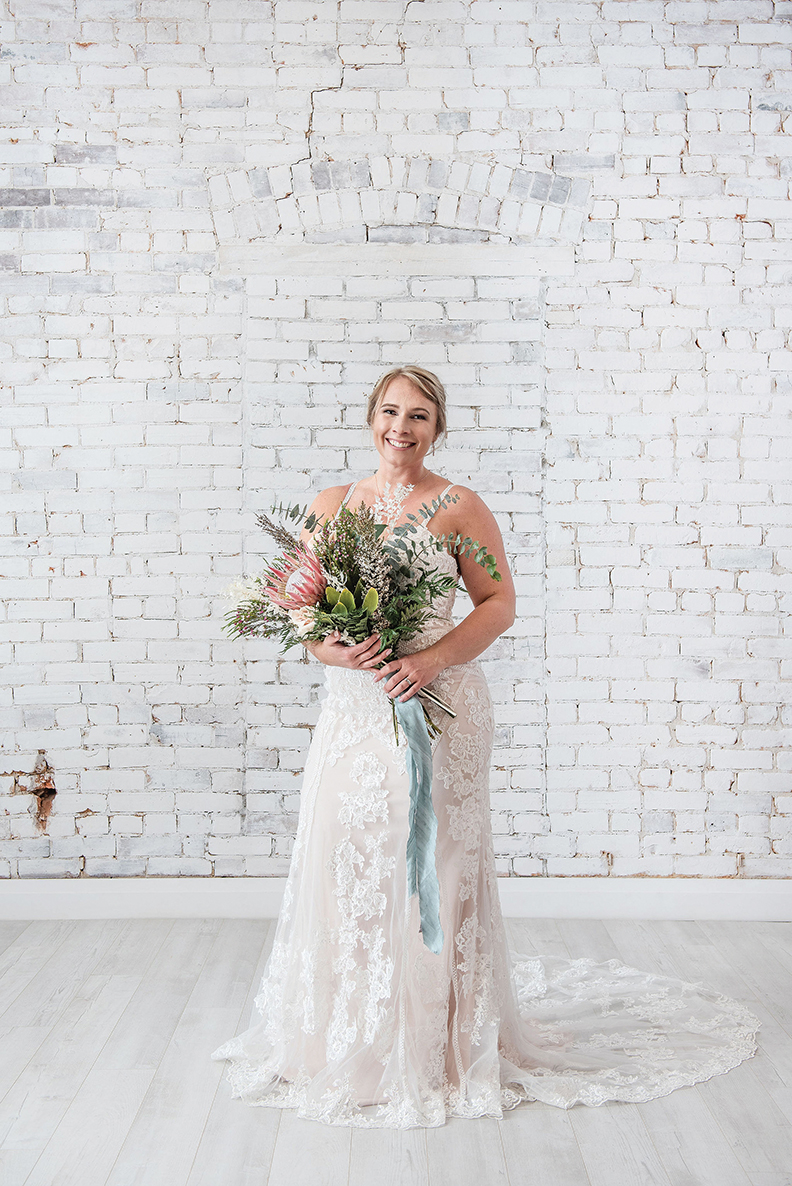 Enjoy a memorable I Found My Gown experience.
Vivian Theoret of Juliannah's Dress & Bridal (juliannahsbridal.ca), at 30 Labrosse Street in Moose Creek, has assisted curvy brides-to-be who've hesitated to try on dresses. They only just want to look, she says, "because they feel that absolutely no bridal gown could ever fit their figure." They've also compared themselves unfavourably—and unfairly—to other women who've had their day in "the dress."
Vivian sets them straight. "Your future husband loves you with all his heart—exactly the way you are. Because you are beautiful," she tells them. "Let's look at selected gowns to try on and discover just how amazing you look in a bridal gown."
In her words, "There is nothing in the world that I love more than to see a woman's face light up and glow, smiling from ear to ear, at seeing herself in a precious gown that enhances her curvy figure so perfectly. That is the ultimate feeling in my bridal world: knowing that I sincerely helped this bride to believe in her natural beauty."
"Encouraging discussion with the bride-to-be and her trusted guests sets the ambiance for a truly memorable I Found My Gown experience," Vivian continues. "When guiding a bride in selecting her gown there are many factors my trusted bridal stylists and I take into account. From questions posed, and styles picked, gowns are tried on. This is when our future bride discovers her beauty in that perfect silhouette.
"Curvy styled gowns are designed with the bodice (bust area) patterned to enhance and accommodate a fuller bust line. Lucky girls! This point is very important. On the bride's wedding day when we look at her glowing face, our eyes always follow down to her neckline and bust area. Seeing beautiful shoulders and bust is feminine perfection at its best. The continuation and movement of her gown flows perfectly, creating the most beautiful bride the groom has ever seen. True love!
"A curvy bride exudes womanly sexiness as they ultimately should. Beauty always comes from within, but having that perfect wedding gown on the most important day of your life is the icing on your cake."